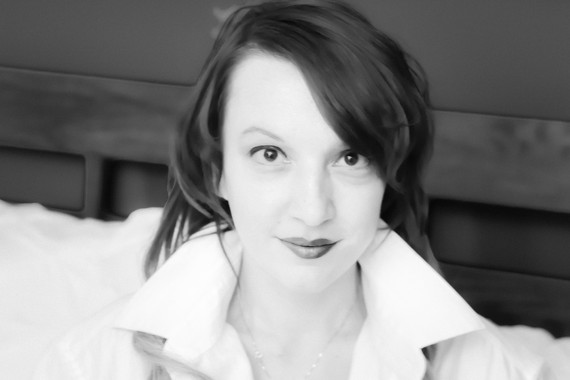 When my husband married me, it was not because I am sexy. I am not the girl you find browsing makeup articles on how to get more seductive eyes, or how to make him want you in under five minutes. Instead, I am more than likely playing with my kids or reading about how to get a screaming toddler into bed in less than six hours. I don't have the time to fix my hair or do my makeup. When I am getting ready to start the day, the kids are typically fighting about who is better at catching popcorn in their mouth, so I don't get a ton of "me" time.
My "look" is the mommy look, same as millions of other beautiful women. Clothed in whatever we happen to grab from the closet that morning, still half asleep, hair pulled back so the baby can't eat it, jacket covered in yesterday's lunch, and bags under our eyes because the kiddo woke up and had a nightmare last night. Still, I managed to snag a pretty amazing guy. Day after day, he tolerates me wearing yoga pants and his tee shirts, even when we go out to dinner. Occasionally, when we have some extra time, I might get to brush my hair before throwing it into a messy bun. Most days, I might be able to manage a shower. That is my mommy victory for the day. Not trying to look like a magazine cover, but just getting clean. Still, at the end of the day, I know my husband adores me and thinks I am the sexiest woman on the face of the earth. I never doubt it, even on the worst days. I like to be appreciated for my mind, my skills as a mom, my abilities as a wife, and everything else I bring to the table. Yet, I know there is something lacking when it comes to how he sees me. He doesn't know me as that super beautiful woman that I always wanted to be. I just don't have the time or patience to find that person in me. I wanted to give my husband a surprise. A glimpse of me he typically doesn't see. So, I dove in headfirst and arranged a boudoir photo shoot.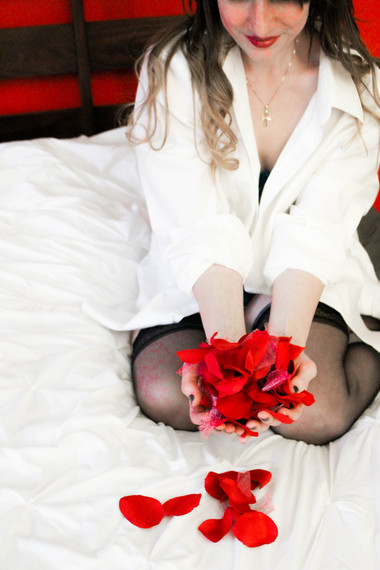 I act on impulse a lot. This is one of the main reasons I adore my husband. He stands by me through all of my whims, and supports each decision... bad or good. There are times he is smiling and probably doubting my decision, but he would never let me know. We are each other's cheerleaders. So, the boudoir shoot was a whim I didn't think through. It sounded like a great idea, I found a spectacular photographer, arranged a date, and then I looked in the mirror.
I have always been very happy with my body. It has given me four beautiful children, it allows me to live each day, I love everything about it. I even love all of my flaws. Every stretch mark is there because I carried my babies. My breasts are no longer perky because I fed my kiddos through the years. I will never be as tall or as thin as I want, but I am at ease with that. Instead, I would rather be happy with my life and confident in myself. However, you can love everything about your body, be completely self confident and assured. When you find yourself standing in front of a mirror in lingerie, that moment will have you second guess everything you previously believed. As I stood there looking at my thirty-six year old self, I couldn't help but wonder what I got myself into. There was no way I could do this. I cried for a long while, and then cried more. Eventually, I quit. I knew I had to at least try. If the photos were terrible, I just wouldn't tell the husband, he never needed to know. No harm no foul. The entire, embarrassing thing would stay between me and the photographer. Oh jeez, the photographer! I had to put on these skimpy ass clothes (barely) in front of another human being. I cried more.
I don't have a lot of experience in the whole lingerie department. None of it looked comfortable, and most of it looked like it wasn't going to cover the places that I would rather have hidden from view. So, I chose my clothing based on colors. It seemed like a safe bet. I grabbed a few items that looked pretty and I would not typically be caught dead in. Checking out, I realized there was no way I could afford to wear this stuff on a regular basis. One outfit is what we budget for date night or an evening out with the kids!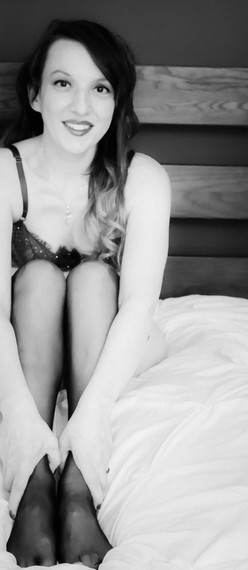 The clothing I would be wearing did not give me any sense of comfort. Most of it, I wasn't even sure how to put on, and it didn't come with instructions. I'm pretty sure garters and thigh highs were made were not made for any practical purpose what so ever. As I tried for the fourth time to stretch, snap. and fasten, I was sweating profusely and wondering how the hell this was ever going to look sexy. Maybe I am missing something? Did I not get a memo that all the other women did? Somewhere along the line, the girly gene skipped me.
The day came and I was sick to my stomach. I spent the day cleaning my bedroom, since I figured piles of kid's toys and bras were probably not super sexy. I checked the clock, and it was almost time. I spent an hour doing my hair and makeup, which is exactly fifty five more minutes then I typically spend getting ready for anything. I looked in the mirror, and was just...annoyed. No matter what I did, I was still a mommy. There was no huge transformation into this sexy vixen I was hoping to see. The entire situation was stressful, and I just wanted it over before I cried again.
It was time for the photos. Shannan was taking the pictures for the session, and she completely put me at ease. She had some awesome ideas and helped me keep my problem areas (my belly) hidden. The shoot was so much less intimidating than I thought it would be. I felt great about my body, and it showed in the photos. It never stopped being awkward, but it wasn't as awful as I had anticipated. I never in a million years thought I would be having photos taken of me, while I was half naked, and actually be okay with it. In the end, it all worked out perfectly.
This little experiment put me completely out of my comfort zone. I won't be doing it again anytime soon; however, I am so happy I did. The photos are amazing and my hubby has a little remembrance of the sexy woman he married, which he doesn't get to see very often.
For us mommies, it is sometimes hard to step out of our comfort zone and our normal routines. Once in a while, take a risk and find that spark again. We all have it, even if it is buried under baby food and stretch marks. I promise, it is still there. It feels pretty good to leave the mommy behind for just a bit and find that person you haven't been for quite a while. The hubby will thank you too, trust me.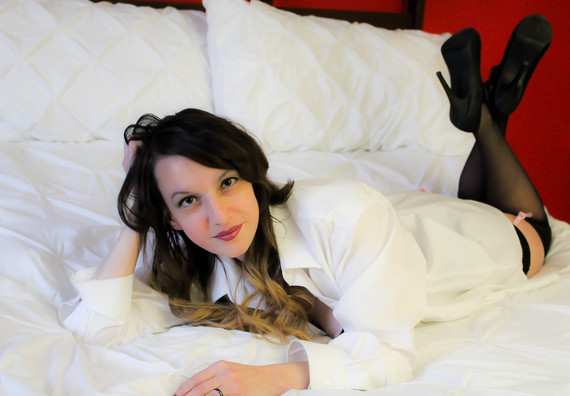 Related