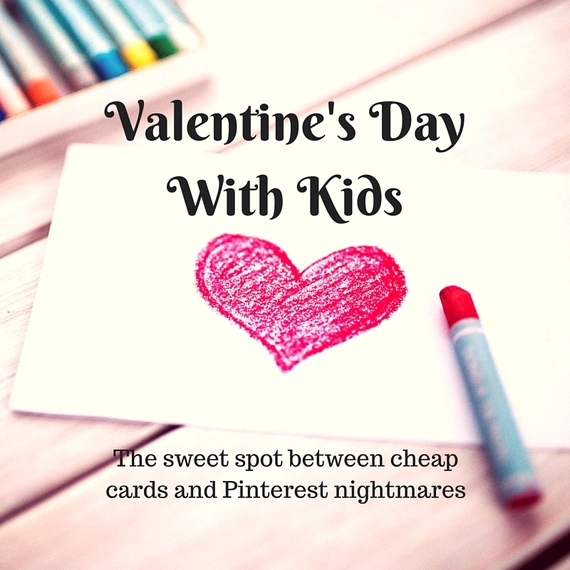 Valentine's Day is designed for lovers and suitors to declare their romantic feelings for each other in shiny, sparkling, and dazzling fashion. Yet, since the invention of crafting havens like Pinterest, pressure is being placed on parents to extend the holiday to include their children as well. When I was a child my mom would drive me to the store on Feb. 13 to choose a box of paper valentine cards for a dollar, and if she was feeling particularly generous a few boxes of heart-shaped candies to go with them.
I would spend about five minutes choosing among cards depicting beloved television characters like Snoopy, My Little Pony, or Rainbow Brite announcing their affection with cheesy puns like, "You're the treat at the end of my rainbow." Now, parents are pressured to produce tiny hand-crafted works of art for every student in their child's class which are simultaneously aesthetically pleasing, gender neutral, and egg, wheat, and nut-free.
Suddenly, Valentine's Day has become a time consuming holiday to rival Christmas and Easter in terms of parental involvement. I've spent my evenings pasting glitter on paper hearts, painting hand-print flowers, and constructing marshmallow snowmen. Hours of my life have been spent slaving over gifts that will be stuffed into a backpack along with 25 other cards, raided for candy, and then discarded like their cheap, paper predecessors before them.
This year I am reflecting on the point of exchanging Valentine's Day cards between children who are clearly too young to be courting or in the market for expensive diamond ear rings and tennis bracelets. Why should I spend my precious evenings arguing with my kids and forcing them to craft until their fingers are ink-stained and sore? What is the point?
Valentine's Day should be about making someone feel good about themselves, whether it's because you admit to having a crush on them, declare your undying love, or ask them to be your best friend forever. Even kindergarteners deserve to feel special. So this year instead of passing out epic Pinterest failures in an attempt to compete with the growing tradition of out-crafting our fellow parents, I've decided to spend my time in a way that's more authentic to the sentiment behind the holiday.
This year my children and I will write out one thing that they like about each of their friends and classmates, whether it's a game they usually play together, the color of their hair, or the way they sing during free time at school. Not only will this provide an opportunity for my kids to give their friends a nice compliment, it will also encourage them to look for something good in each and every one of their classmates. Instead of spending hours sweating and stressing over the quality of my generic home-made cards, I will spend the same amount of time talking to my children about their likes and dislikes, conversing with them about how they can make others feel good about themselves, and also what makes them feel good about themselves.
Valentine's Day is supposed to afford each and every one of us an opportunity to get closer to the ones we love, and I think we should start with our children. Holidays can either be a burden on our time or a chance to teach children the joy of making another person happy for just one moment. In the end, the best gift your child can give another human being on Valentine's Day is a genuine compliment from his or her heart, even if it's scribbled backwards in green crayon on notebook paper. They will both carry that sentiment with them for years to come.
*This post originally ran on Chambana Moms

Once a cognitive psychologist in the field of memory, Mary Widdicks now spends the majority of her time trying to remember if she fed all her children each morning. The irony is not lost on her. Mary's writing has been featured on sites such as The Washington Post, Brain, Child Magazine, and Scary Mommy. In February of 2015 she gave birth to her first daughter and is now happily drowning in a sea of pink. Follow Mary on her blog, Outmanned, or on Facebook.