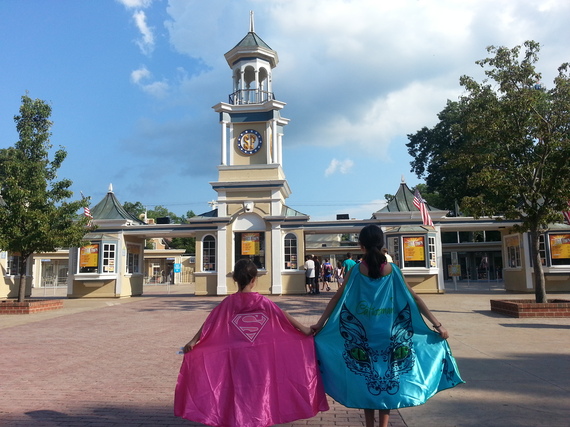 When I was spending my high school years in New Jersey, all I could dream about was getting out and exploring the world. Now that I'm middle aged with two young kids growing up in Europe, New Jersey doesn't look so bad... at least when it comes to thrill rides. Amusement parks are the best in the U.S. with the wide array of rides, safety standards, cleanliness and kid-friendly fun. We have been to fairs in Europe, which make the dodgiest carnival that coasts into an American rural open field and leaves by sun up, look like paradise.
Sometimes it takes time, distance and perspective to love how great the park scene is in New Jersey. I didn't appreciate how readily available they were in my teenage years. While I wanted to visit the great museums and cities of Europe, it's the spontaneous thrill of whizzing up to a top-notch amusement park for flat-out fun that I miss. And this summer, New Jersey didn't disappoint me or my kids! Here are a few I can recommend: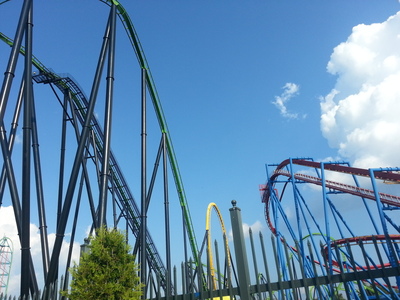 Six Flags Great Adventure -- When I was waiting in line for a roller coaster in Grona Lund, the city amusement park in Stockholm, Sweden, footage of other impressive roller coasters played in a loop while would-be riders waited 45 minutes for a mildly thrilling rickety roller coaster. One of the roller coasters featured in Stockholm was the Kingda Ka in Jackson, New Jersey. If the Swedes had known about the dozen other amazing roller coasters at Six Flags Great Adventure, they might all have sulked out of the amusement park in disappointment. BATMAN: The Ride BACKWARDS, El Diablo and SUPERMAN: Ultimate Flight are just few other amazing roller coasters at Six Flags.
There are plenty of choices for those who don't quite meet the height requirements for the crazy rides, such as a log flume ride, Congo Rapids and milder roller coasters. And the assortment of capes for my supergirls were enormous. We picked up a turquoise Catwoman cape and a light-up pink Supergirl cape. For more information, go to Six Flags Great Adventure.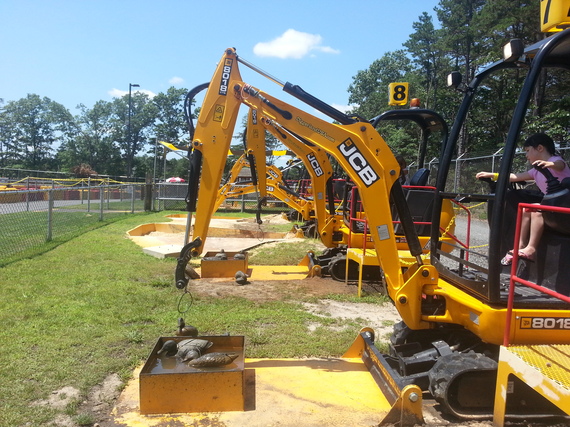 Diggerland USA -- Almost every kid dreams of getting behind the controls of a digger, tractor or bulldozer, especially when they pass by the bright yellow vehicles along the side of the road. They're kind of cute and you have to admit, they do look like lifesize toys.
At Diggerland USA in West Berlin, New Jersey, the novel concept in amusement park fun makes children's dreams come true when actual construction equipment are the stars of the show. Kids get on board real construction vehicles, yes that's right, real construction vehicles to create havoc in a controlled setting. Kids of all ages can drive around a track, some rides require little ones to sit on their caretaker's lap. Other rides let you move dirt around or pick dummy ducks from a watery pit. And for the thrill seekers, a ginormous excavator is outfitted with safety seats in a converted bucket and riders are spun around and around, facing downward, in one of the most bizarre, white-knuckled rides I've ever been on, and surprisingly exciting. Diggerland USA sponsors Touch-a-Truck events with fuel trucks, mobile vet vehicles and heavier machinery, as well as holding events for children with special needs. For more information, go to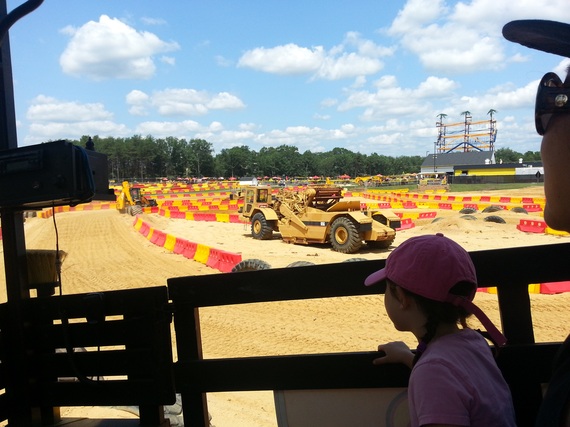 Sahara Sam's Oasis -- With one of the best wave pools I've ever been in, Sahara Sam's is terrific fake-beach fun without coming home with fistfuls of sand in your bathing suit. The wave pool is located outdoors, along with a splash pool and a bigger pool. There's even a cabana offering drinks and snacks so you get the authentic vacation feel but knowing you get to sleep in your own bed in the evening. There's also a large indoor space with tube floats, kiddie water slides and a giant tube water slide that descends four floors... in the dark! Scary thrills! The last time I was on a ride like was in a water park in Turkey so I was surprised to find a similar adventure in New Jersey. For more information, go to Sahara Sam's Oasis.