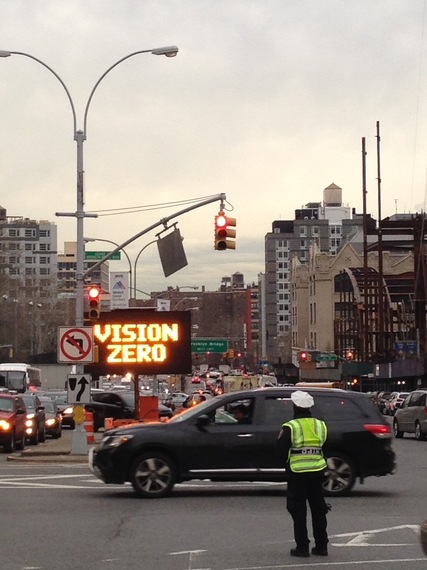 Fragile and angry is how I feel after a car or truck nearly sideswipes or runs me over as I ride a bicycle through the streets of New York City.
After one of those close encounters, I'm reminded that cyclists and pedestrians alike are mere eggshells when compared to steel machines, capable of triple-digit speeds, controlled by a human that's subject to occasionally impulsive behaviors.
In 2014, 132 pedestrians and 20 cyclists died after crashes with automobiles in New York City. Some 16,059 pedestrians and cyclists were injured, some gravely, last year according to the New York City Police Department.
I felt a sense of fear and anger after one of those close calls with a car one night this April around 6:30 while pedaling down Court Street, a busy two-lane road in Brooklyn.
Just a couple of blocks south of Atlantic Ave., I heard an engine rev up behind me, and next thing I knew, a silver-colored car zipped past me so close and fast I could feel the hairs on my legs stand up. Clearly in a hurry, the little car dodged in and out of traffic, off into the south Brooklyn sunset. Spooked, I pulled over and got my nerves together.
Looking for something to blame, I started asking what's up with Mayor Bill De Blasio's Vision Zero plan and all the talk of a 25 mph speed limit? Isn't there meant to be a big crackdown on speed racers like the silver car that almost skinned me on Court Street? What good is a policy concerning traffic without the sharp teeth of the NYPD?
Vision Zero came to be in June 2014 when the mayor signed a package of 11 bills aimed at improving safety on city streets all in support of the city's bigger mission to eliminate all traffic deaths by 2024.
The measures include more traffic data collection tools, new slow zone infrastructure, smarter street designs, signage and traffic data collection tools coupled with enforcement, all meant slow down cars and in turn, reduce the number of people injured or killed by cars.
Despite a still unacceptable number, pedestrian deaths during 2014, Vision Zero's first year, were 13 percent lower than they were in 2013. That said, the 20 cyclists who were killed in 2014 was up from the 12 killed in 2013.
During the month of February 2015, 11 pedestrians were killed while 735 pedestrians and 81 cyclists were injured in collisions with automobiles in New York City. In February 2014, eight pedestrians and one cyclist was killed. However, 820 pedestrians and 94 cyclists were injured that same month, one year earlier.
As far as the crackdown by the law, ticketing is up.
A spokesman from the mayor's office said the New York City Police Department continues a pretty aggressive ramp up of traffic enforcement; Speeding tickets were up 42% in 2014 and failure to yield tickets were up 126% both over 2013. He also said the city's 140 allotted speed cameras will be installed this year which will result in even more fines for speedy drivers.
Also, this past August, a new law was passed that made it easier to criminally charge drivers who fail to yield and injure or kill a pedestrian who has the right of way. That includes bus drivers, as well as other government drivers.

City hall says that so far, around 30 drivers had been charged under the new misdemeanor law.
I found it hard to believe that in all these years before 2014, despite clear negligence on a driver's part, unless he or she was drunk, high, unlicensed or fled the scene, they could get away with no charges at all, other than having to live with the fact they'd just killed someone.
But some might say a misdemeanor seems far too light for many of the thousands of violent auto-human encounters, especially where drivers were clearly negligent. And there are growing calls for city district attorneys to investigate and file more serious criminal charges in a number of cases.
But Vision Zero is so much more than a set of legal initiatives. Perhaps it's but one component of a much larger collective conversation, a tangible push by the city that encourages us to rethink how we use our shared public spaces, most especially, how can we make our busy streets more calm, less contentious, more efficient and as a result, safer for all New Yorkers.
On the design side, the city has plans to spend around $250 million on its Great Streets initiative; that includes curb-to-curb overhauls of some of the most chronically dangerous streets in the city. In fact, around $100 million of that money will go to the transformation of Queens Blvd.-nicknamed the "Boulevard of Death" back in the 90's. During a seven year stretch from 1993 and 2000, 72 pedestrians were killed crossing the road there on that artery.
The Queens Boulevard work is set to start this summer and it includes physically protected bike lanes and expansive pedestrian medians. City Hall says it will eventually resemble the layout of Eastern Parkway in Brooklyn.
There are also 50 other smaller projects on the design side including a mix of corridor and intersection treatments such as pedestrian medians, pedestrian crossings, speed bumps and more protected bike lanes, according to the city, all nudging the streets to more calm and safe place.
"Prioritizing where traffic calming improvements like bulb outs should go is a difficult balancing act between public safety, local politics, and available funding," according to Benjamin Donsky, a senior project manager at Biederman Redevelopment Ventures Corp., a leader in the transformation of a leader in the creation and revitalization of public spaces, streetscapes, parks, and business improvement districts.
Donsky said he doesn't envy planners at the Department of Transportation. But, he said despite a myriad challenges, he is seeing traffic calming efforts continue through the Vision Zero campaign.
"Walking around New York City, we see cars and bicycles routinely break traffic laws, and of course New Yorkers are famous for, maybe even proud of their jaywalking--but not all violations are equal, and it's a lot easier to injure or kill someone with a car or truck than a bicycle, " said Donsky.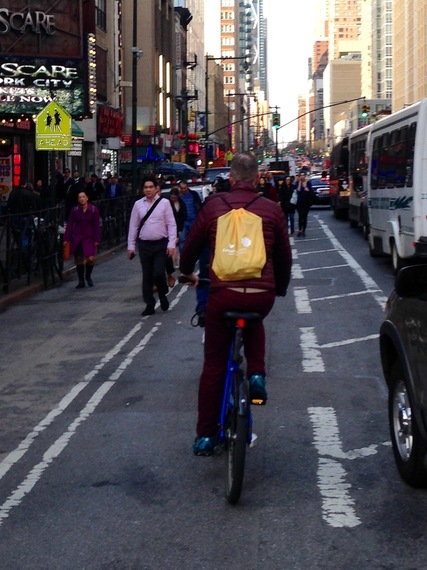 He said after a child was hit by a speeding car and killed on 17th Street in Chelsea several years ago, his firm worked with Community Board 4 and other Chelsea residents who put large planters with flowers in the street, to create the same area as a street curb extension that's commonly known as a "bulb-out."
"This type of project is low cost, has a high impact, and also helps educate the community on what traffic calming really is," he said.
True enough, but where to find funding for such transformative projects?
In an April 10 press release, the cycling advocacy organization Transportation Alternatives said the Mayor's Vision Zero improvements are a step in the right direction.
But, they say the current proposed budget doesn't include enough money to truly fix all the city's dangerous streets and reach Vision Zero's ultimate goal of eliminating traffic fatalities and serious injuries.
Transportation Alternatives is calling for increased capital and operating funding to fix dangerous streets faster, with safety improvements distributed fairly across all five boroughs.
One new source of infrastructure and transit funding could be a plan currently floated by Transportation Guru "Gridlock" Sam Schwartz and the Move NY team. One of its brochures describes the solution as a commonsense plan that is fair for everyone: toll the crossings into Manhattan south of Central Park, where traffic is worst and transit options are plentiful, and significantly lower tolls on all the MTA bridges. The net revenue from this more equitable tolling system will be invested in the transit system, roads, and bridges that all of us rely on to get around.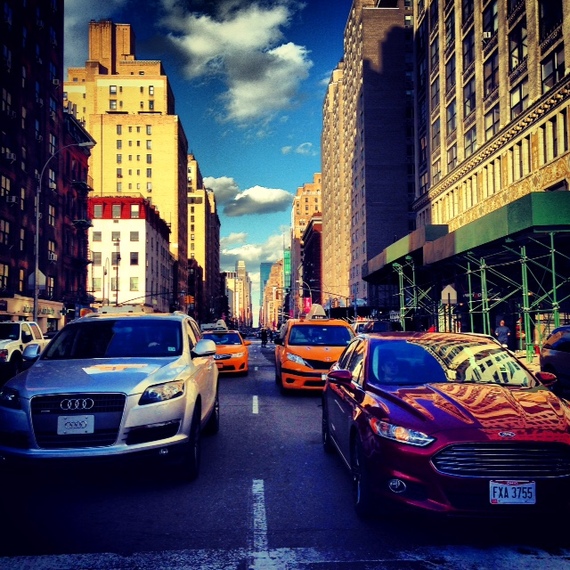 Ben Donsky says one of the toughest part of instituting traffic calming is convincing neighbors that losing one or two parking spaces is worth the improved safety.
"I've been a driver, cyclist, and a pedestrian in New York City and I suspect most New Yorkers are at least two of those three on a regular basis. I try to remember when I'm driving, that an annoying pedestrian might have been me a couple of hours ago, and that cyclist might be a friend of mine," Donsky told me.
Drivers, cyclists and pedestrians would likely benefit by abandoning the the "us. vs. them" mindset since, he says, the entire city is in this safety effort together.
"But, the reality is that people are not going to change their behaviors willingly--we're all in a rush and we don't want to be delayed even for a minute or two. That's why projects like Broadway Boulevard and the Prospect Park West bike lane are so important," said Donsky.
They show traffic calming isn't scary, and it can actually benefit everyone, no matter the mode of transportation, he says.
Related
Popular in the Community