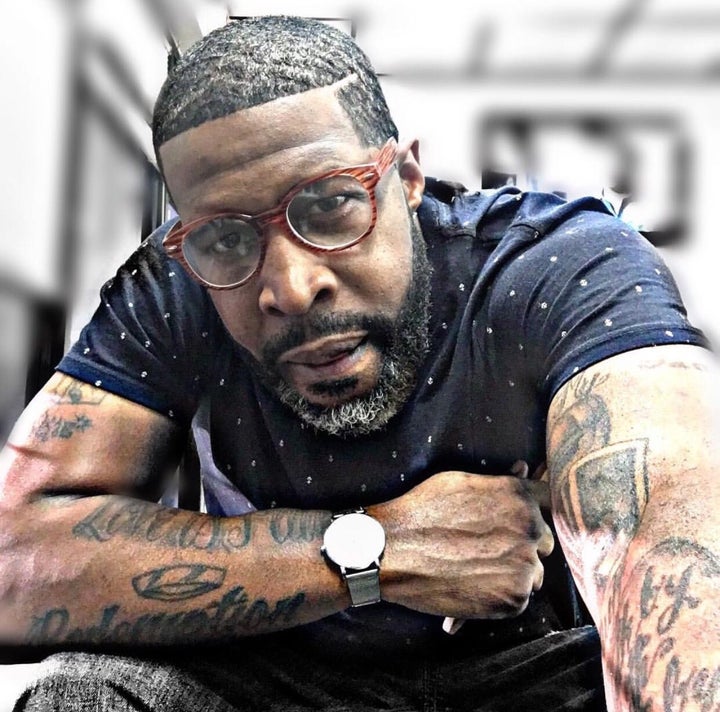 Chicago has been long known for it's murder rate. Scores of people who haven't lost their lives have instead lost hope. Dreams have become stagnant. Some would even reckon the environment to the grim reaper. Yet for as much as an oyster tries to keep out any negativity in the form of parasites, those that get in it's tough exterior are dealt with. From there, pearls are formed. Out of the parasitic urban jungle of the Chicago streets, a young male pearl was born. A hard exterior with a unique beauty that marvels the eye. Chimuka Okasili is that young, Black, male pearl. Tough, yet precious in his countenance. This young Black King, born in Chicago to an American mother and Nigerian father possessed the best of two totally different worlds. Born on the soil of one land, but having the roots and the determined countenance of the other. At the age of 10, Chimuka moved to Southern Illinois with his mother, but then returned to Chicago in his teens and lived with his father. Nicknamed "Chika" to those who know him, was born with the innate yearning for his definition of living the dream. He ultimately wanted to craft a dream that would leave a legacy behind long after his reign. Even though he was afforded an education that a lot of urban youth don't get to exercise, Chika wanted more than conventional living. The difficulty however, was figuring out what that "more" was. Knowing that there was some greater calling on his life, Chika decided to risk it all. In 2003 Mr. Okasili moved to Atlanta Georgia for a shot at "more". Having little to nothing, he feared not. Moving to a totally new setting with no family, no friends and no capital didn't deter him. He just knew this move was necessary. He hit Atlanta determined to find what he was looking for. After being a barber's apprentice for almost two years he began professionally exercising the craft and became an entrepreneur. Yet even still, there was a yearning for "more". Countless nights were spent wondering what that "more" was. This sparked a period of disillusionment within his spirit. Like a caged lion, he paced within himself ready to pounce at any moment, even if it meant pouncing on the innocent. His relationships began to suffer. His drive and purpose for getting up everyday began to suffer. Not able to quite put his finger on it, Chika began to slip into a dark place. He needed to figure out what "more" looked like. And because that clarity didn't readily present itself, the shades created a darker and darker place in his spirit. Then, like the parasite that forms into a pearl, his resolve began to quicken. A fire was lit. The origin of the spark came from deep within. Although short in capital, the vision was huge! As a barber, he had seen a need and he was determined to fill the void. His bearded clients constantly asked him what they should use to care for their beards. Chika wholeheartedly gives thanks to an ex-girlfriend for teaching him how to make his own Shea Butter. With his clients wanting a way to care for their beards and skin and Chika on his quest for furthering his purpose, he took making his own shea butter to the next level. He dug deep into his warrior spirit and perfected what is now his skin care line. Perfecting the formula was part of it. Finding a name that embodied his message was another. One night in deep reflection, he made a fateful phone call. The phone call was to a cousin who offered up the Nigerian name for 'beard'. Thus the product line AfòOnu was born!!! AfòOnu is a Shea Butter based product line that features Subtle Savage for the men, and Goddess for the women. Some of the benefits and notable things listed on the AfòOnu website are:
1) Relieves the symptoms of Eczema and Psoriasis 2) Reduces skin inflammation and prevents irritation 3) Helps to re-grow strong and healthy hair 4) Made with hypo-allergenic All NATURAL products
AfòOnu contains five essential natural ingredients which help maintain along with building and maintaining healthy hair and skin. helps smoothen & brighten the complexion of your skin. Combined they aid in skin hydration while helping remove scars & spots.
So now, his "more" has been born! Like a proud father, Chimuka Okasili was right there in the delivery room, he contributed to the DNA, he was the first to hold and kiss his baby. He is a proud father feeling as though his child, "his more" has been kissed by the Gods. Nothing stands in the way now of his calling. Giving his clients the added care needed after they leave his chair is the gift that he has been waiting all of his life to give. This achievement was a long awaited one. Fourteen years in the making to be exact! Fourteen long, arduous years of sleepless nights, wonderment and faith combined is what we are seeing in the AfòOnu CEO that stands before us today. When asked what he thought he could tell someone else that was seeking out their "more" his answers were simply this: "Believe what the elders have told you about the calling on your life. Always be a realist, the bumps and bruises will come, being naive will be to you detriment. And lastly, accept people for who they are. Everyone won't love or support you seeking what they can't readily see. But slowing down your destiny to make a pity pit stop only delays your blessings. Stay on the road to knowing and finding!"
After hearing of his journey, attempting to write about his journey, and still needing a little "more", I asked Chika to send me some of the product. I was personally blown away. First off, let me confess, as a self-proclaimed 'girly-girl' I purchase a lot of smell good, feel good, look good stuff! So I expected to use it and put it down as I have with countless other purchases. But not only did I savor every second that I spent rubbing the "soft as whipped cream" body butter on my face, arms, legs, etc……I used the one for the men too! I couldn't help it, I just didn't want to part from either sample. Even though Subtle Savage was a scent created with men in mind, the sexy musky scent called to my senses. So YES!!! I USED THEM BOTH!!!! And loved them equally.
But, back to Chika. I'm proud to have written this story. Not only does it give hope to those who are still looking for that pearl in a parasitic environment, but his story inspires me also. I too, am looking for my "more" in 2018!!
Related
Popular in the Community