Popping up in upscale boutiques across America, the work of artist Stephen Wilson is making fashion enthusiasts fall head over heels.
Art and Fashion. The two have been in a beautiful symbiotic relationship for centuries. When this unity comes into play, the product is typically an extravagant ensemble strutted down a runway, or a well-recognized design printed over a handbag or sneaker. Fine artist Stephen Wilson is putting a very intricate, delicate and ultimately exclusive spin on the mergence of these two impactful industries.
As an artist who has not only been creating work for years, but has also held freelance positions in New York's garment industry, Wilson's impulse to combine his expertise in both fields is no mystery. His prolific fine art portfolio includes many series inspired by his experience and interests, including Americana which has the personality of John Wayne coated with the aesthetic of a bold Warhol ("Over the years, much of my design work has focused on the American West and I wanted to bring this genre to life in my artwork. Each piece is it's own design of American iconography and they all work together to form the combined piece, which is 8 feet tall by 25 feet wide," Wilson comments). The pieces of Wilson's ongoing sculpture series are products stemming from the significance of cutting edge technology in his work and his devotion to elaborate embroidery. These take the form of 3D printed skulls adorned with stitched butterflies and flowers. And following a completely non-traditional route, the Luxury Series takes the familiarity of opulence, high-end brands and the classic retail experience and gives it new life and a new look.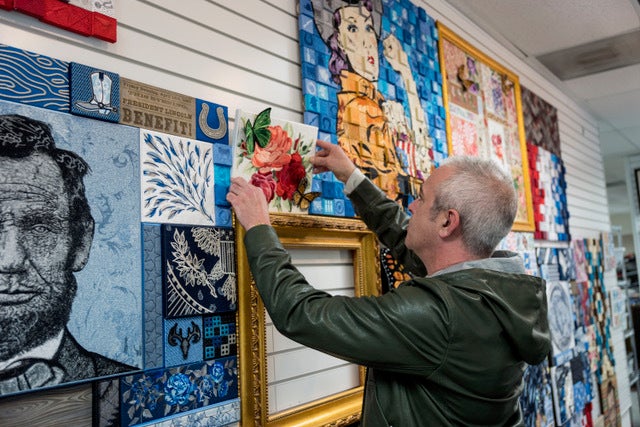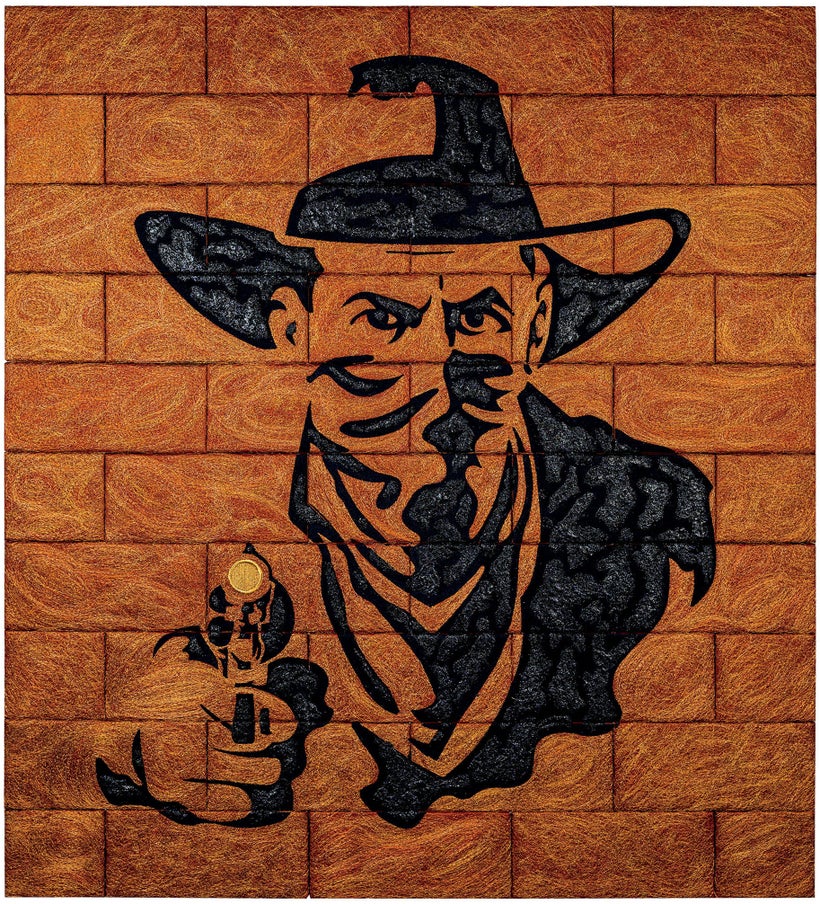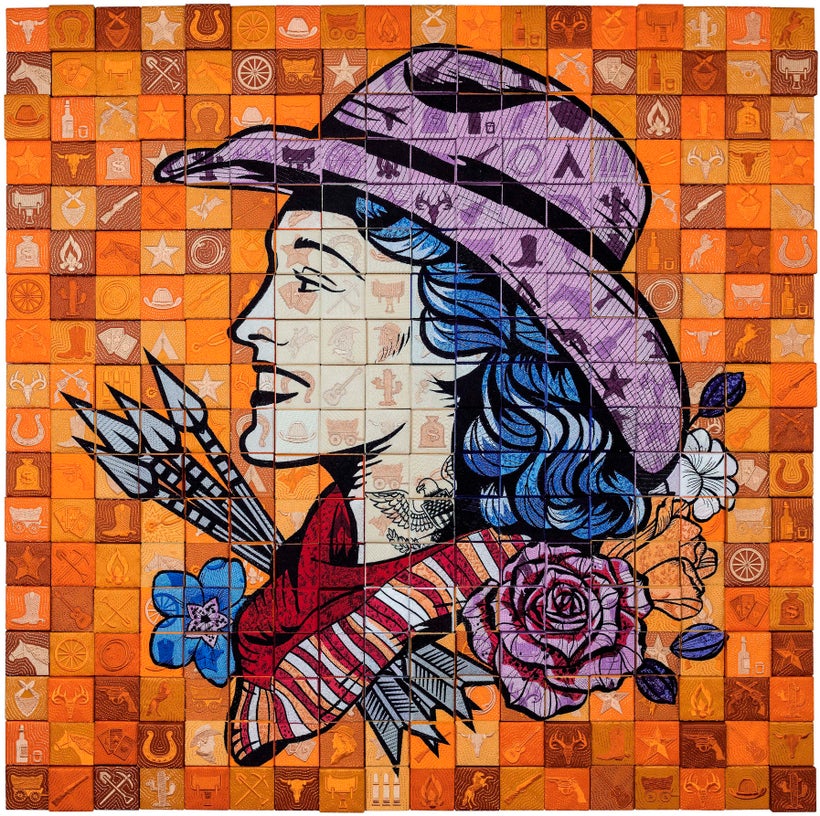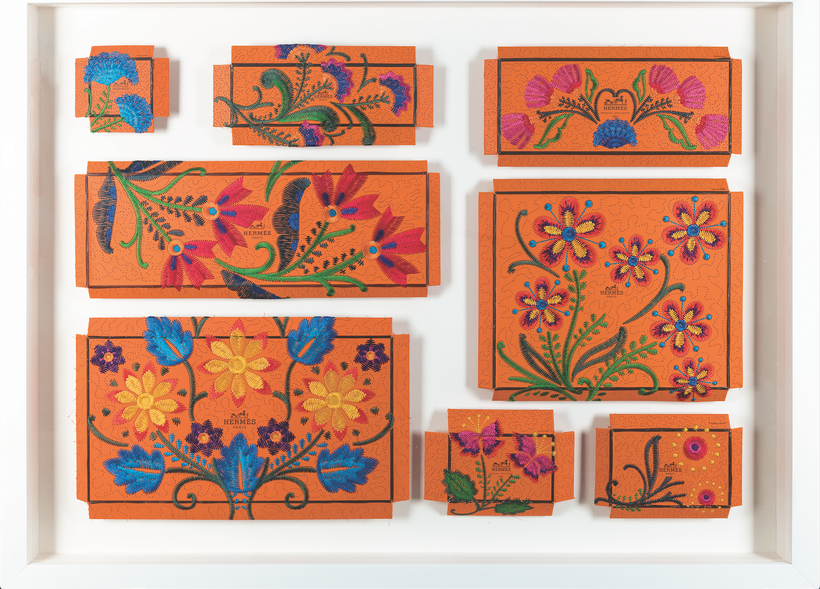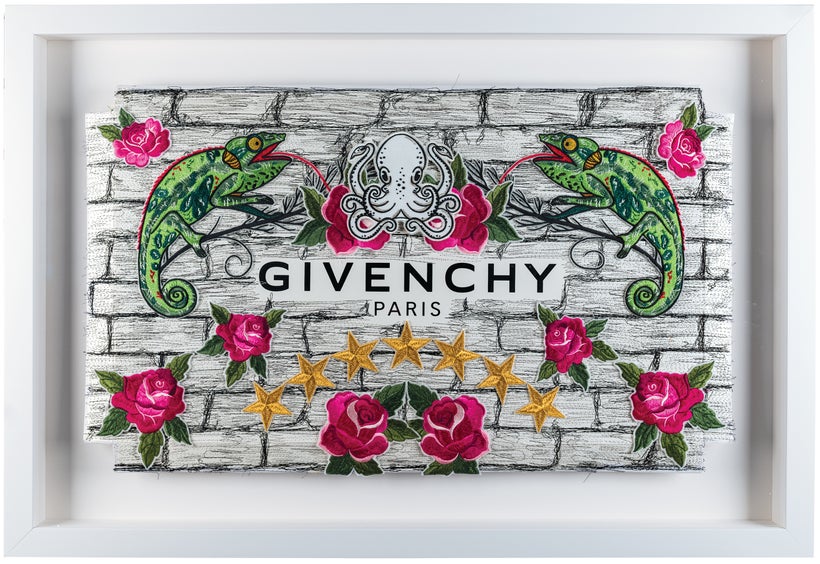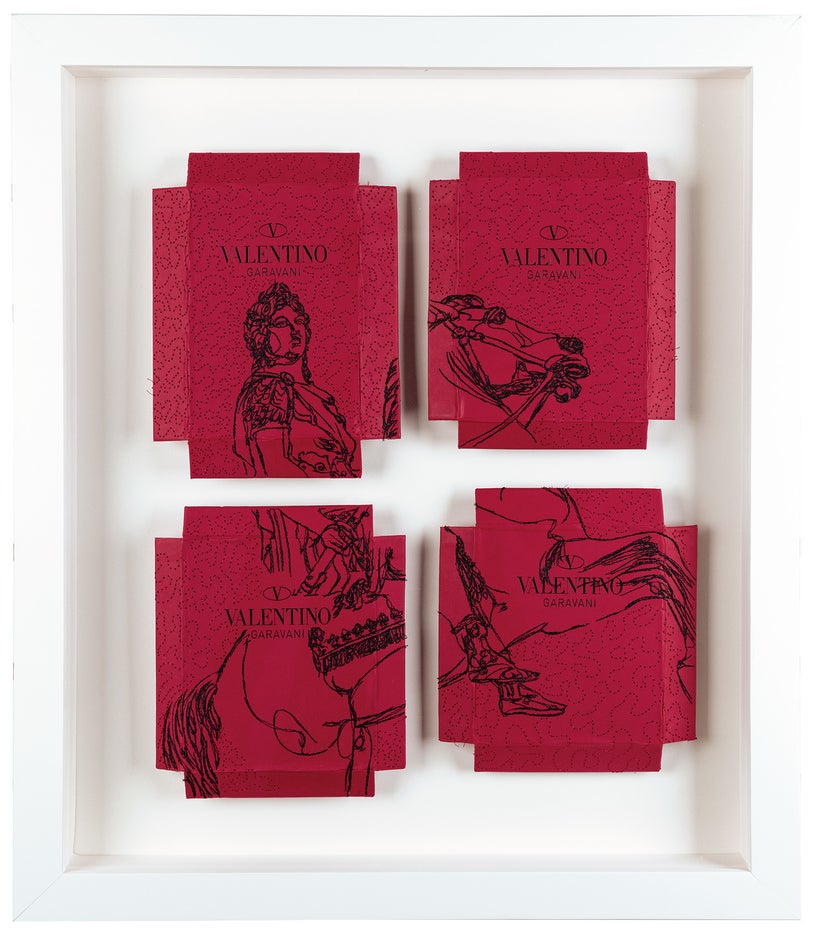 Wilson's canvas isn't a typical white, stretched surface. Obtaining his canvases requires a bit of work and research, having to find untarnished box tops. In the Luxury Series viewers are presented with millions upon millions of embroidered stitches, manifesting themselves to form floral arrangements or wild animals or architecturally impressive buildings (etc.). They are embroidered onto extravagant box-tops that once held the vision of designers at Hermes, Chanel, Valentino or Dior, and that are now recreated with Wilson's transformative design.
"I see fashion in a different light. During my time working in the industry, I would view designs as fine art and the retail experience as something much more. These are brands that have shaped the world of fashion, and for generations, luxury houses like Chanel, Hermès, Valentino, Dior, and Gucci have been creating beautiful products. There is a certain emotion that these luxury brands evoke. From the feel of superior materials, to the attention to detail placed into each product to the beautiful packaging. These boxes are a status symbol in and of themselves and usually, we are very hesitant to throw them away. Since I create many pieces using luxury fabrics like Hermès scarves, my studio had become littered with these boxes. During a day spent in the studio with my mother and wife, they both said to me, 'You should do something with those.' My grandmother was a seamstress and I spent hours upon hours playing with her sewing machines. With that experience combined with modern machinery, I knew I had the tools to create my Luxury series."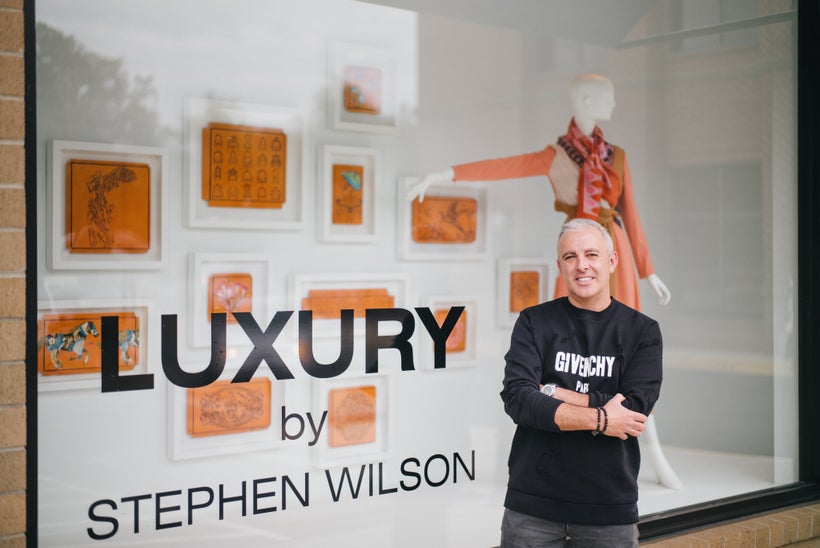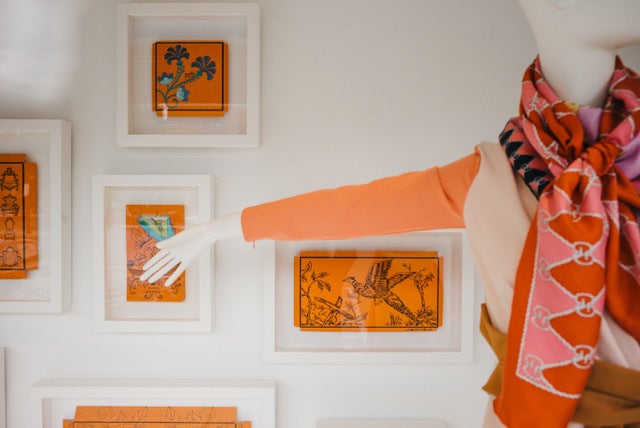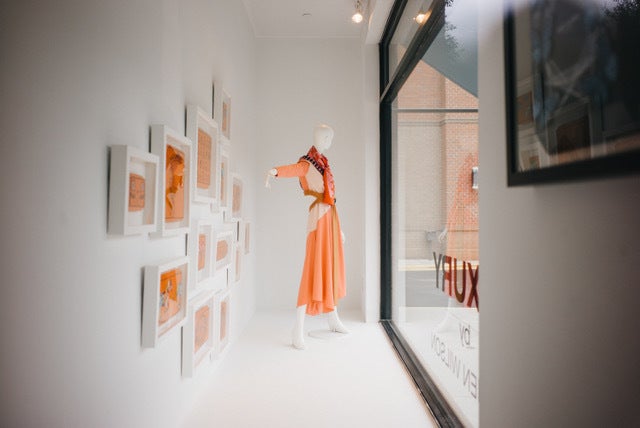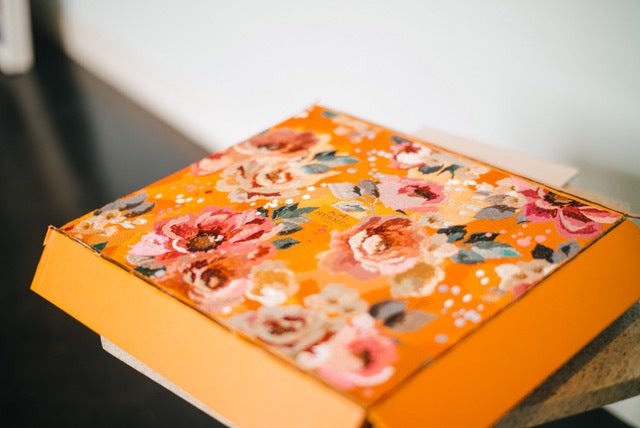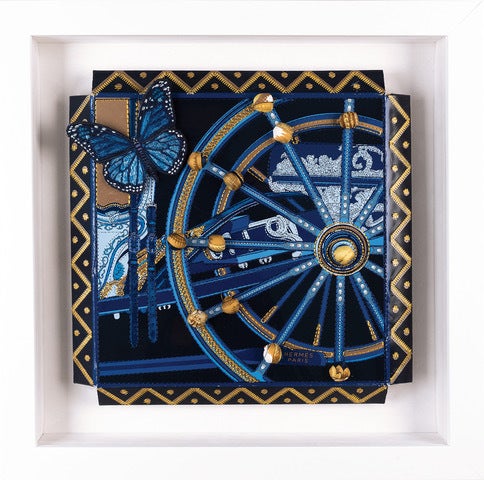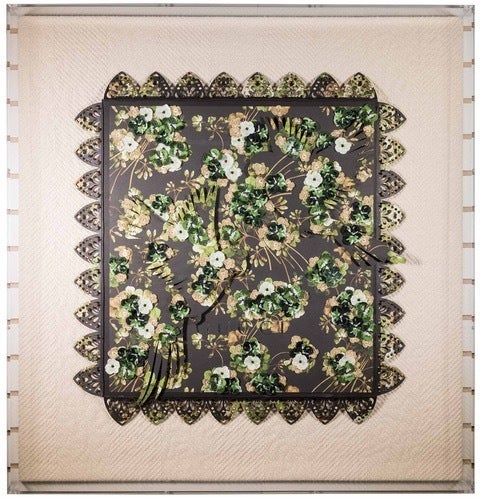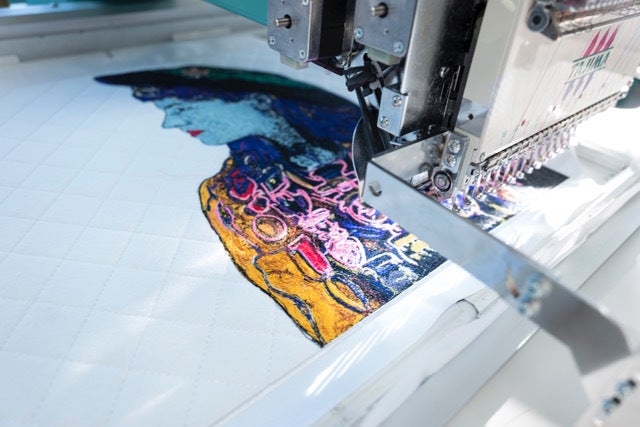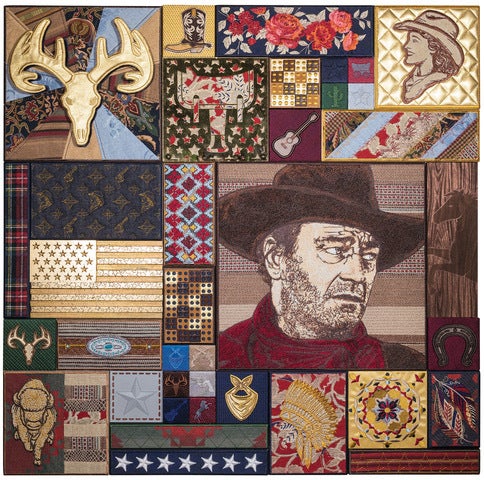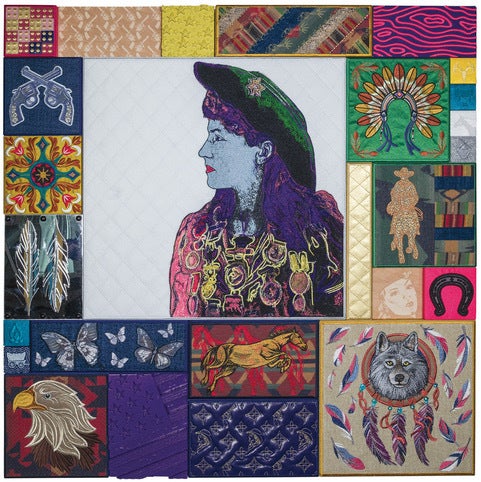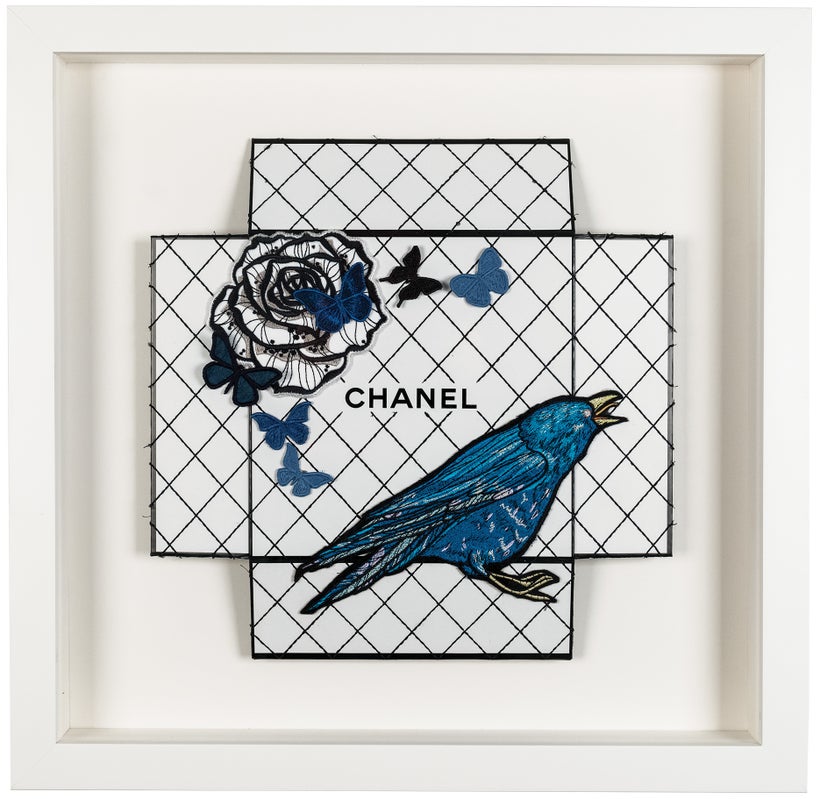 Like many designs, the process begins with an idea, and sometimes the box itself and the heritage of the brand will ignite the concept. For instance, Hermes paired with delicate equestrian stylings. The elements are then digitally sketched out, each stitch considered, and transferred to either an embroidery machine or 3D printer. Depending on Wilson's vision, some embroideries may be paired with an overlay of paint or dye, and then the magic happens. The designs are then embroidered onto the boxes, using fabric, thread, or the brand's signature product such as the Hermes scarf. Wilson's series pushes the boundary of these mediums and expands his audience to include those who have found the same sort of comfort and splendor in associating themselves with these high-end labels.
As what could be described as luxury recycling, Wilson is continuously expanding his series with new designs, labels and techniques. He recently exhibited his Americana series in an installation at Lincoln Center during the run of The Girl of the West opera in New York. The 224 square foot display consisted of 39 individual pieces and 35,000,000 stitches. He is repped by DTR Galleries and New Gallery of Modern Art in North Carolina. You can check out more of his series by visiting his website: http://www.stephenwilsonstudio.com/.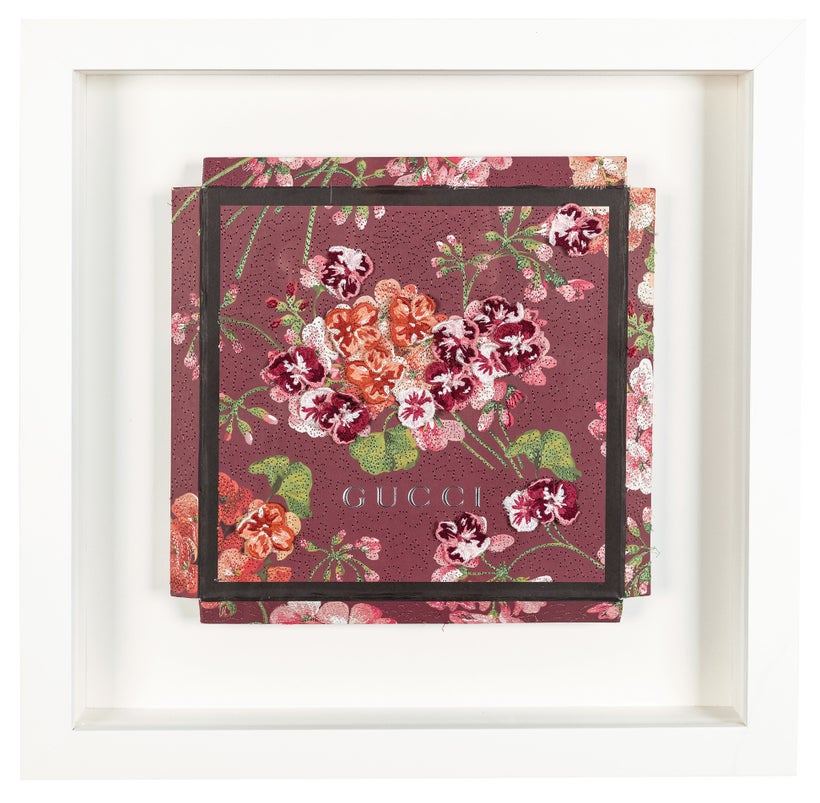 All images courtesy of Stephen Wilson.
REAL LIFE. REAL NEWS. REAL VOICES.
Help us tell more of the stories that matter from voices that too often remain unheard.
This post was published on the now-closed HuffPost Contributor platform. Contributors control their own work and posted freely to our site. If you need to flag this entry as abusive,
send us an email
.