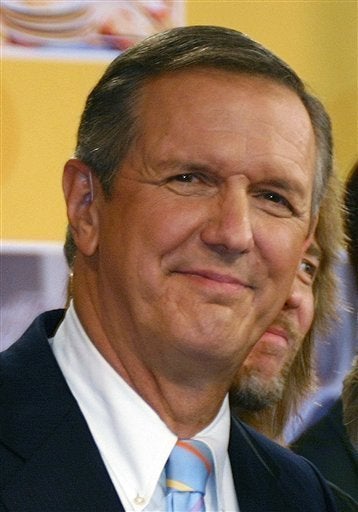 Charlie Gibson is shaking up the evening news ratings race — and apparently without my help. This week, "ABC World News" pulled in the most total viewers, beating "NBC Nightly News," which won the overall 2007-2008 season and which has won most weeks in 2008, staying tanatalizingly ahead of ABC in the locked-horns battle for #1 evening newscast that has raged since ABC first pulled ahead of NBC in early 2007, locking down the lead for most of the year until NBC reversed the tide late in the year and reclaimed its ratings crown.
But — could we be headed for another reversal? Three weeks running, Gibson has pulled in more viewers (though by an increasingly smaller margin), but the interesting part may be the all-important demo. ABC tied NBC this week in that key number (giving it the big win overall), and though it lost the demo last week (2.54 million to 2.41 million), it won the demo the week before (2.78 to 2.63). The closeness of these two demo victories is noteworthy, because of how decisively NBC tends to win the demo. How's this: It's so decisive that a demo tie counts as a demo 'victory' — because it's damned rare.
All of this is just number-crunching right now — like I said, Gibson's lead in total viewers is trending downward, so who knows if it will last, and as for the demo, one win and one tie do not a trend make. Also, these numbers may fluctuate but overall, they're close — there's a reason I haven't factored CBS into any of this. But given how scant demo victories have been this year for ABC, the numbers are notable. So, I guess we'll just have to see what happens.
In the meantime, Charlie, I bet it feels good to be back on top? I bet it would feel ever better to make it permanent. Hmm, I wonder how you might do that.
Press release from ABC News:
"World News with Charles Gibson" Ranks #1 Among Total Viewers, Adults 25-54 & Households

Marks Third Consecutive Week the ABC Broadcast Has Placed 1st Among Total Viewers; 2nd Time in 3 Weeks in the Key Demo

"World News" Posts Gains Among Total & Demo Viewers Year-to-Year and Week-to-Week

In the first week of the 2008-09 primetime television season, ABC's "World News with Charles Gibson" ranked #1 among Total Viewers, Adults 25-54 and Households. The ABC News broadcast averaged 8.07 million Total Viewers, outperforming NBC's "Nightly News" by 90,000 for the week. Among Adults 25-54, ABC and NBC tied for first place, with both programs averaging 2.57 million and a 2.1/9.

This marks the third week in a row "World News" has won among Total Viewers and the second time in three weeks the broadcast has placed first in the key demo.

Year-to-year and week-to-week, "World News" posted gains among both Total Viewers and Adults 25-54. Compared to this week last year, ABC grew 5% among Total Viewers and 8% in the key adult demo. Week-to-week, "World News" was up 3% in Total Viewers and 7% in the demo.

On last week's "World News," Charlie Gibson interviewed both Senators John McCain and Barack Obama following their meeting at the White House on the $700 billion bailout plan for Wall Street. Throughout the week, the broadcast devoted significant time to the rescue package and the turmoil facing the financial markets, featuring reports from Wall Street, Main Street, Capitol Hill, the White House, and the campaign trail.

Jon Banner is the executive producer of "ABC's World News with Charles Gibson."

EVENING NEWS (Week of September 22, 2008)

Total Viewers Adults 25-54 Households
ABC 8,070,000 2.1/9; 2,570,000 5.5/11
NBC 7,980,000 2.1/9; 2,570,000 5.4/11
CBS 5,990,000 1.5/6; 1,910,000 4.1/8

Source: Nielson Media Research.
REAL LIFE. REAL NEWS. REAL VOICES.
Help us tell more of the stories that matter from voices that too often remain unheard.