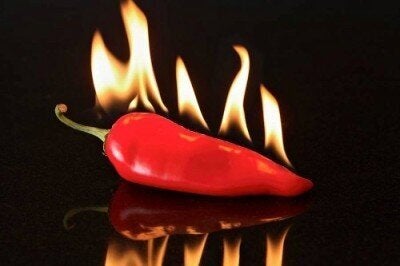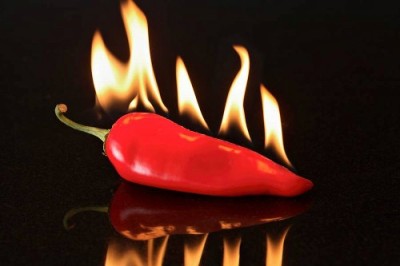 By Robb Walsh
Most of the chefs I know love hot and spicy food. After work, they go out for a late night snack and order pad kee mao "super Thai hot" or taco truck gorditas drenched in salsa de chile de arbol. But the hot flavors get left outside with the street clothes when they don their whites. What's up with that? Why are hot and spicy foods relegated to a culinary ghetto? Is it because the French dominate our culinary training academies and the French have "delicate" palates?
There are a few fine dining chefs who have chucked the polite assumptions overboard, like Chris Shepherd at Underbelly in Houston. Shepherd serves a ballsy blend of Southern, Asian and Latino dishes organized around local ingredients, a style I like to call "Texas Creole." You should try his rabbit and dumplings with fire engine-red Korean gochujang sometime. The Duck Tamale & Fried Duck Egg with Red Sauce & Pico de Gallo that Tim Byres serves at Smoke in Dallas is unapologetically spicy, too.
Heat Seeking Pilgrimage
But in the newest, hippest, "food as art" fine dining restaurants, there are no fiery thrills to be had whatsoever. For people with a serious chile habit, this can be a real problem. It's a little shameful to follow a stellar fine dining experience with a crude pepper fix, but addicts can't help themselves. Which is how food blogger Francis Lam and I found ourselves sucking down hot sauce-laced tacos after midnight at a Mission Street burrito joint after eating our way through a mind-blowing 12-course tasting menu down the street at Commonwealth. You have to forgive us, we were in San Francisco for a taco truck conference, after all.
A few weeks ago, I found myself at The Inn at Dos Brisas, a luxury dude ranch near Washington, Texas. The Inn is a member of the exclusive Relais & Chateau group, a portfolio of properties that includes European castles and Caribbean islands where very rich people go to chill. I was there writing a story about the extensive organic gardening operation and the rare heirloom tomatoes they grow. To my delight, superstar chef Raj Dixit invited my wife and me to dinner.
Touring the 24 acres of gardens, Raj told me that his father is Indian and his mother Filipino. Raj graduated from the Culinary Institute of America in Hyde Park, class of 1998, and worked with the farm-to-table pioneer Craig Shelton at New Jersey's Ryland Inn for nearly a decade. In New York, Raj served as Chef de Cuisine for Dennis Foy and David Bouley before a scholarship took him to Japan to study cooking in Sakai City. He was a big deal for such a young chef.
Hot topic: a spicy food confrontation
Seated in the bar at the Inn, sipping Veuve Clicquot Rosé, my wife and I chatted with Raj about dinner. He asked whether we had any dietary restrictions. And then he made a fateful mistake: He asked whether we had any special preferences. His face contorted slightly when I told him we liked extremely spicy food and that I was writing a book about hot sauce. He had an eight-course tasting menu already planned for the evening, and it included lots of heirloom tomatoes, but no heirloom peppers.
"But you have all those chiles growing out there," I said. Finally, he capitulated. "OK, I can give you something hot on the side," chef Raj conceded. Seated at the table, we were pleasantly surprised when the first course, a gorgeous composition of several varieties of heirloom tomatoes with tiny cubes of tuna sushi, assorted basils and a dusting of vache rosse parmesan. A trio of bowls were placed on the side. In them were two Japanese shichimi pepper blends and a bright red chile-infused sesame oil. I nursed the condiments with the intention of keeping them around for the whole meal. But I didn't need to worry.
Succession of steamy escorts
Each course came with a freshly made hot sauce designed to accentuate the flavors of the ingredients. There was a fermented pineapple pique to go with the langoustine, coconut tofu, borage flowers and three preparations of cucumbers; a green curry chow chow to go with the porcelet (baby pig) with plums and mushrooms; and a smoked ghost pepper sauce beside the saddle of lamb with chickpeas, green olives and artichokes. The hot chile preparations were delightfully flavorful and pleasantly piquant, not overbearing tonsil-scorchers.
A tasting menu with a flight of accompanying hot sauces -- it was all my fondest food dreams come true. I asked the sommelier to steer us toward wines that would resonate with the peppers. He responded with inspired picks including a Collio Pinot Grigio with the seafood and a Sonoma Pinot Noir with the lamb.
My apologies to Raj Dixit. He didn't volunteer to serve as the poster chef for the hot and spicy fine dining movement; I forced him into the role. But I am holding him up for emulation anyway. If he can come up with a flight of hot sauces to match his tasting menu, so can other fine dining chefs.
I say it's about time American chefs shed the Eurocentric attitude about chile peppers and liberate hot sauces from the culinary ghetto.
Three-time James Beard Award Winner Robb Walsh is the author of "The Tex-Mex Cookbook," "Texas Eats" and several other Texas cookbooks. He is the head judge of the Austin Chronicle Hot Sauce Festival, now in its 22nd year and a board member of Foodways Texas, a nonprofit dedicated to preserving and celebrating the diverse food cultures of Texas. Walsh is currently working on "The Hot Sauce Cookbook" for Ten Speed Press.