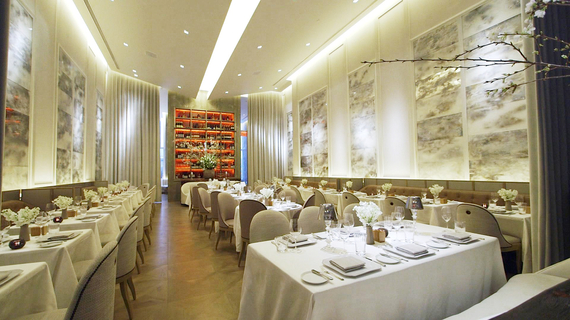 There are fresh flowers on every table and a large spray to the rear of the long dining room. The linens are soft, the lighting is too. The wait staff is impeccably dressed. The noise level in the room is wholly civilized. The butter salted just enough, served at the right temperature. Complimentary hot gougères ooze with a truffled Mornay cream.
You are at Chevalier, the ten-month-old fine dining room in the Baccarat Hotel, just across from MOMA. And from the first warm greeting by managers Alexandra Levy and Alessandra Lavey, you sense that the evening will take as long as you wish in order to enjoy all of Chevalier's many pleasures, foremost Chef Shea Gallante's cuisine, which epitomizes what fine dining, without pretension, means in NYC now.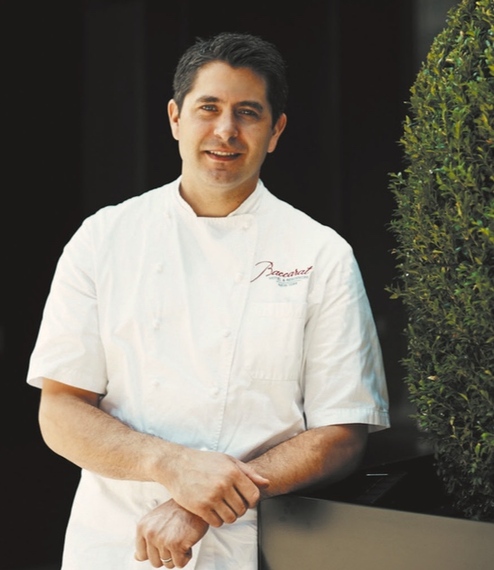 Chevalier is not a place where you'll be presented with six sea salts or seven knives, nor is it a place where the clientele all look like they reluctantly drifted down from their hotel rooms. Indeed, when I dined there after a rough snowfall the night before, everyone from tall, slinky Asian models to young businessmen and women occupied most of the room, comforted by the banquettes, the soft carpet and the pearly cast of the walls. The ceiling is a little too high, perhaps, but the openness of the room and just the right number of seats, 70, preceded by an elegant bar, add in grandeur what it lacks in intimacy.
One NYC restaurant critic called Chevalier "both expensive and ambitious." Shea Gallante is certainly guilty of the latter--his is some of the most exciting food in the city right now--but the charge of being expensive shouldn't need explaining for the level of elegance, table settings, design, wine list and staff you find here. In fact, the prices at Chevalier are considerably below La Grénouille's $138 for three courses, Daniel's $142 for four, and Le Bernardin's $147 for four, with Chevalier's dinner appetizers $22-$29 and entrees $38-$44--this at a time when a dreary brick-walled Greenwich Village haunt like Carbone is selling baked clams for $21 and veal parm for $55. At Chevalier you can have a beautifully served three-course meal for about $72, which includes those gougères and an amuse (which on the night I visited was hamachi), and mignardises at evening's end.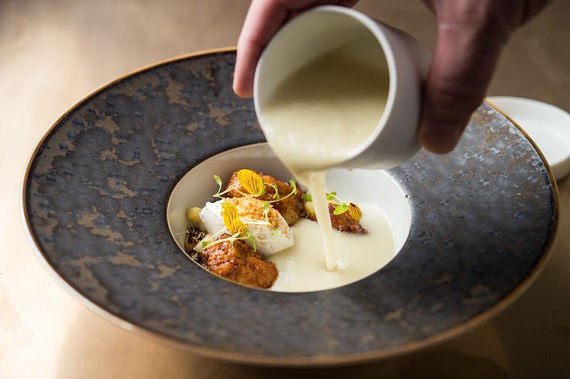 The appetizers are among the most interesting I've seen in a while. Pork belly is braised with baby spinach (all the way from New Zealand, for some reason), pickled mushrooms and a citrusy tom yum broth to cut the meat's fattiness. Raw Nantucket bay scallops made a rare appearance this season with bergamot grapefruit, hot yuzu kosho aïoli and Japanese ash salt, each element with just enough flavor to buoy the delicacy of the scallops. Hudson Valley foie gras ($29) was cooked perfectly, not mushy inside but resilient to the touch of a fork, with a Sauternes gelée, almonds, huckleberry, buckwheat and carob molasses, which added up to too much sweetness.
Wild mushrooms were pleasingly roasted for a salad with white sturgeon caviar (from a small producer in Austria), bok choy and Napa cabbage emulsion. Dungeness crab, black sea bass and bouchot mussels came with a classic, ruddy bouillabaisse sauce ($46). Very light, fluffy sheep's milk ricotta gnocchi took on the flavors of spicy tomato and fennel, with a sauce of octopus and Calabrian pepper made in the style of a Bolognese ($24), with the octopus working as the protein in the sauce.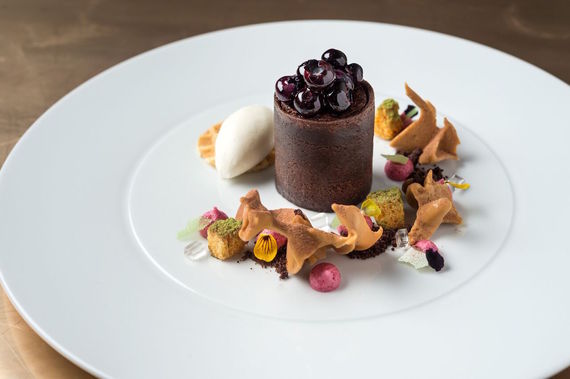 In restaurants of Chevalier's caliber appetizers often outshine the main courses, but every one of the entrees I tasted was at the same high standard with what preceded them. Lobster was gently poached in fine butter and came with braised artichokes, ricotta gnudi pasta and a reduction of lobster jus ($42). Gallante suggested a thick veal loin be cooked medium-rare, which I agreed with, though that night it was far closer to very rare, which is not ideal for veal, but there were woodsy enhancements like aligot, in which parsnips replace potato pureed and folded into Raclette cheese, with charred shallots and chanterelles ($36).
I had no such reservations about the rareness of superb Colorado rack and loin of lamb with Cantellucio lentils, sweet baby carrots and braised lamb belly ($44), which is as sumptuous a dish for a long winter's night as you'll find in town. Both roasted Brussels sprouts with bacon and potatoes gratin dauphinois ($12 each) were impossible to resist ordering.
Chevalier has acquired one of NYC's most respected patîssiers in David Carmichael, formerly at Gilt and Oceana, and his creativity is at its height here. His beignets ($16) are filled with crabapple marmalade, rolled in cinnamon sugar, a 'liquid' pie crust--pastry blended with a simple syrup and tempered with white chocolate to make it into a spreadable form; it is then lavished with crème Chantilly and apple sorbet, a sweet masterpiece. And even if it went over the top in richness ($16), the sticky toffee of date pudding cake, dulce crèmeaux, banana gelato and almond tuille was fantastic.
Wine Director Jeff Taylor, stocks a wine cellar with an appropriate number of labels--700--for a restaurant of Chevalier's refinement. The whole team here is among the cream of the crop.
As I've had reason to mention more than once, the NYC food media seem to delight in insisting that people no longer want to dine at Chevalier's level of sophistication, but the continued entry of new restaurants like Gabriel Kreuther, Vaucluse, La Chine, Bâtard, Betony, Juni and others belies such ignorant pronouncements.
At least in NYC. But that's why NYC is NYC.
CHEVALIER
30 W 53rd Street
212-790-8869
baccarathotels.com/dining/chevalier