Jackie and I have been eating at Pierre Koffmann's restaurants in London for, I don't know, 25 or 30 years: the original version of La Tante Claire, his intimate three-Michelin-star place in Chelsea; the later edition of La Tante Claire in The Berkeley hotel in Knightsbridge; a temporary restaurant on the roof of Selfridge's department store (in 2009, a few years after Mr. Koffmann had declared himself retired); and most recently, back at The Berkeley, Koffmann's.
La Tante Claire was a very fancy restaurant, for sure. But you have to remember that its signature dish was a pig's foot (admittedly, this one was -- and still is -- boned and stuffed with sweetbreads and morel mushrooms and served with a glazy sauce of unplumbable depth): However elegant his restaurants and precise his cooking, Mr. Koffmann has never gone in for prissy food, and at least one ventricle of his heart has always been in his native Gascony. For example, cassoulet was one of the options on the generous £25.50 ($38) three-course lunch menu on our most recent visit.
Koffmann's is less fancy than La Tante Claire was, but no one could mistake it for a diner; the service remains highly professional, even formal, and in the kitchen, technique is rigorous. Our early-March lunch began with a miniature pissaladière, whose buttery puff pastry base was of a crisp fragility any pastry-maker would marvel at: a very obvious reflection of perfect mastery.
Look at a recent menu, and you'll see updated bistro and traditional French classics (snails with garlic and parsley, gentrified but not neutered by turning the garlic into a custard and the parsley into a froth), dishes from the Tante Claire days (that memorable pig's foot) and seasonal fish, game and, above all, meat preparations. If game is on the menu, order some: Mr. Koffmann has a way with wild creatures. One of the standout dishes from dinner a couple of years ago was grouse roasted about as rare as it could get while still being truly cooked. This is hard to do: Elsewhere in London we've eaten game birds whose still-cool flesh had not even begun to gel, which was unpleasant. But done Mr. Koffmann's way, that grouse was juicy, very tender and strikingly flavorful.
Not everything attains perfection at every meal; we've eaten there six or seven times I think, enough to have run into a handful of miscalculations. At our last lunch, a beautifully seasoned hare and offal stuffing wrapped in a cabbage leaf was a trifle pasty in texture -- surprising from this kitchen.
But the rest of that lunch was as it should be. My main course recalled tournedos Rossini, a dish which is too often about the garnishes; Mr. Koffmann's version was about the beefy tenderloin steak and the sauce, enhanced and not overwhelmed by a couple of strips of fresh pan-seared foie gras. A few braised snails added texture, though not much by way of flavor: they were not very relevant, though they took nothing away from the dish.
Jackie ordered cod with spiced couscous: The fish was perfect; dense and sweet. And through the well-balanced spice mixture I could still taste the couscous itself. Our friend, who had never been to any Koffmann restaurant, ordered the famous pig's foot (as a first-timer probably should), and it was a treat to see it again, though it disappeared before I was able to taste it.
(With our main courses we had French fries. We always do. Everybody does in fact, because Mr. Koffmann automatically sends them out to every table every time. Why can't all restaurants do this?)
Our favorite Koffmann's dessert is floating island, which offers the ideal equilibrium between softness and crunch. That day, however, there were crêpes Suzette and I couldn't not order them. The mandarin-orange sauce was cleaner in flavor than the usual over-buttery syrup; this let the flavor of the excellent pancakes stand out in a way it rarely does.
And this could be one crucial feature of the cooking at Koffmann's: great sauces integrated into -- not just ladled onto -- beautifully cooked dishes. That's not something to be taken for granted nowadays, even in good French restaurants. So let's hope Mr. Koffmann doesn't get it into his head to retire again any time soon.
Koffmann's http://www.the-berkeley.co.uk/knightsbridge-restaurants/koffmanns/. The Berkeley Hotel, Wilton Place, Knightsbridge, London SW1X 7RL; +44 (0)20 7107 8844; koffmanns@the-berkeley.co.uk. Open for lunch and dinner daily. Dinner for two with a modest wine, about £150 ($225) or more; prix-fixe lunch £25.50 ($38) for three courses, £21.50 ($32) for two.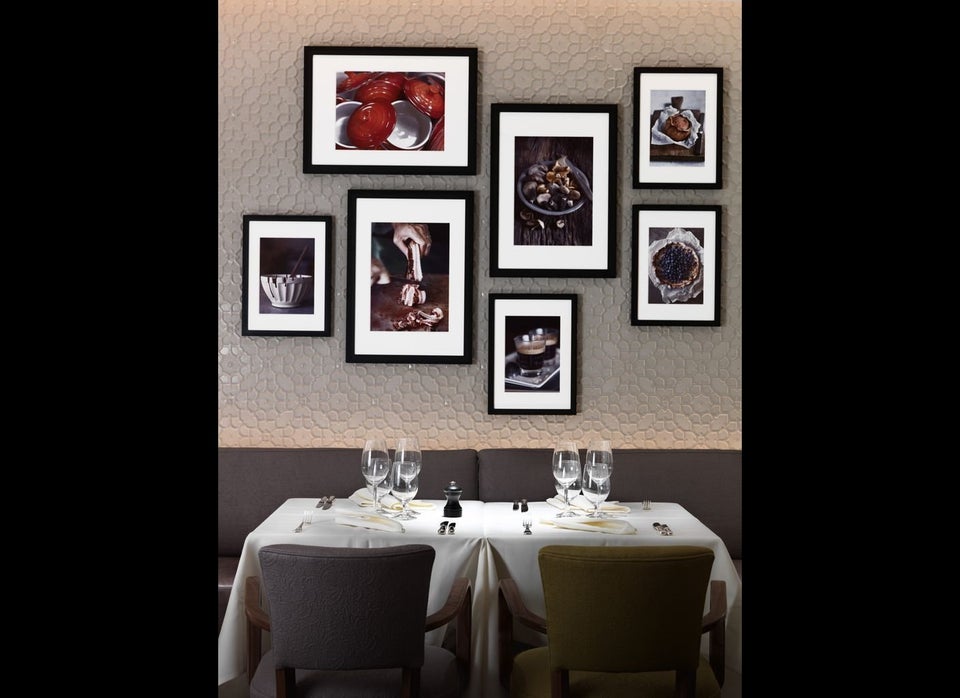 Fine Dining In London: Koffmann's