FINEPHILIA = F for fashion / IN for interiors / PHILIA for the love of both.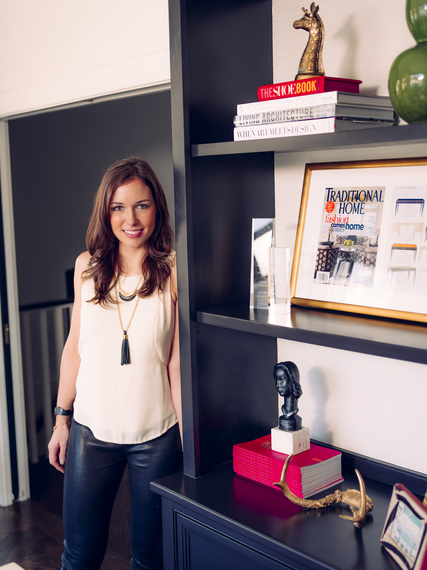 At 31 years old, MA Allen has become one of the most renowned interior designers of her generation. She is causing a design movement in her city of Raleigh, North Carolina and is my pick for breakout star. Not only is she deeply respected by the design community, but she has been ranked as a design expert by ELLE DECOR and House Beautiful. When first learning of her work, I assumed living outside of New York or Los Angeles might pose a challenge to stay on trend and having access to resources these cities provide easily. Come to realize, she is setting the tone for design trends all on her own with her fashion meets timeless design aesthetic. Her swift rise to the spotlight is a great example that her work speaks to the hearts of the growing population of millennial families looking for a modern take on their southern homes and retail spaces. I met MA in New York where she frequents often for buying trips.
What fashion designers do you look up to?
Southern designers Wes Gordon and Lela Rose are favorites of mine. I also love Isabel Marant. There is a boutique called Vermillion here, it's like an Opening Ceremony for Raleigh. They carry a well curated selection and do an excellent job of introducing Raleigh to great designers.
What is your personal style like?
I Like to invest in classic pieces for my home as well as my wardrobe and mix in vintage items. Acne jeans with a vintage sweater, a pair of Celine glasses, and a timeless handbag, and I'm all set.

Have you worked with anyone in fashion before?
I worked with the owner of a women's clothing boutique in Raleigh on her personal home, it was fun to see how she approached fabric texture and pattern. We wanted to make sure her home was a reflection of her fashionable lifestyle.
Do you follow trends when it comes to designing a project?
I am influenced by trends, but I do not let trends control my decisions when it comes to designing a project. I like keeping myself up to date on what patterns, colors, and wall coverings are new and making a statement. I tend to go towards timeless pieces so the client isn't having to continuously re-decorate if something is in or not.
In your opinion how do fashion and interiors intersect?
Fashion is a form of self expression and tells you a lot about a person, and an interior is much the same. If you spend time making sure the way you dress is a reflection of yourself than a home should do the same thing.
How do you incorporate fashion in your projects?
Colors, lines, textures and prints from fashion all parlay into my projects. A quilted leather chair may be reminiscent of a Chanel bag, hardware details on a chest are like jewelry. I accessorize a room just like one accessorizes an interior--incorporating heirloom pieces, adding current trend items, and mixing colors.
Is it challenging to work on projects in North Carolina vs. New York or LA?
Yes. I think the clientele in big cities have more of an open mind when it comes to out of the box design ideas. That point of view is hard to sell to the more conservative southern client base in Raleigh. However this city is experiencing major growth, not only in population, but in the arts, tech industries, and other areas, bringing in a flux of creative people willing to take risks and try something new.
How has NC changed over the years?
NC, and Raleigh in particular, are growing steadily. Forbes ranked Raleigh as number one on the list of best places for businesses. The research triangle park is a major hub for biotech and high-tech research, one of the largest in the country.
Which fashion designers in your opinion have done the best job with a home collection?
Armani has a beautiful collection of furniture, accessories, rugs, wall covering and lighting with Armani Casa. The sleek lines are classic yet modern. Missoni Home is another favorite and I tend to use a lot of Missoni Home pieces in my projects. Their iconic flame stitch and patterned fabrics translate so well from clothing to upholstery and accents. Their bright kaleidoscope of colors can add personality and whimsy.
If you could have a product line what would it be?
I would love to design a collection of textiles and a furniture line too. I am constantly seeking unique furniture and designing custom pieces, so it would fun to turn this into a product line. I love patterns, geometric designs, textures and coming up with color palettes, so a line of fabrics and trimmings would be amazing.
For more on MA Allen please visit http://www.maalleninteriors.com
Follow me on instagram @nescreative