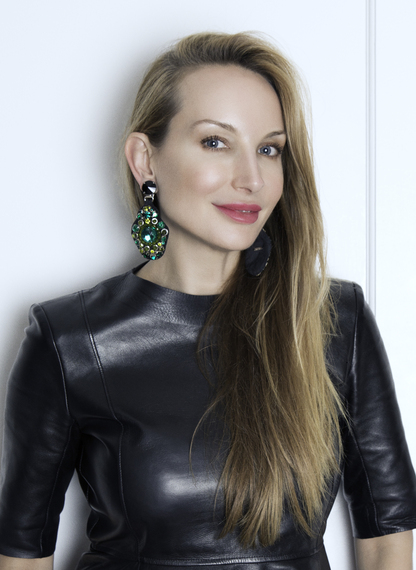 When first meeting Nicole Fuller, you'll take note of her enigmatic sense of style, wonderful charm and exquisite taste. She'll tell you stories of growing up between London and New York and inspirations drawn from her multi-talented, artistic mother. In another lifetime, Nicole was destined to be a filmmaker, a path she pursued passionately until the world of design and interiors came calling. While living in London she was introduced to a social circle of fashion designers, photographers, and artists that saw that Nicole had an innate talent for interior design. One by one they began hiring her for their spaces, thus launching her career and the five year old eponymous interior design house. Nicole Fuller Interiors has executed projects for the most elite fashion designers including Zac Posen and Gianvito Rossi. Her roster of projects also include the historical Stanhope Hotel in New York City, a 30,000 square foot New York summer home entitled "Suffern," and commercial projects like the high end boutique Florence Fancy. Nicole Fuller has earned two nominations for London's prestigious Andrew Martin "Designer of the Year" award," is simultaneously launching a collection with The Rug Company, and her own furniture line "Isabella Wolfe."
Nicole have you always been interested in interior design? How did you get into the business?
My mother was a huge inspiration, and I was in a creative environment with her all the time. She was an artist working in many mediums including interiors, architecture, and photography. She was a visionnaire.
When did you launch Nicole Fuller Interiors?
5 years ago.
From Zac Posen, to Gianvito Rossi, you seem to have many clients immersed in the fashion world, how did that come to be?
I am always inspired by fashion. When I was living in London, I became close to a social circle with fashion designers, which expanded even more so when I moved to New York.
What do you enjoy most about having fashion designers as clients ?
It's exciting because it tends to be more collaborative and more in tune to the clothing aesthetic they design. I understand color and texture well, how fabric moves, and where shapes live, and so do they, making it a very fluid relationship from start to finish.
Key pieces in your closet you cannot live without?
My Saint Laurent motorcycle jacket, my Maison Michel hats from Paris, and Buccellati rings.
What projects are you working on currently?
I recently launched my furniture collection "Isabella Wolfe", I am working on the atelier headquarters for Zac Posen, and a project for Grace and Usher. I'm also designing a building in Soho on McDougal street from the ground up, including the facade, landscaping and finishes.
What's next for Nicole Fuller?
I have a collection of rugs coming out with The Rug Company this fall.