It's beautiful and pristine and filled with thriving small local businesses. It's perfect. The store Pennyweight sells unique and amazing greeting cards and Main Street Books is a tiny book store where Liza the book whisperer always helps her customers find the ideal book-it's a little like the sorting hat from Harry Potter, and it doesn't matter which house it selects, it's the right one, like magic. St. Helena is a small town in the very best way. I have heard that somewhere out there in the world there is someone who doesn't like chocolate, but that person most certainly isn't me, nor anyone I know. And when the quality of that chocolate is amped up to the highest level, it's, well, there are no words. Now what if the chocolate shop itself was a store that met and even exceeded that state of fine-chocolate-eating bliss? A store that made you feel like you're in Paris? This magical place exists in St. Helena. When you enter the Woodhouse Chocolate shop, you feel European, from your first step onto its gorgeous chocolate floor.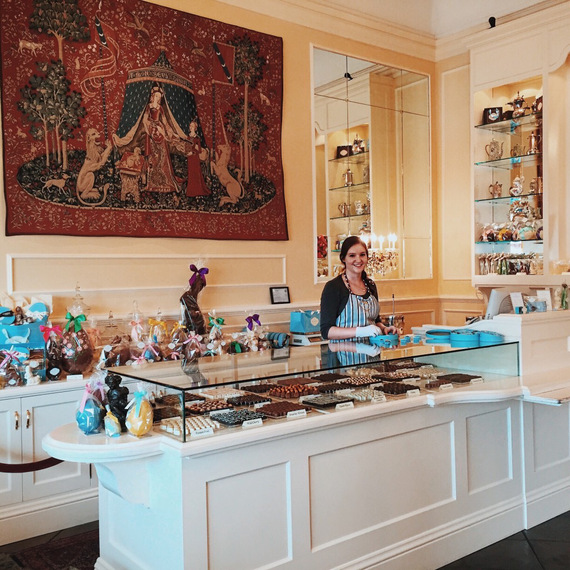 You are transformed by the cream and butter colored wood walls, tapestries, chandelier, gorgeous drapery; and of course there is the beautiful temptress behind the counter helping you to select from the 24 filled chocolates, caramels and the classic figurines among other unspeakably lovely treats.
To say they have a specialty would be to imply that the other items somehow are not, which is an absolute lie, so let's just say one of their superpowers is the selection of classic molded chocolate figures-and can u imagine: they have more than 1,000. If you want a lion, they will ask: do you want a sitting lion or a standing lion, a happy lion or a winking lion or perhaps you want a kneeling lion. Let's just pause for a moment of reverence for the selection of chocolate lions alone!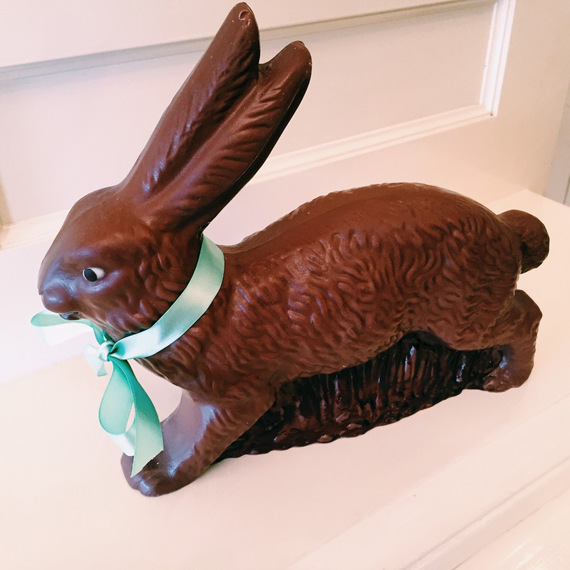 Would you like your rabbit jumping, sitting, or running?
When people walk into the shop, they have no idea how big the operation is; and when people order online, they have no idea how small the operation is; there are 11 employees in this Napa Valley shop who are making these beauties with old world artisan techniques. These chocolates are like little Swiss watches-each one a work of art. Each artisan creating it by hand, is why they are so dear. Each person with an expertise. Each person pretty damn serious about chocolate.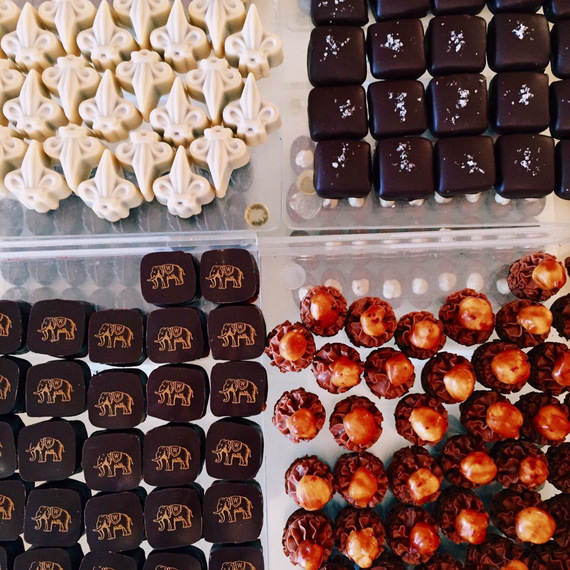 Can we talk about the taste? The taste lives up to their beauty. A few favorites are dark raspberry, fresh mint, squares of caramel with fleur de sel, caramel almond, pecan caramel. Likely you are already ordering some online this second but for those of you who are still with me, guess how much raw chocolate they use a month! A ton. And to that they reverently add their cherries, nuts, apricots, and pistachios. They OWN the holidays. Why on earth would you allow your holiday chocolates to be any less special? But not just Christmas and Easter (which, by the way, is truly stupendous with bunnies and chicks from the tiniest known to mankind to far bigger than real bunnies). They don't discriminate in celebrating their love for: Halloween, Thanksgiving, Saint Patrick's Day, Father's Day, Mother's Day, Fourth of July and more, all of which has its own molds: each one is truly incredible.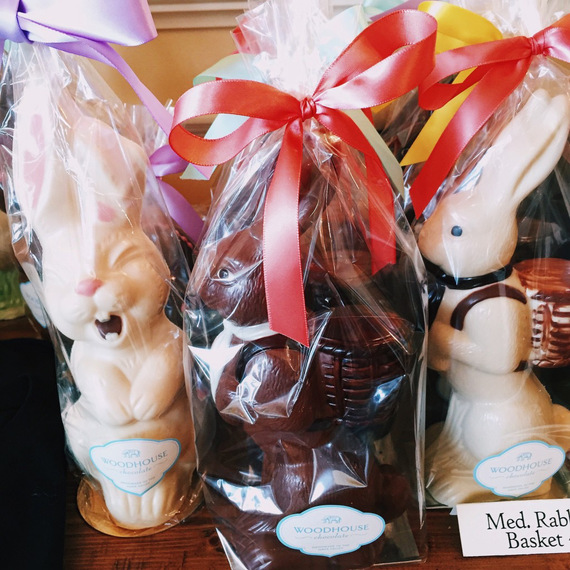 The shop itself is beautiful and fun, and what they create is magic for the heart and soul. Woodhouse Chocolate is a family business owned by college sweethearts John and Tracy Andersen, who did an independent study that somehow involved eating local chocolates in Europe (I want that major). They had a revelation about the role chocolate played in the life of Europeans-it was a large role, an everyday role, but the chocolate itself was generally a single elegant, high-quality satisfying piece, even for children, who would stop into the chocolate shop after school for a treat. After 25 years running a family wine business, they saw "Chocolat" at the Cameo, St. Helena's independent cinema, and it reignited their old flame: fine chocolate. Tracy is the head chocolatier and is joined in the kitchen by her mother (who was their first employee) and their daughter, who is the kitchen manager. They are all artisans in the highest sense of the word, and over half of the remaining staff of 11 have art degrees. Each has his or her own workstand, doing their own particular job that they are best at, and their operation hums like a little symphony.
It is a bit shocking to find out that they began with no money, no experience, and didn't know a thing about the business of chocolate-"It was the hat trick," says John, about their potential shop. All they knew was, those chocolate shops that they had fallen in love with in Europe in 1986 didn't exist in America in 2002, and they wanted to create one. Our American chocolate world, which may seem like a paradise if you haven't sampled European chocolate, consists of commercially packaged uniformity made months before. In 2002, ordering lovely hand made chocolate from Europe was impossible to do well because it was so delicate, and wouldn't be fresh by the time it arrived from overseas. John and Tracy wanted to re-create a European chocolate shop and make the best chocolates you've ever had, beautiful products with a ridiculously short lifespan. They combined their lovely storefront location with a hopping mail-order business. FedEx and the internet contributed fortuitously to their success because their chocolates could be made and shipped that same day in styrofoam and ice. Unless you were born yesterday (and by that I mean 1995), you know what a miracle that is! (And that reminds me, if you are wanting the loveliest Easter chocolate ever, now is the time to order it.) This is one of the few places and products I've ever encountered that left me with zero ideas about how they could improve-their product and service is almost mind-blowingly perfect.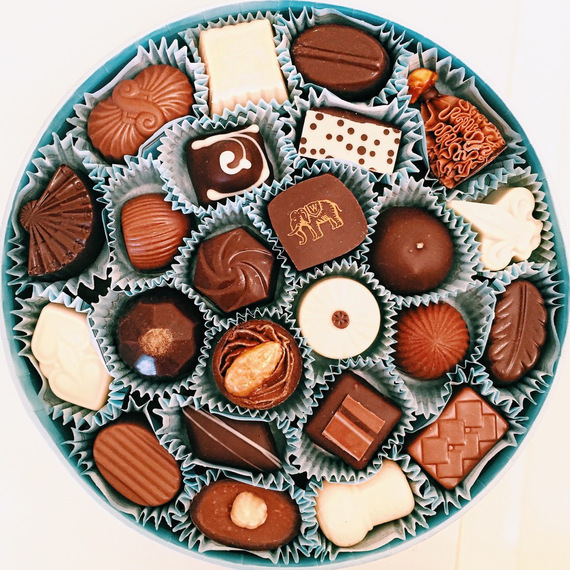 Today John loves to see the kids arrive after school to pick out a piece of chocolate. It is heartwarming to see them having the European experience, and learning what truly fine chocolate is. Over the years, the kids have come to know what they like, and parents have been known to walk in and say "My child knows every single one of your chocolates!" This independent, small-town goodness is one of the unique, low-key but world class aspects of St. Helena that make it my favorite place. If you haven't already guessed, I'll be sharing another of St. Helena's gems soon.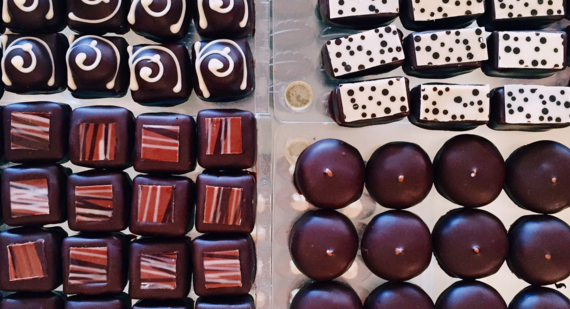 Follow Teri on Instagram here: nocrumbsleft for more delicious recipes and photographs sure to make your mouth water.
Related