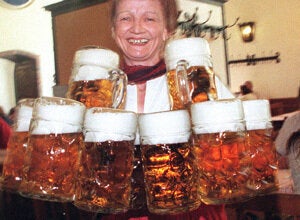 European beer lovers are preparing themselves for a shocking new brand of booze, as beer brand "F---ing Hell" has received approval from the European Union to go on sale.
While the name may seem explicit to English speakers, the brand's creators, German marketing executives Stefan Fellenberg and Florian Krause, assured authorities that the name refers to a light beer ("hell" in German) from the town of "F***ing" - a real town in Austria.
Fellenberg told The Sun, "In German the word for a lager beer is a Helles Beer, so we have also patented the name F---ing Hell, which means lager from F---ing of course."
"I don't understand why the patents office think of something else. They must have dirty minds."
Despite protests, it appears the Trade Marks and Designs Registration Office of the European Union agrees.
"The word combination claimed contains no semantic indication that could refer to a certain person or group of persons. Nor does it incite a particular act. It cannot even be understood as an instruction that the reader should go to hell," the Office said in its statement, rejecting a protest that called the brand name upsetting, accusatory and derogatory.
The news came as something to a shock to the Mayor of F***ing, Franz Meindl, as the town actually has no brewery. The town already suffers a great deal of notoriety due to its unusual name, thought to derive from the sixth century noble called Lord Focko.
"Twelve of the thirteen [town name] signs have been stolen. We've taken to fixing them with concrete, welding and rivets," he said.
Related
Popular in the Community