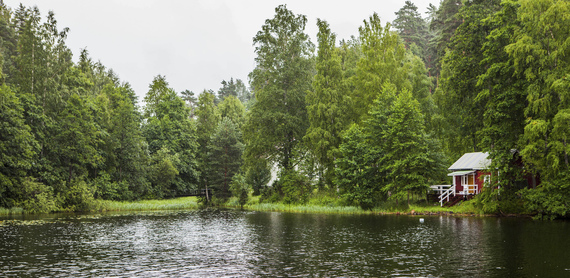 Just over a year ago I wrote about Finland being the world's best kept secret. I was hoping that the situation might change for the better. In some ways it has. Finland has won more accolades. It has been named a world leader in more areas. While that is clearly better, the knowledge and recognition of these accomplishments has not gotten into the minds of enough people around the world to make a difference for Finland.
According to the Economist, Finland's economy has contracted every year since 2011 and expected to be flat again in 2016. It is the only Nordic member struggling to thaw its economy.
While I am not Finnish, I have worked for Finnish clients, taught courses at Aalto University, and conducted seminars in various parts of Finland. I have developed an affinity for the country and have many Finnish friends throughout the world. Perhaps I am crazy, but I think that if I keep writing about this something good might happen.
Most important of all, Finland has good products that work, and they work better than products made by others. What's more, the products made by others that aren't as good sell better. Being a marketing guy, this equates to only one thing - the missing ingredient in Finland is marketing. While you may not agree, I strongly believe that. If I am right, that's good news because good marketers can take good products, and with the right marketing mix, transform them into successful products. Perhaps some in Finland have not realized it yet, but the country is a product. If you market it well, all boats will rise. This is an appropriate metaphor because Finland juts into the Baltic sea and has 187,888 lakes.
The proof that Finland leads in so many areas
Since too many people believe that marketers are "slimy sleazy liars" and more than a few Finns think that Americans exaggerate, I am going to list the areas where Finland is considered a leader in the world, and provide links to the data.
Education. Finland has been recognized over several years to have one of the top education systems in the world. Depending on what ranking you read, it is often ranked first.
Happiness. It may be hard to believe for a country that spends the winter in darkness, but Finland is ranked 5th in happiness.
Prosperity. In spite of its economic stagnation of late, Finland is ranked 9th in prosperity.
Innovation and Technology. According to Bloomberg, Finland ranks first in research personnel, third in research and development and postsecondary education, and fourth over all innovation categories.
Most literate. According to the latest ranking, Finland is the most literate country in the world.
Least corrupt. According to Buzzfeed, Finland as the least corrupt, least failed state, best country to be a mother, and Helsinki as the most livable city in the world among other leading categories.
Mobile Games. Finland has been called the games start-up capital of the world. Rovio, maker of Angry Birds (which has just been turned into a successful movie), and Supercell, maker of Clash of Clans and Hay Day, are just two of the successful mobile games companies from Finland.
Greenest. Since it tops the Environmental Performance Index, Finland is ranked as the greenest country in the world with the least amount of pollution.
Most sustainable and least fragile. Finland stands alone as the only country in the "Very Sustainable" category.
Cleantech. Finland is recognized as a world leader in Cleantech.
Human Capital Index. Finland tops the rankings of the Hunan Capital Index.
Most competitive. Finland has been ranked as Europe's most competitive economy.
Information Technology. In 2014, Finland topped the rankings for the second consecutive year for embracing new IT.
Most socially progressive. According to the Social Progress Index, Finland is the most socially progressive country in the world.
Many other categories. Finland also leads the world in per capita coffee and milk consumption, saunas, and heavy metal bands. Some might think this weakens the points above, but others believe it strengthens them so I have included it.
For a country of 5.5 million people to be leading in so many categories and creating good products that work better, why the stagnant economy? As I said above, I still strongly believe it's a lack of adequate marketing. How many prospective buyers around the world know the good things on the above list, remember them, and think about Finland when it comes time to visit or do business? The answer is not enough. I know what some of you are thinking. Finland is small and pretty far north and off the beaten path. What about Norway? Denmark? Yes, they have some things Finland does not, such as oil, but Finland has things they don't have. It's time to market them.
The Finnish brand is too easily forgotten
Clear effective repetition of the benefits Finland has to offer can solve this problem. The list above proves there are many benefits. Just look at the cover of most brochures from Finland. They look beautiful and cost a lot to produce, but what do they say? Finland. What value does that add? How about a headline that gives the reader some good reasons why they should come to, and do business with, Finland?
Looking at some objective data on brand rankings, Future Brand published its top 10 country brand rankings. Sweden is ranked 4th and Norway is 6th - just above the USA. Finland is not in the top 10.
As I have said in my previous posts, this point was underscored when an article appeared in the Business Section of the Los Angeles Times way back on the 17th of February, 1999. In the piece entitled "More on Tech," the author wrote "Nokia to Buy Diamond Lane: Swedish cellular phone maker Nokia agreed to buy Petaluma, Calif.-based Diamond Lane Communications Corp. for $125 million to help meet demand for Internet access through wireless phones." Nokia was, and still is as far as I know, Finland's best-known brand, and the writer of the article in a major newspaper thought it was a Swedish company.
Even though Nokia had a great fall from its days leading the mobile phone handset business, Nokia is still a big, albeit different, company that recently bought Alcatel. It also plans to get back into the mobile phone business.
This is only part of a greater Marketing Problem
The confusion of Finland with better-known Nordic countries is really part of a larger marketing problem. After improving its brand identity, Finland needs to communicate. It is not going to help to be shy, understated, or hidden. What will help is to make the benefits to those Finland needs to sell clear.
It does not have to be this way
For those that know Finland, the frustration is that it does not have to be this way. Since so many that have visited Finland and tried Finnish products love them, the solution is conceptually simple. Get the word out to those in the world that don't know Finland in a way that it gets into their brains and stays there. While many Finns seem to be uncomfortable telling others about the benefits Finland offers, I know a number of Finns that can do this quite well. Find them, get them some professional communications training (if necessary), arm them with "brochures with effective headlines" that communicate the benefits of Finland, and set them loose.
Finland becomes 100 years old in 2017. If there was ever an opportunity to market Finland and its products, this is it.
Finland needs to do some serious and effective marketing
To overcome the "best kept secret" syndrome, Finland needs to either devote more, or reallocate existing, resources to effective marketing. Rather than produce expensive, cool, flashy brochures that bury the benefits of Finland in the body copy (those are the ones I have seen), these benefits need to be highlighted in headlines. Why? Five out of six readers (83.3%) only read and remember what's in the headline because they are busy or lazy. With all that Finland has to offer, it should be doing better economically. It would be great if my Finnish friends are less worried about the economy and more focused on making the products Finland knows how to make better than competitors. Onnea. Kiitos.
Calling all HuffPost superfans!
Sign up for membership to become a founding member and help shape HuffPost's next chapter