There aren't many stranger things than a person born in the 2000s being the face of the 1980s, but that's what happened to Finn Wolfhard.
"It's cool to think that I made a mark in 1983 even though it didn't really happen until 2016," the actor told HuffPost.
Wolfhard embodied the '80s with his breakthrough role as Mike Wheeler in "Stranger Things," and now he's keeping the retro theme going by hosting Sweet Relief Musicians Fund's upcoming inaugural benefit concert "Strange 80s," taking place on Sunday, May 14, at the Fonda Theater.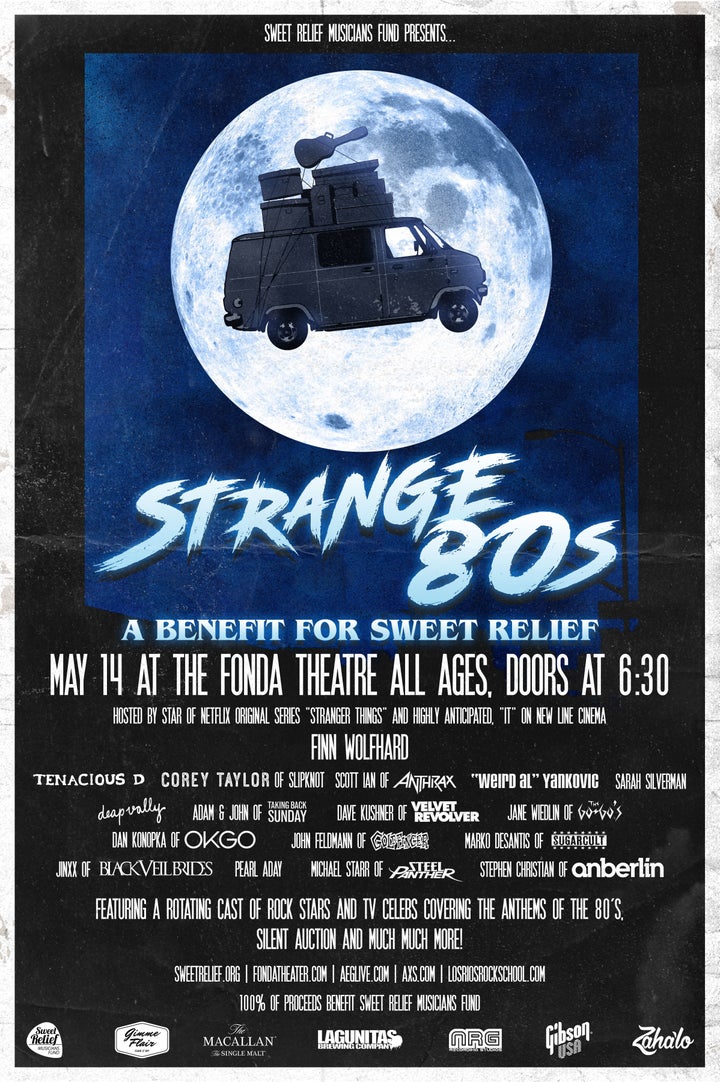 Through email, the actor talked about the concert and teased the upcoming season of "Stranger Things," even revealing which '80s movies we should watch to prepare for the new episodes.
Could these movies hint at where the season will go? Only time will tell, but for fans reading way too into this, yes, yes they will.
Season 2 will be just as good as Season 1, and maybe even better. The Duffers have nailed it, and there are some new people who have added to the trip in a way that no one will be disappointed when they see it. And what I want to see happen in Season 2 is the same as everyone else ― I JUST WANT SEASON 2 TO HAPPEN!!! But like everybody else I have to wait until October. And it's going to be worth it.
What '80s movies should we watch to prepare for it?
I would say watch the films that our new cast members were in. Sean Astin was in "The Goonies," and you gotta see that if you haven't. And Paul Reiser was in James Cameron's "Aliens," which is a masterpiece. You should also see "Ghostbusters," because it's very funny and has a tasty villain, which the Demogorgon is not (or at least I don't think, because I have never tasted, but I'm pretty sure the Demogorgon is not made of any marshmallow).
Knowing what you do about Season 2, what's it like reading theories now?
OK, I lied about not reading theories, but I cannot speculate because I am under a legal obligation not to (which might be true (?) but, either way, I'm not giving anything up other than to say that Pawnee and Hawkins are both definitely in Indiana).
We saw you in Ghostbuster uniforms in the teaser, how much do we have to worry about the Stay Puft Marshmallow Man now? What'd you think about the teaser?
Our crew is really awesome and our amazing scriptie had a bunch of us over for the Super Bowl. It looked like a blow out for the Falcons and even though I am a Seahawks fan, I am also Canadian, and by birth I am not allowed to be rude. So I am cheering for Atlanta and we were in a good mood already, and then when the teaser came on ... Well, I think Caleb [McLaughlin] and Millie [Bobby Brown] were elsewhere, but even though it was short, I just remember that it was really great to be in the room with Gaten [Matarazzo] and Noah [Schnapp] and for us to experience that moment together. It was just really cool to think that, of all the great shows on the air, ours was one that was supported by Netflix with a Super Bowl commercial. Just very, very cool. And as for the Stay Puft Man, he is the most delicious villain in movie history, but probably not much of a threat unless you are allergic to marshmallow.
How'd you get involved in "Strange '80s"?
I auctioned a guitar for them last year to help raise funds and then we started talking about a show like they had in the very beginning, and it just went from there. They are an important source of funds for musicians who are injured or ill, and, as a Canadian with access to free or low cost healthcare wherever I go, I never have to worry if I get sick or hurt. It's so hard to get covered in the U.S. and so expensive for everything that musicians can get wiped out if something bad happens. Sweet Relief provides really important support for musicians in need and I'm really proud that I can help out. We all need music, and we all need musicians to be healthy.
The concert is going to have some big celebs. Which ones are you looking forward to seeing the most?
I have been a huge Jack Black and Tenacious D fan [for] forever. "Nacho Libre" is a movie that we quote all the time, and it is one that we watched as a family ― me, my bro, parents, grandparents ― we all loved it, and we love [Jack Black]. (We left my grandparents out of the "Pick of Destiny," but we loved that, too.) Also Ms. [Sarah] Silverman, huge fans of her comedy and the parts she's done in film and TV. And then there are musicians who've been or are in some amazing bands, and I look forward to meeting everybody.
What's a celebrity encounter that turned your world "upside down"?
Celebrity encounter-wise, we were really fortunate to be at a lot of award shows in the season and Shawn Levy introduced me to some really amazing people. One night, I met Damien Chazelle and we talked filmmaking, and then a few minutes later he won for "La La Land," which I think I saw four times, and we hugged it out. It was so cool. A few minutes later, Shawn introduced me to J.J. Abrams. I talked music with him, and then Shawn asked me, "Do you know why I introduced you to those guys?" And I assumed because I want to direct (and just raised money to direct a music video in June) that it was because they are great directors. But Shawn said, "It's not because they are great directors, which they are ― but I introduced you to them because they are great people." He said, "I want you to know that you can get to the top of this industry and not be an *%$#@!! So it was really Shawn that turned it "upside down": you can work at that level and still be a nice person. I mean, why wouldn't you be?
In "Stranger Things," a lot of crazy stuff happens in Hawkins, Indiana. What do neighboring towns think?
I've met people from Indiana and they are all really proud to say where their homes are. I think they know that Hawkins is fictional but I am pretty sure that I have also met people from Hawkins itself. Something definitely happened there, but no one from the other towns around there will talk about it.
In the finale, you ask Eleven to go to the Snow Ball before she disappears. Did Mike Wheeler still go to the Snow Ball?
OMG LMAO XD EPIC. WHAAAAAAAAAAAT???
"Strange 80s" takes place on Sunday, May 14, at the Fonda Theater.
"Stranger Things" returns on Halloween 2017.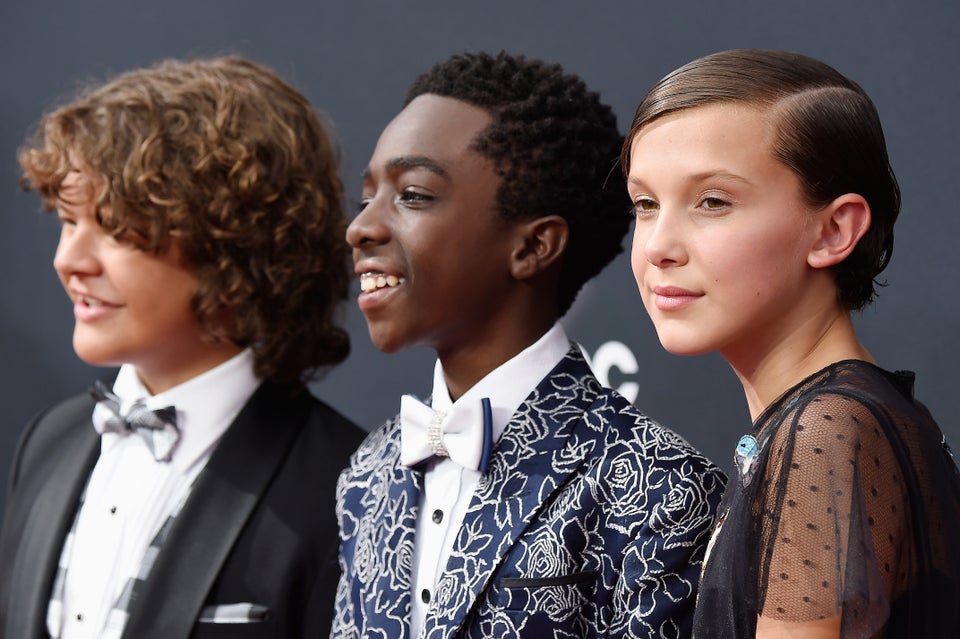 The "Stranger Things" Kids At The Emmys
Popular in the Community