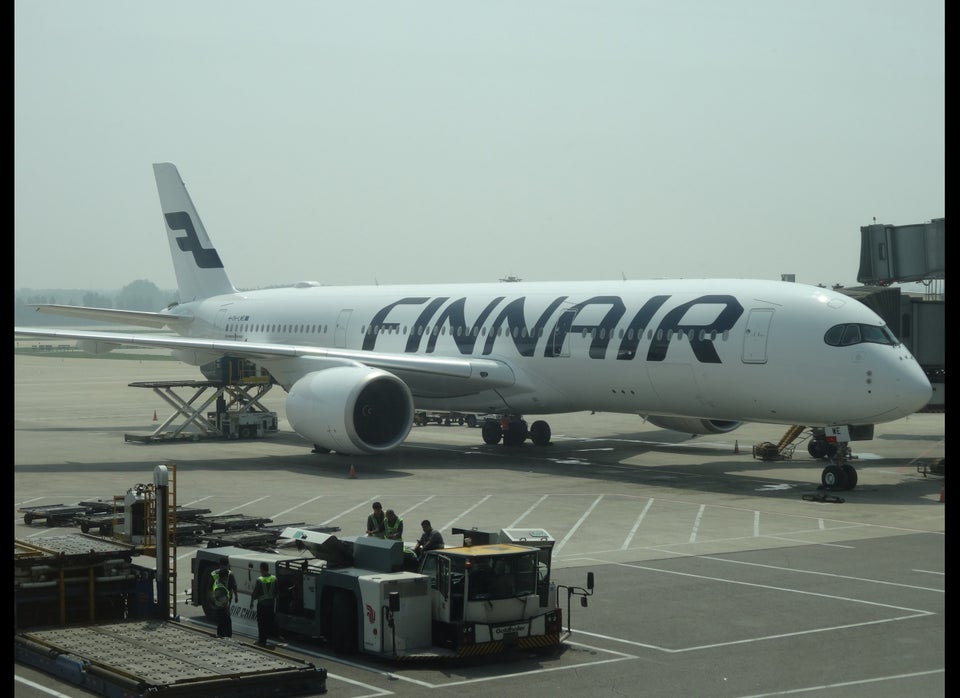 Finnair's A350 Business Class
On a recent trip between the U.S. and China I upgraded my Helsinki-Beijing and Beijing-Helsinki segments on Finnair's new Airbus A350 aircraft. Finnair is the first airline in Europe to fly this innovative plane, and the business class experience couldn't have been better.
Finnair offers customary business class amenities before you board: a priority check-in lane, an expedited security line where applicable, lounge access, and priority boarding. The lounge in Helsinki offered excellent food and drink with great views of the runways for takeoffs and landing. If sleep is more of what you are after, however, you can treat yourself to a sleeping pod in the lounge instead!
The flight attendants are very attentive and offered me a choice of apple juice, blueberry juice, or Champagne once I settled in to my seat. There was a large pillow, a pair of slippers, Bose noise canceling headphones, and a folder with information about the meal and wine options. The amenity kit included lip balm, skin lotion, an eye mask, ear plugs, and a toothbrush with toothpaste. A fluffy blanket comes after meal service.
Takeoff was an experience unlike any other. The plane accelerated down the runway, but it felt more like the plane was still taxiing to the runway. It was such a soft and gradual acceleration and liftoff that I had to look out the window to make sure we were actually flying. The A350 is significantly quieter than comparable wide-body jets, 20% quieter or 16 decibels quieter according to Finnair. The Bose noise cancelling headphones reduce that even more such that the drive to and from the airport puts more strain on your ears than the flight itself. Comfort is the name of the game in this A350 business class setup, and the lie-flat bed lets you rest comfortably and sleep on intercontinental journeys.
For overnight flights, passengers fill out a card early on in the flight to let the flight attendants know what you want for breakfast, and when you want to wake up if at all. The food onboard is amazing. You can preselect your meal online, or choose from several options once onboard. The standard meals were more than enough for me, but for those with a big appetite snacks are made available by the flight attendants at all times.
The entertainment system was full of Hollywood and international movies and TV series, as well as games and the flight tracker. Business class passengers get free wifi access throughout the flight. I am usually freezing on planes, but the A350's air management is state of the art. A HEPA filter changes the air in the cabin every few minutes without producing chilling drafts.
Overall, I was extremely impressed with Finnair's elegant interior, great attention to detail, and food offerings. The only improvement I could envision is increasing the number of movie offerings, but this is a minor detail in the grand scheme of things. The A350 is a glimpse into the next generation of air travel, and it couldn't be more pleasant and comfortable.