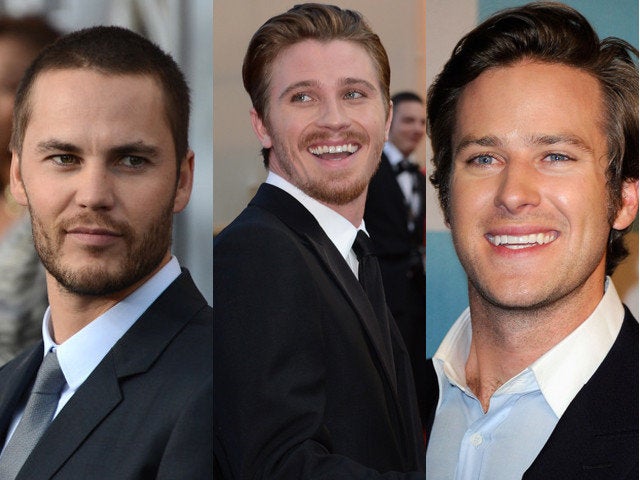 Ever since the release of the film version of the "The Hunger Games" book, fans have been speculating about who will be cast in the second installment. One of the most important new characters being introduced is Finnick Odair, the dashing tribute from District 4, who can swim like a fish and wield a trident. He's also supposed to be drop dead gorgeous.
The studio has reportedly parsed the list down to three potential Finnicks: Taylor Kitsch, Armie Hammer and Garrett Hedlund. So it only seems natural to pit them against each other in an epic game of Date, Hire or Banish. While we don't care all THAT much who gets the role, we are interested who you all would want to spend your time at work (and outside of work) with. Vote away!
Taylor Kitsch
Pros: Just look at that former-model face of his and melt immediately. Also, he's Tim Riggins, everyone's favorite emotionally complex football player from "Friday Night Lights." If you've ever watched the show, you're probably already a little (or a lot) in love with him.
Cons: Everyone knows that Tim Riggins is notoriously unreliable, so if Kitsch is actually like his character, that could be problematic. Plus, hid decision to accept a role in "Battleship" calls his judgment into question.
Armie Hammer
Pros: He's got a distinctly good guy, All-American look about him -- after all, he was Prince Charming to Lily Collins' Snow White. He's also pretty talented, having played a variety of roles including Leo's protege in "J. Edgar" and both Winklevoss twins in "The Social Network." Plus, he's the heir to the Arm & Hammer fortune!!
Cons: He might be a little too conventionally attractive. Prince Charming always seemed like a bore. And he's already married, so …
Garrett Hedlund
Pros: Those eyes. And he sang in "Country Strong." Little is more appealing than a man who knows how to belt out a tune.
Cons: Garrett who? Somehow even though he's been in quite a few movies and is a serious looker, none of our editors knew much about him (even though we are notorious culture gossip queens).
REAL LIFE. REAL NEWS. REAL VOICES.
Help us tell more of the stories that matter from voices that too often remain unheard.