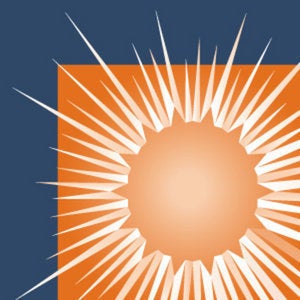 The news today is that as the financial regulatory reform moves to the next stage of negotiations, legislators on both sides of the aisle have come out in favor of televising the proceedings. Here's Brian Beutler with more:
[L]ast night, the Senate passed its bill, and on Monday the Senate will take formal steps to begin the conference committee process. And in conversation, key Republicans and Democrats last night say they think inviting the cameras along would be just fine.

"That'd be great," Sen. Bob Corker (R-TN), a Republican conferee told me. "Sure."

"Televised? Oh, I'm not against that being televised," said Sen. Richard Shelby (R-AL)--the top Republican financial reform negotiator. "We televised the Senate, we televised the House."

In fact, the one senator who seemed unenthusiastic about it was a Democrat--Banking Committee chairman Chris Dodd. "I have no opposition to it," Dodd said. "We'll see how it all works out."
As Beutler points out, televising the proceedings would be a good thing, because Congressional Democrats would "find it difficult to pare back their own legislation--including a controversial measure in the Senate bill requiring financial firms to hive their derivatives swaps desks off into separate entities." Wall Street has extensively lobbied Democrats and Republicans in Congress -- as well as the White House -- to make reform as painless as possible on them. Televised transparency will make that hard. But if you want to bear witness, do it right: follow the proceedings with the Sunlight Foundation.
See, what the Sunlight Foundation has been doing that is particularly awesome is that it has coupled its live, streaming video with a dynamic contextual content stream that runs alongside. There, you'll be able to see in real time all sorts of enlightening things -- such as which major industries have contributed what dollar amounts to whomever is clowning for the cameras at the time.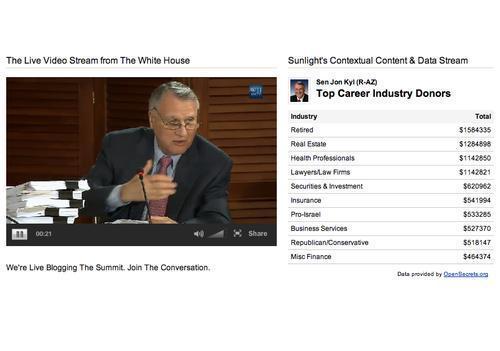 Sunlight enriches this experience further by adding a liveblog to the page. There, Sunlighters such as Paul Blumenthal, Laurenellen McCann, and Bill Allison provide research, commentary, and amplification. It's so good, it's gangsta, and it's probably the one way that your Congresscritters hope you won't be following the financial reform debate.
Calling all HuffPost superfans!
Sign up for membership to become a founding member and help shape HuffPost's next chapter