Due to innovation growing in importance in the world of finance, we and other innovative companies from Zurich and London present innovative solutions about issues related to Internal Cultures, Out-of-the-box-Thinking, Cyber Security and WealthTech. Afterwards, a panel will discuss these topics in a larger group. The conference takes place at the ParkHyatt hotel in Zurich on the 29th of June 2016, starting at 2pm and ending at 6:30pm. Registration via the link below:
WealthTECH - powering a new era for the asset and wealth management industry: The world of wealth management, is undergoing unprecedented change. Wealth and asset managers as well as private bankers are needing to respond to pressure from a multitude of sources - regulation, cost pressure, changing customer preferences and shifting demographics. Innovation in product and service delivery needs to be uncompromising in order to satisfy the needs of future generation clients. New technology based competitors are entering the market to capture inefficiencies in the value chain. Wealth managers must differentiate themselves with outstanding customer knowledge and tailor-made solutions instead of standardised products. Product innovation is a thing of the past - service innovation through technology is powering the new business models and a new era for the AWM industry. In addition I'd also like to offer you a talk about the Hyperledger Blockchain Technology where I'm author on the first german Book about the topic. Hyperledger is very relevant for banking and the only open blockchain technology addressing enterprise needs (in constrast to Ethereum).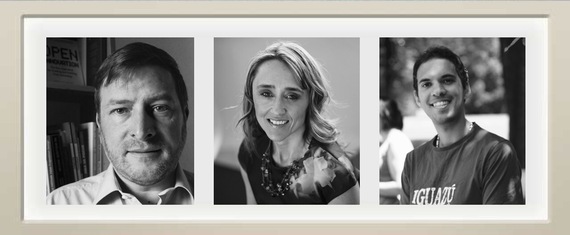 Romeo Kienzler is a Chief Data Scientist at the IBM Watson IoT Division. In his role he is involved in international Data Mining and Data Science projects to ensure that clients get the maximum out of their data. He works as Associate Professor for Data Mining at a Swiss University and his current research focus is on Cloud Scale Data Mining using Open Source Technologies including R, ApacheSpark, SystemML, ApacheFlink and DeepLearning4J. He also contributes to various open source projects.
Thierry Dagaeff is an innovation effectuator. Consultant for SMEs and start-ups, he makes innovations happening by avoiding pitfalls and saving resources, guiding the technology truck on the business road. As a member of the Praneo foundation, which works towards a human-centric sustainable economy, Thierry acts to align enterprise objectives with the Sustainable Development Goals of the UN. He works on profitable solutions and actual metrics to follow up the impacts of innovation in the economy, society and environment in a systemic way. Thierry has been a business angel performing numerous due diligences, coaching start-ups, especially in the seed phase, an entrepreneur in the social network and gaming area and head of innovation for the Kudelski Group, combining security with user experience.
Nicole Anderson CEO of FINTECH Circle Innovate, Partner Principal, Circini Innovation FinTech Circle Innovate offers an 'innovation as a service' for corporates who have a mandate to partner, incubate, invest or acquire in FinTech ecosystems. Circini Innovation works with Fortune 1000 companies, corporate venture groups and international venture funds providing a range of services around enterprise innovation and investing. A FinTech founder and entrepreneur in her own right, accomplished mentor and advisor with a strong track record at board and general management level across international markets. A deep industry capability in Financial Technology markets - payments, wholesale banking, transaction services, forex; retail and supply chain. Active in the London and European start-up acceleration and incubation scene working as an advisor and mentor to Level39, StartupBootcamp FinTech, London Tech Advocates - Women in Tech and FinTech workstreams, a founding member of FINTECH Circle Angel Network and Microsoft Ventures and judge SWIFT Innotribe and BNP Paribas Global Hackathon. Voted Top 100 Women in FinTech by Innovate Finance and included in the Power Women of FinTech 2015.
Popular in the Community