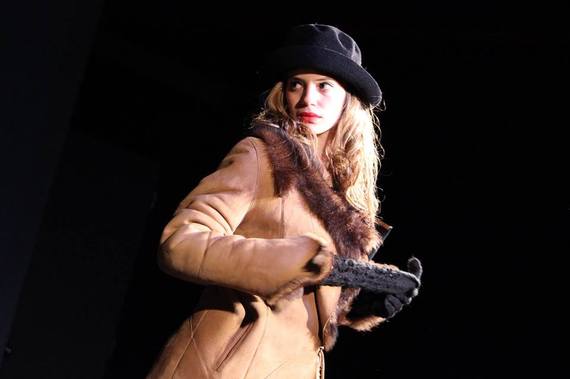 She is an actor, a graduate of the professional Manhattan drama school, HB Studio and the Musical Theater Workshop of the New York Film Academy. She arrived from Greece after having graduated from Athens Law School, hoping to pursue her dreams in the acting world.
In New York, Fiona Georgiadi's training was primarily in the methodology of Uta Hagen, a great German actor who came to the USA at an early age and achieved great successes on Broadway, and who, together with her husband, director Herbert Berghof, founded a school of acting in 1945 that eventually became a "sacred club" for actors.

Fiona is a graduate of the Law School of Athens and of University College in London, where she received her Master's degree in European public law.

The artistic virus was in me from childhood, I would say, when I first went on stage at my school theatre and felt a unique, unprecedented euphoria, a feeling that arose unexpectedly inside of me and which continued to grow in the years that followed. An inner voice cried, thundering, and I could tell that is why I went on to act in shows in Greece and mainly in musicals, a theatrical species that combines prose with song.
"Having moved away from home, more mature after the completion of my studies along with some personal circumstances as well as the economic and social crisis in Greece, led me to make the decision to come to the United States to seek out acting in earnest."

Some of the productions in which Fiona has taken part are the period drama, The Insanity of Mary Girard, by Love Creek Productions at the Producers Club Theatre, Murder Wrapped in Plastic, by Nicholas Thomas at the Treehouse Theatre and A Few Moons of Arabian Nights, an HB Studio Production by Russian Director, Aleksey Burago. She was also cast alongside the well-known Greek actor and director, Stratos Tzortzoglou, in Love-Waltz with Eros.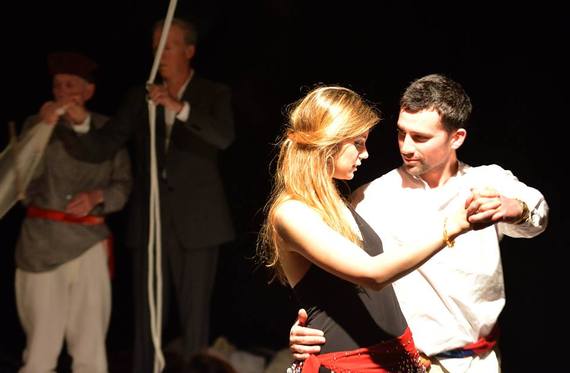 Fiona of Athens is now in New York, seeking her big opportunity, but what really brought the beautiful and talented young woman to America to study theatre?
I am in the USA since September 2012. At the time, I auditioned for the Musical Theatre Workshop at the New York Film Academy where I was accepted with a scholarship. From an early age, I wanted to gain this experience and, specifically, in New York, which seemed ideal for my artistic training but also for the performing experience. This is a city uniquely intense, rich in stimuli, a mecca of the arts, a place in which, where you walk, you see movie shootings taking place and people being photographed in "sophisticated" photographic concepts. It is where you encounter a variety of modern art galleries while the theatres of Broadway and off-Broadway inspire you to dream the moment and I thought that this was the ultimate challenge!
"I have a legal background, having graduated from Athens Law School and UCL in London, where I completed my Master's in European Public Law. However, I wanted to deal exclusively with my passion for theatre, film, dance and song. For me, that was the only cheerful choice! I was called, you could say, by inner instinct,"says Fiona.

How many hurdles must be overcome by a "foreign" actor in this great country?

"I felt, from the moment I landed here, that art and the performing actors receive the respect that is worthy of their profession, regardless of their visibility. All artistic ideas, efforts and experiments can find adequate space to express themselves in this city! The artist is nourished and allowed to experiment without the demands that he be certain of the direction towards which the endeavour will move. The artist will have the opportunity to become a thriving member of his or her community.
Undoubtedly, however, there is excessive competition as New York is flooded with ambitious and often very talented people of all nationalities. So the difficulty to distinguish oneself among them is definitely huge."

What would she consider a personal victory in her chosen workplace?
"I will refer to Emerson's definition of success as I totally identify with it. In my professional path, I would regard a victory as continuing to express my true passion for acting and eventually establishing myself as a talented movie and theatre artist by earning the appreciation of honest critics."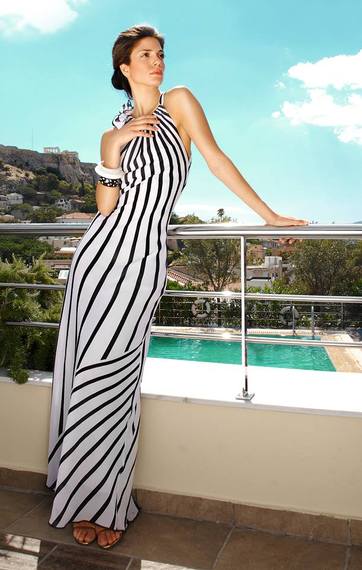 What would she consider a personal victory in her private life?
"To laugh often and much, to win the respect of intelligent people and the affection of children, to appreciate beauty and to leave the world a bit better, whether by a healthy child, a garden patch or a redeemed social condition.." (Ralph Waldo Emerson)
Would beautiful Fiona return to Greece if her dream in America fails?
Greece is the country in which I was born and raised and from where most of my most loved ones originate. So it is always part of my thoughts and aspirations. I have people there with whom I have worked well in the past and who are now my friends and mentors. I love Greece very much indeed and I appreciate its very unique human values. I believe it is a country with respectable ideals and history and exceptional geography. Besides being a Hellene, I am a Filhellene! However, I want to keep the American door open! I think I have much more to discover, to learn and to offer whether in theatre productions in New York or in films on the West Coast.
What are her imminent plans?

We are continuing the performances of Love-Waltz with Eros with Stratos Tzortzoglou at the Federation of Hellenic Societies of Greater NY where we have been very warmly received by our Greek-American audiences. It is my pleasure and honour to promote the positive aspects of our culture abroad in whatever way I can! We are discussing possible tours in other U.S. cities but only the future will tell!
Photos: Courtesy of Fiona Georgiadi
Calling all HuffPost superfans!
Sign up for membership to become a founding member and help shape HuffPost's next chapter