 Numbers can be confusing and fascinating, particularly when there's a plethora representing the digital media scene and its breakdown into diverse components worldwide.
But they're quite relevant when they provide detailed information on which to base plans and expenditures, as laid out in the FIPP World Digital Media Factbook 2012-13.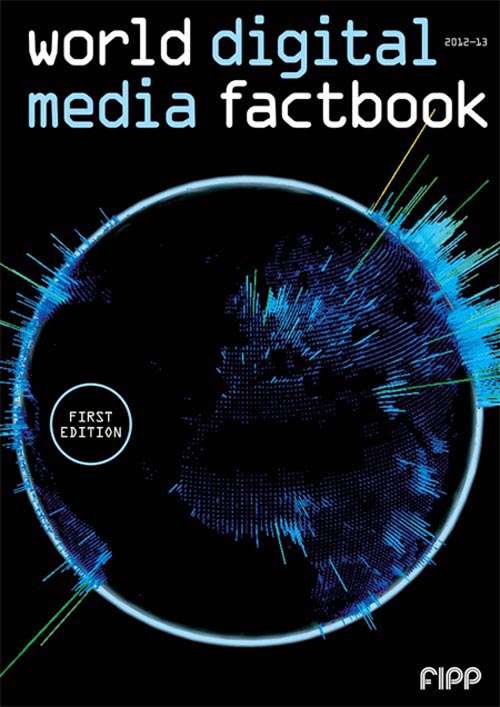 FIPP 2012-13 Media Fact Book Cover (courtesy FIPP)
The 186-page book is chock-full of data to mine on digital media revenue, usage patterns, tablets and mobile apps, as well as their impact on the magazine, newspaper and broadcast industries.
What is clear from the statistics published in this book is that digital media can no longer be ignored or marginalized by advertisers, consumers and traditional media.
The fact-book draws on over 100 reports from around the world so first-time readers are excused if they are thrown off by references to monetary values in both U.S. dollars and euros.
Asked about the findings listing both currencies, publisher World Newsmedia Network's (WNMN) CEO Martha L. Stone told me it would be statistically incorrect to assign converted currencies since they fluctuate over time, hence the need to keep the figures in their original forms.
Online, TV and out-of-home advertising have been growing since the 2008 economic slump, according to research by MAGNAGLOBAL, the fact-book reported.
"While overall advertising rose 4.7 percent in 2011 and 5 percent in 2012, print media has experienced a decline both years, while broadcast and Internet have enjoyed a rebound effect," it said.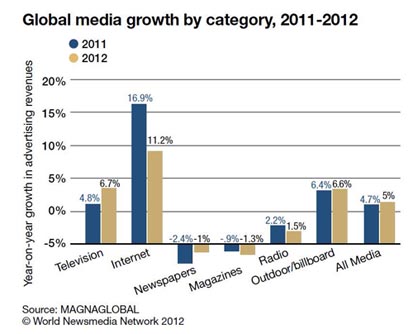 Global media growth 2011-2012 by category (courtesy FIPP)
Remarkably, it said the most significant growth occurred in developing or second-tier economies such as China, Peru and Argentina, with more than 21 percent expansion from 2011 to 2012.
They were followed by Russia, Turkey, Ukraine, India and Indonesia, which experienced an 11 to 20 percent surge in advertising revenue growth from 2011 to 2012.
But countries like Spain, Greece, Egypt and Japan incurred advertising losses due to economic or environmental setbacks, the report said.
The global advertising by segment chart for the years 2007-2016 is indicative of how the media-related industries have been edging upwards, albeit with a dip in 2009 and a beginning recovery the following year.
Figures listed by PriceWaterhouseCoopers (PwC) show growth from $495,358 million in 2007 to a projected $660,879 million by 2016.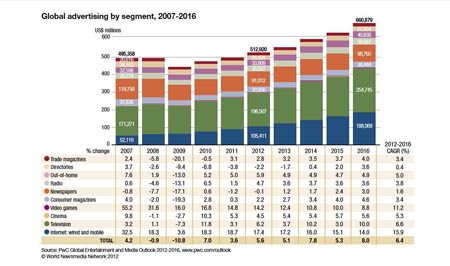 Global advertising by segment 2007-2016 (courtesy FIPP)
PWC also provides a useful diagram on the share of dial-up, mobile and broadband Internet access worldwide broken down by region for the years 2007, 2012 and 2016.
In a case study on paid digital content, the fact-book touches on a subject that has plagued media, notably newspapers and magazines, in recent years given readers' aversion to it and the availability of countless online tools to circumvent it.
A section is devoted to Piano Media which helps publishers in Eastern Europe find a pay model best suited for them, UK-based Future publishing, which touts its creation and delivery of high-quality multimedia products that reach audiences online, on mobile and in print, and, The New York Times, which introduced a metered paywall that is apparently paying off.
A chapter of the book highlights digital media usage patterns and focuses on "hot spots," with the hottest countries being those with mobile penetration exceeding 75 percent and over 40 percent Internet penetration.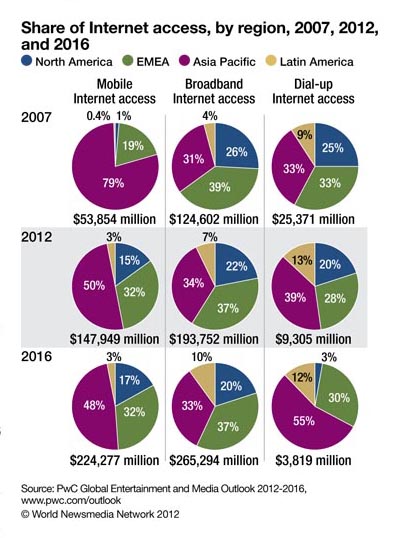 Share of Internet access (courtesy FIPP)
"Some countries are hot in either mobile or Internet," the report explained. "For example, African, Asian and Latin American countries tend to be hotter in mobile than Internet."
Western Europe and the United States tend to be hottest in both mobile and Internet, it added, noting that in seven years digital hot spots had shifted from a concentration in Nordic countries, the U.S. and UK to almost all of Europe.
"Seven years ago, no African or South American nation was hot in mobile, but the installation of wireless networks and the development of inexpensive mobile phones have leveled the playing field for mobile around the world," it said.
Media strategists can determine what apps and technologies to develop for which platforms based on users' patterns.
A comScore survey in the book found Canada favored the iPad, iPhone and iPod Touch, while Japan favored the iPhone and Android devices, and to a lesser extent, the iPad.
It also found that Argentina preferred feature and Android phones while India was more attracted to feature phones, followed by other smartphones.
In a chapter on tablets, mobiles and apps, the report draws on the Pew Research Center's Project for Excellence in Journalism "The State of the Newsmedia 2012" (an annual report on American journalism) to indicate that digital news consumers were adding to their news consumption thanks to all the devices they use.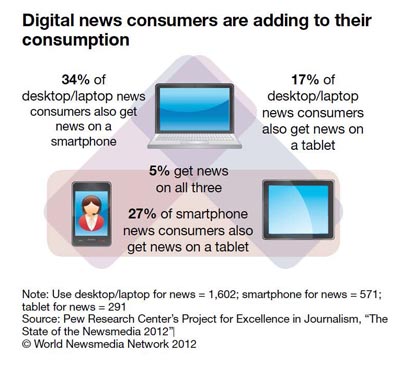 Digital news consumers devour more news (courtesy FIPP)
The WNMN is a not-for-profit, multiple media research company devoted to advocacy on the media industry's key issues, and to providing actionable strategies for revenue making across the media spectrum.
London-based FIPP, which produced this report, is the worldwide magazine media association representing companies and individuals involved in the creation, publishing, or distribution of quality content, in whatever form, by whatever channel, and in the most appropriate frequency, to defined audiences of interest.
Popular in the Community