A Syrian refugee is showing Germany's locals and newcomers that the best way to understand each other is through humor.
Firas Alshater, a drama student and filmmaker, is the star of a new YouTube video series that explores German society from a refugee's point of view. The pilot was published on Jan. 27 by Zukar, a website that posts advice and tips for refugees who are new to Germany, and is titled "Who are those Germans?"
In the video, Alshater conducts a social experiment to test how ordinary Germans react to refugees. He stands, blindfolded, in the middle of Alexanderplatz, a large public square in Berlin, next to a sign in German that reads, "I am a Syrian refugee. I trust you -- do you trust me? Hug me!"
Alshater waited a long time for someone to hug him, but after one person did, many followed. Eventually, some 40 people had hugged him within an hour and a half, the filmmaker told The WorldPost.
"I learned that the Germans need a bit of time but then they can't be stopped," Alshater remarks at the end of the video. "That's why I believe the integration will be a success ... Eventually."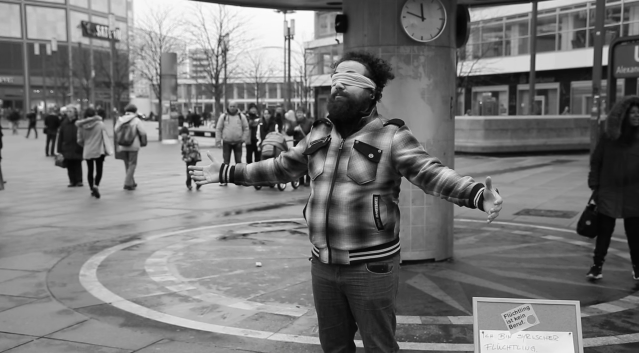 "I made this video to show people that Germans are different, and also that refugees are not the same and all of them are different," Alshater told The WorldPost. "You can't say that all Germans are Nazis, or all refugees are Firas, because we are all different people and all of us need time to get to know each other and to be together."
German society has become deeply divided over the migrant and refugee influx, which saw some 1.1 million people enter the country last year. According to a poll commissioned by state-owned broadcaster ZDF, the country's approval rating for German Chancellor Angela Merkel, who instituted an open-door refugee policy, has plummeted to 46 percent, or its lowest point in five years.
Alshater says his video, which has garnered almost 400,000 views on YouTube and Facebook combined, has even gained the support of people who were against welcoming refugees into the country. "Someone said, 'I am normally against refugees but you surprised me, and I want to follow you and see what you will do next,'" he noted.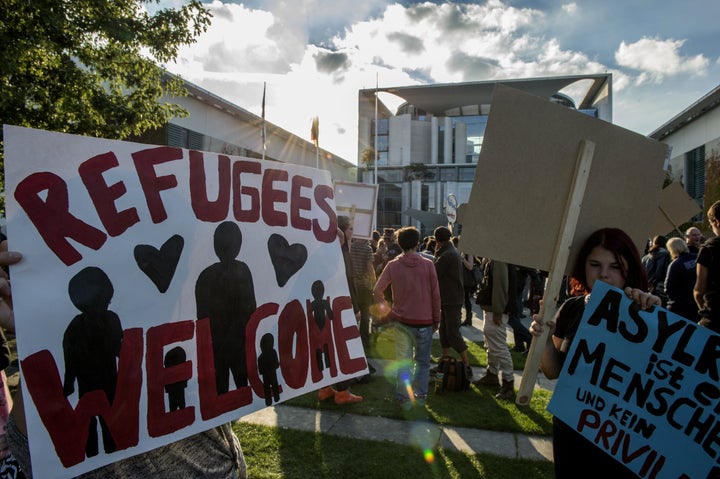 Alshater may be only 24, but he's been through a lot. He was arrested and placed in jail for nine months after he attended and helped organize many demonstrations in the Syrian capital of Damascus against the regime of President Bashar Assad, the filmmaker recalled in "Syria Inside," a 2013 documentary about the Syrian revolution. There, he was tortured with electroshocks and beaten with cables, and officers stubbed cigarettes out on his body.
Upon his release, Alshater moved to the north of Syria to work as a freelance reporter and photographer, and arrived in Berlin in May 2013 to work on a film with a German production company. He told The WorldPost that he hadn't planned to stay in Germany for long at the time, but later decided to apply for asylum in the country as the self-described Islamic State grew in dominance in Syria's north, where he lived.
He was granted asylum six months later, in November 2013. Alshater noted that the asylum process in Germany likely takes much longer today.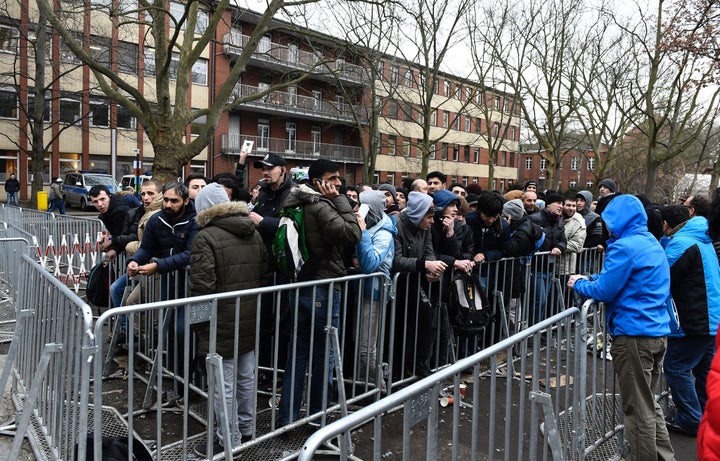 Now, Alshater is preparing to start studying this fall at the Konrad Wolf Academy, a film school outside Berlin in Potsdam. He will also make at least 10 more videos for Zukar, Jan Heilig, the series' co-producer, confirmed.
"We will try always to make people laugh, to make people happy," Alshater said. "We will try to see what is going on in the news and make it in a funny way. As long as people like and love my videos, we will continue."
On Friday, the funnyman released a second video on the Zukar channel, as part of #YouGeHa, a YouTube campaign that addresses racism and xenophobia in Germany. In the video, Alshater demonstrates the difficulty of seeking asylum In Germany -- through cats.
"I don't have a problem with cats," he jokes. "But they are granted asylum everywhere! They just need to sit at the door and say, 'Meow!' and someone will come and open up. If I do that, no one will open up."
More on refugees and migrants in Europe
PHOTO GALLERY
These Famous People Were Refugees
REAL LIFE. REAL NEWS. REAL VOICES.
Help us tell more of the stories that matter from voices that too often remain unheard.