A fire breather turned into a human fireball last week after a freak accident at a Florida high school pep rally.
Now, he's breathing easy. 
"I'm lucky," said Ricky Charles, fighting back tears at a press conference at the Delray Medical Center on Friday. "It's like being burned alive and an audience is watching. It happened so fast."
The 52-year-old owner of the Inferno's Challenge entertainment company said he's spit flames for 35 years, for everyone from high school students to the Miami Heat.
When he took the center stage Thursday at Atlantic High School, he didn't have a concern in the world. But now he says he should have.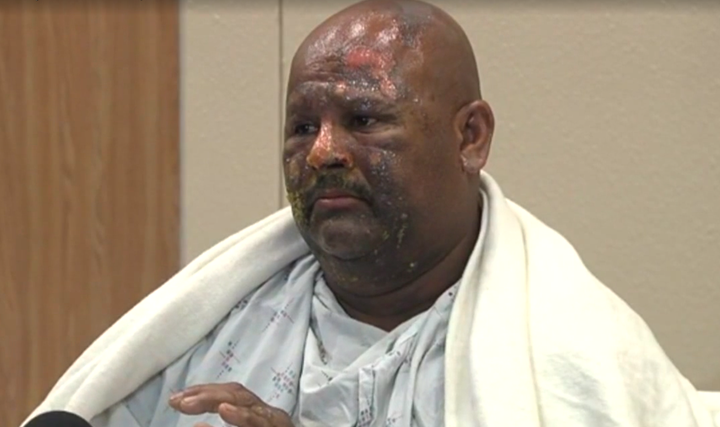 Charles was trying out of a new type of lighter fluid — Coleman camping oil — and the plan literally backfired. He usually uses charcoal lighter fluid. 
"I know what I'm doing but I just didn't practice with that liquid," he said. "I should have practiced. I didn't practice."
Dramatic cell phone video showed his face engulfed in flames while sitting on a blow-up basketball court in the center of a packed gymnasium that immediately turned into pandemonium. 
"Teachers had to grab fire extinguishers. I saw one girl having a seizure on the floor. Some other girl was having asthma problems and couldn't breathe," high school senior Lucas Martins told the Sun Sentinel. "They had a huge mess … this one was a crazy one."
Asked what was going through his head at that moment, Charles answered: "This is new."
His saving grace was his ability to extinguish the flames quickly, Dr. Jean Farber of the Delray Medical Center told reporters.
Dr. Farber said he suffered second-degree burns to his face, arm and thigh. His lips and mouth were not burned. She said washing his face immediately made all the difference.
Palm Beach County School District Superintendent Dr. Robert Avossa said they're looking into possible disciplinary action against school officials who approved the fire-breathing performance.
In a statement provided to the Sun Sentinel by the school district, they said the school's principal signed off on the performance.
School officials said they've since learned that Charles has performed the stunt at least four times for the school district since 2011.
Charles said he's done the act 200 to 300 times at various high schools in just the last year.
Calling all HuffPost superfans!
Sign up for membership to become a founding member and help shape HuffPost's next chapter
BEFORE YOU GO