A California fire department that's repeatedly had its mobile data speeds throttled by Verizon while responding to wildfires, rendering devices virtually unusable, has submitted its experience as evidence in support of a lawsuit to restore net neutrality at the federal level.
Santa Clara County Fire Department Chief Anthony Bowden made the declaration in an addendum filed in the U.S. Court of Appeals Monday that Verizon has restricted mobile data speeds on an "unlimited" device in an emergency response vehicle on at least three occasions since 2017, apparently pledging after every incident it wouldn't do so again.
The department relies on the device to "track, organize, and prioritize routing of resources from around the state and country to the sites where they are most needed," Bowden said. The device typically uses between 5 and 10 gigabytes a day during emergencies.
Once data exceeds 25G of use within a month, however, Verizon slows transfer rates to 0.5 percent of the normal speed, frantic emails between the fire department and Verizon show. (Verizon owns HuffPost's parent company, Oath.)
This happened most recently amid SCCFD's response to the Mendocino Complex Fire, a 410,000-acre, still-burning blaze that's the largest in California history.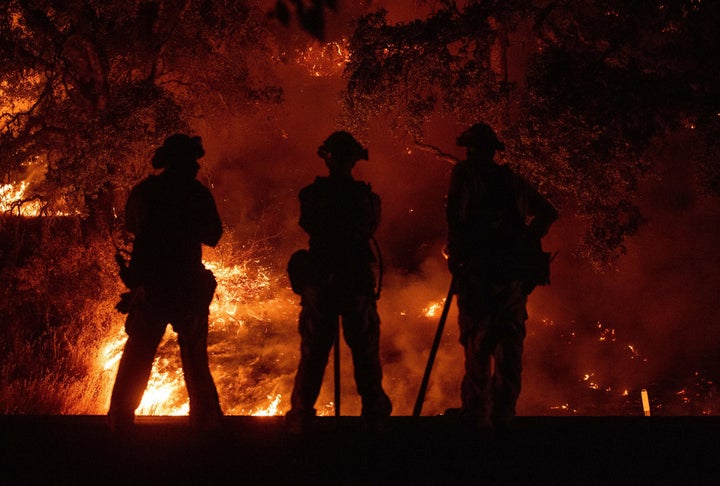 "In a side by side comparison, a crew member's personal phone using Verizon was seeing speeds of 20Mbps/7Mbps," a fire captain wrote to Bowden on July 29. "The department Verizon device is experiencing speeds of 0.2Mbps/0.6Mbps, meaning it has no meaningful functionality."
"Remove any data throttling on effective immediately," one email implores, sent to a Verizon representative on July 29, two days after the Mendocino Fire started. The email apparently went unanswered.
"Please work with us," reads a second email, sent on July 30. "All we need is a plan that does not offer throttling or caps of any kind."
After SCCFD staff complained to Verizon, Bowden said the company confirmed it was indeed throttling the firefighters' data. Instead of restoring the speeds to unrestricted rates, however, a Verizon rep "indicated that County Fire would have to switch to a new data plan at more than twice the cost."
The incident is a repeat of a similar encounter on June 29, when SCCFD's data was throttled while coordinating a response to the Pawnee Fire in California's Lake County. During that instance, a Verizon rep said functionality could be restored for an additional $2.00 a month.
That incident, in turn, is reminiscent of the same problem SCCFD encountered in December 2017, where, while "supporting a series of large wildfires," its mobile data slowed to a crawl. Emails show that, after that snafu, a fire captain believed "that Verizon had properly re-categorized the device as truly 'unlimited.'"
"Please work with us. All we need is a plan that does not offer throttling or caps of any kind."
Verizon didn't immediately respond to a request for comment Wednesday. But in a statement to Ars Technica, which first broke the news, the company portrayed the series of errors as fundamentally a customer service problem and unrelated to net neutrality.
"Regardless of the plan emergency responders choose, we have a practice to remove data speed restrictions when contacted in emergency situations," Verizon's statement said. "We have done that many times, including for emergency personnel responding to these tragic fires. In this situation, we should have lifted the speed restriction when our customer reached out to us. This was a customer support mistake. We are reviewing the situation and will fix any issues going forward."
"We made a mistake in how we communicated with our customer about the terms of its plan," Verizon said. "Like all customers, fire departments choose service plans that are best for them. This customer purchased a government contract plan for a high-speed wireless data allotment at a set monthly cost. Under this plan, users get an unlimited amount of data but speeds are reduced when they exceed their allotment until the next billing cycle."
"Verizon's throttling has everything to do with net neutrality — it shows that the ISPs will act in their economic interests, even at the expense of public safety."
Net neutrality advocates disagree, seizing on the story as an example of a telecom industry that has entirely too much power.
"Verizon's throttling has everything to do with net neutrality — it shows that the ISPs will act in their economic interests, even at the expense of public safety," Santa Clara County counsel James R. Williams said in an emailed statement. "That is exactly what the Trump Administration's repeal of Net Neutrality allows and encourages."
Evan Greer, deputy director of the pro-net neutrality group Fight for the Future agreed.
"This incident shows that there is literally nothing that these companies won't do to make a little extra money," she said in an email to HuffPost. "They put their own profits ahead of public safety. And now that a former Verizon lawyer is running the FCC, the agency that is supposed to provide oversight for massive telecom companies, these near-monopolies have been emboldened to abuse their power even more."
Federal Communications Commission Chairman Ajit Pai, who led the charge to overturn net neutrality, was formerly associate general counsel for Verizon. After taking over at the FCC, he joked about being "Verizon's puppet."
CORRECTION: Due to an editing error, a previous version of this story misstated the slowed data transfer rate as 0.05 percent instead of 0.5 percent.