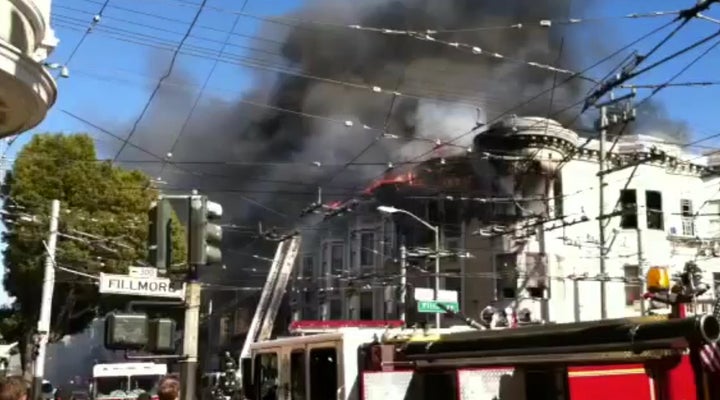 A four-alarm fire that ripped through the apartments above Walgreens on Haight and Fillmore late Tuesday has displaced 31 residents and caused $2.15 million in damage, according to a department spokeswoman.
No one was hurt in the blaze, which began around 4pm and took firefighters nearly an hour and a half to contain. While the flames were thought to have ignited in a third floor apartment, its cause is still under investigation.
"It looks like it started up in that area on the top floor and extended to the roof, so at this time, we don't know how it started," Fire Chief Joanne Hayes-White told ABC News.
Mayor Ed Lee, who appeared on the scene with Supervisor Ross Mirkarimi, offered a note of sympathy to the building's residents Wednesday. "On behalf of the City, I want to express my sorrow for their loss and relief for their safety," he said, noting that both the Human Services agency and the Red Cross were working closely with the displaced families.
Lee said the displaced will be the first to benefit from a recent change to city law which allows tenants whose homes are uninhabitable because of fire or earthquakes to receive temporary housing at the same rental rate.
Witness Demetrius Jones offered a colorful depiction of the activity: "It just started popping and things started like explosions, pow, pow!" Take a look at footage of the blaze below:
Related
Popular in the Community