For many queer people, Fire Island, located just outside of New York City, has been an integral part of life for decades. Now, experience some of the magic of this vacation destination through this new selection of images from photographer Koitz.
Currently running as an exhibit at the University of Southern California, "Fire Island: Out In The Sun," on view from April 24 - 28, is a look at modern day life in the beloved gay mecca.
The Huffington Post chatted with Koitz about his work and what he is trying to accomplish with "Fire Island: Out In The Sun."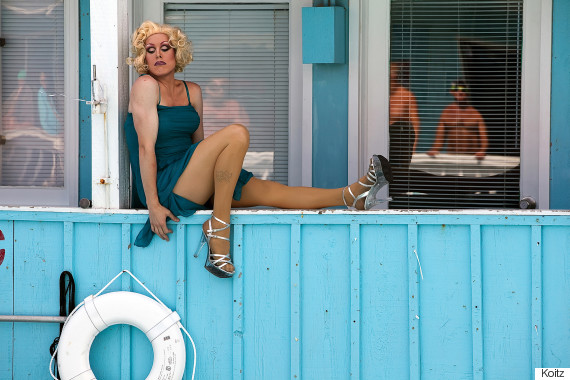 The Huffington Post: Who are the individuals captured in these photographs? Why is documenting Fire Island important?
When I started photographing gay Fire Island, my idea was not to document it in an academic sense. As a matter of fact, the first summer that I went there, to Cherry Grove, I did not feel too comfortable or particularly welcomed. But I also did not feel unwelcomed. It was a strange world, even for me as a gay man. For one thing, it was something that I had never seen or encountered before: young and old people interacting in a special way; the drag queens, the muscle boys… The island itself is so special -- right from the start, there's getting there on a ferry, the wooden walks, the fact that there are no cars (people aren't even allowed to ride their bicycles on them!) By the second summer I went out to the island, I was very attracted to all this but even then it was not until a few years later, when I started taking photographs for The Fire Island News, a local seasonal newspaper, that I started going to parties and events that offered me the possibility of photographing moments of the kind I had never seen before. I wanted to capture these moments for people -– gay or not -- who, like me, had never seen anything like them before.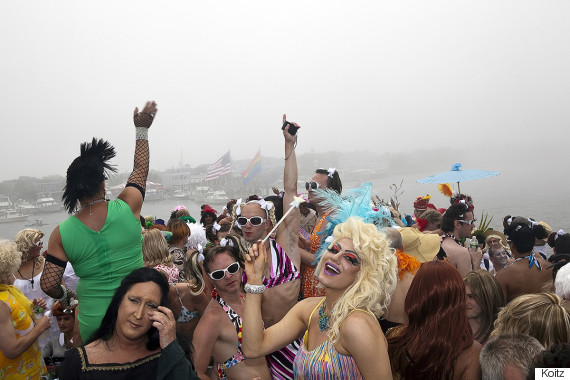 First off, capturing gay life in a normal light is very important to me. I don't want the viewer to think of my subjects as freaks or oddities but simply as people living their own lives in their own world according to their own wishes. Many of these people have a unique form of expression that deserves recognition and promotion and, in a way, my idea is always to take this extraordinary spectacle and somehow convert it into something like reverence. For this reason above all, my photographs of Fire Island are almost always "happy," colorful and full of life. Even though I select whom and where to shoot, for me it is also extremely important to photograph with complete honesty. When I work on Fire Island, I choose not to photograph scenes that show the sadness or examples of failure I might see around me. It is important to me that I never photograph a person in an undignified or disrespectful way and, believe me, there are plenty of opportunities to do that! And yes, that could be a great picture too but that's not how I want to photograph people. While I don't manipulate any situation, I want people to look their best and to be at their best. I like to celebrate them.

How did you see Fire Island change during the ten years it took you to complete this project?
For years, my boyfriend Doug and I have had a house in the Grove along with our friends Jim and Richard. Myself, I have very personal and long-standing relationships with both gay communities on Fire Island -- Cherry Grove and the Pines -- and I have, of course, witnessed many changes in each place throughout the years. In my opinion, I feel that the Grove in particular is the community that has changed the most. When I went there for the first time, I would say that the population was on the "older" side and that there were not that many young people, unless you counted the staff at the bars and clubs and the entertainers. I must say a lot of credit should be given to Daniel Nardicio and his famous "underwear party" (among the many events he's organized for the last few years in Cherry Grove) to help diversify the community in a big way. Daniel helped to change the perception of the Grove as a [merely] "lesbian" and "old" community.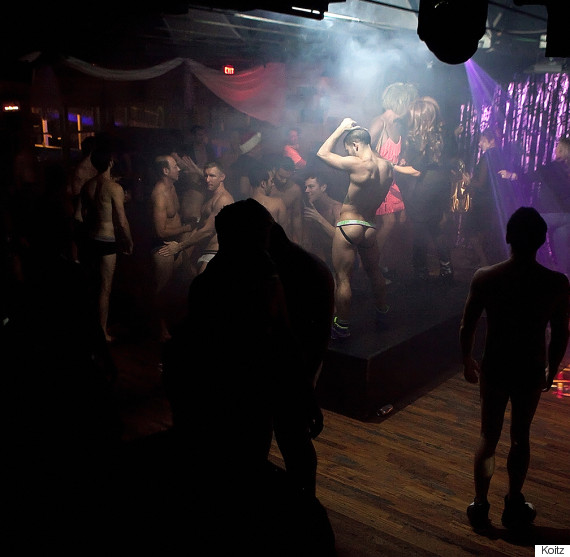 Like the weekly Underwear Party, regular Grove performers like Shequida, Hedda Lettuce, Logan Hardcore, Porsche and Busted also attract many people to their Grove performances from outside the community, in particular from the Pines, which every year seems more aware and familiar with its older, "sister" community.
Personally, I hope that the Grove and the Pines remain mostly LGBT-majority communities. No, I am not meaning this in any "heterophobic" sense at all -- for one thing, it is amazing and gratifying how well gays and open-minded straights coexist in the Grove and the Pines today -- but even then it is hard not to remember that heterosexuals have the rest of the world available to them and it seems only fair that we gay people should have a little bit of space -- both physical and psychological -- for ourselves. In addition, I love interacting with older people and I actually get along extremely well with them, men and women, gay and straight.
And, believe it or not, in the past few years, I've even found that the guys in the Pines, famously more snobbish, have become more "approachable." This new generation of residents of both the Grove and the Pines is certainly different, more "normal," a little less obsessed with their bodies and the way they look, and more open to differences.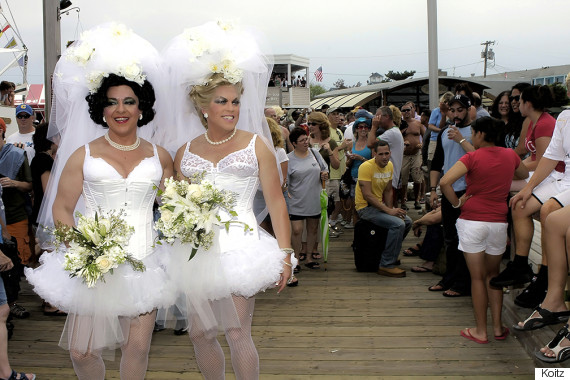 What do you hope people take away from this project?
I have been preparing a book of photos of gay Fire Island for awhile now and I believe that my photos add a new and significantly different perspective on the perception of gay people today. Yes, there are drag queens, both professional and amateur, in my photographs, just as there are pictures of people at parties having fun, but there is always a sense of normalcy, of fun and of great camaraderie in them. That is something I'm happy to say that the architect Victor Jones, curator of the photo exhibit of my work at the Verle Annis Gallery at the University of Southern California, recognized immediately. I am an honored recipient of the USC Founders Cultural Award and I will be forever grateful to them for helping me to put these images -- my vision -- out there for public review. The University of Southern California Office of Residential Education's mission is to enrich the cultural experiences of students living in the USC residential communities and this exhibition will, I hope, help them accomplish that.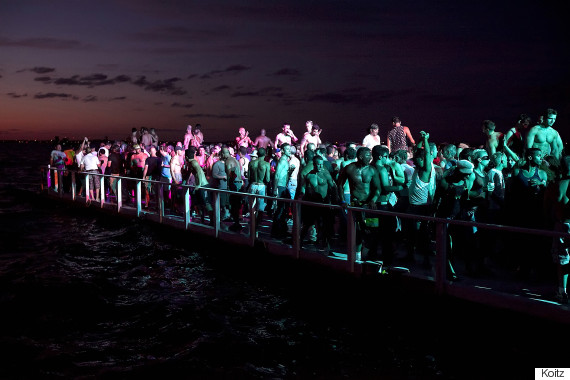 A friend of mine, former art gallery owner Nicholas Davies, has put my photographs in the historical context of works, including photographs, by other Fire Island artists such as Paul Cadmus, Jared French, and Margaret Hoening French, who painted and photographed in the 1940s on the beach with a still startling freshness in their magical-realist style. A context which, Davies feels, is reflected also in Tom Bianchi's Polaroid photos taken in the Pines from 1975-1983 during that golden period now recalled with the poignancy of hindsight, photos -- almost photo sketches -- that show both the playful liberation and carefree innocence that were cut short by the unexpected onset of AIDS.
The poet W. B. Yeats wrote, Davies pointed out to me one day in regard to what he felt my photographs did for him and for others looking at them, "the world is full of magic things, patiently waiting for our senses to grow sharper." For that beautiful reason alone, I hope we can appreciate my work and the work of other photographers for helping us all focus our attention on the truly extraordinary around us. I am very honored and humbled to be considered a part of that "magic" of Fire Island.
Check out the slideshow below for more images from "Fire Island: Out In The Sun" and visit Koitz Photography here for more info.
PHOTO GALLERY
Fire Island: Out In the Sun
Calling all HuffPost superfans!
Sign up for membership to become a founding member and help shape HuffPost's next chapter