Police say they have arrested a 24-year-old man for setting a fire in a Washington, D.C., fountain on Wednesday morning ― but emphasized that the incident was not a hate crime, as it had no connection to a memorial at the same fountain for a murdered Muslim teen.
The Washington D.C. fire department responded to a call about a brush fire inside Dupont Circle around 8:30 a.m., a spokesman said. When firefighters arrived, they quickly extinguished a small fire inside a fountain there.
At around 10:00 a.m., according to a police report from the Metropolitan Police Department, officers arrested Jonathan Soloman, of South Carolina, on charges of "attending or kindling bonfires."
Hundreds gathered at the Dupont Circle fountain on Tuesday evening to mourn the death of Nabra Hassanen, the 17-year-old kidnapped and brutally murdered near her Virginia mosque earlier this week.
A memorial materialized, with mourners laying posters and flowers by the fountain.
Although a video posted by Fox5 DC on Wednesday shows some charred flowers ― and what appears to be a burned painting ― inside the fountain, a spokeswoman for U.S. Park Police told HuffPost that "the memorial does not appear to have been specifically targeted."
"Not a hate crime," Sergeant Anna Rose said, explaining that there was "no indication [Soloman] was there to desecrate that memorial."
Soloman was released from custody on Wednesday with a court date, Rose added.
William Miller, a spokesman for the U.S. attorney's office in Washington D.C., says Soloman will likely have his first court appearance on Thursday, when charging documents further explaining the crime will become public.
The vigil for Nabra Hassanen in Dupont Circle on Tuesday evening.
Clarity over Soloman's intentions would surely be welcome, as Hassanen's murder has already sown fear and confusion among Muslims across the United States.
"We are saddened to hear reports that a memorial site for Nabra may have been set on fire," the civil rights group Muslim Advocates said in a statement on Wednesday.
"The idea that this could happen while her family and friends are mourning her loss, and memorials are held across the country is appalling," the statement continued. "This is a sordid reminder that hate is thriving in our nation."
Hassanen, who was wearing a hijab and an abaya, was attacked and beaten to death with a baseball bat while she and her friends headed to the All Dulles Area Muslim Society Center for morning prayers around 4 a.m. on Monday.
She and the other teens had just left a restaurant where they'd had suhoor, the predawn meal Muslims eat during the holy month of Ramadan. According to police, Hassanen and the other teens got into some kind of altercation with 22-year-old Darwin Martinez Torres, who had been driving by in his car.
When the teens fled, Hassanen reportedly tripped on her abaya. Torres is accused of abducting and murdering the teen before dumping her body in a pond two miles away. Police say there's also evidence that Hassanen was raped.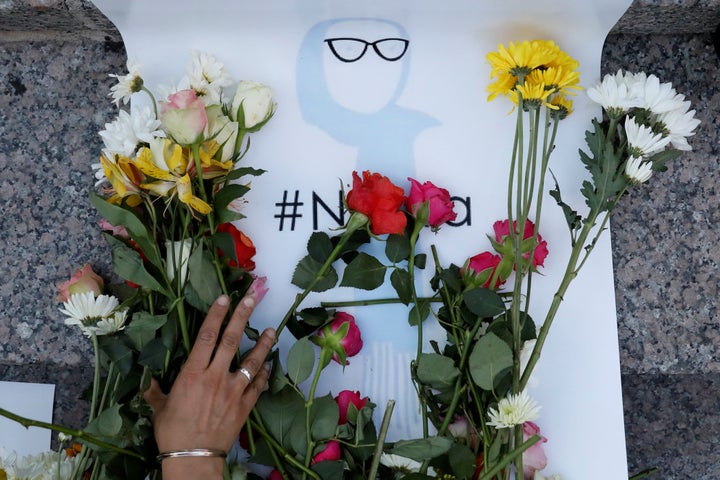 Torres was later arrested and has been charged with murder. He does not, however, face hate crime charges.
Fairfax County police said on Monday there was no indication that Hassanen's attacker used racial slurs or made any reference to her religion while he attacked her. They told HuffPost on Tuesday that they believe Torres was motivated by "road rage," not hate.
But that conclusion has angered many American Muslims, who have increasingly become targets for hate crimes in the wake of a presidential campaign rife with anti-Muslim vitriol.
The Council on American-Islamic Affairs has urged police to "conduct a thorough investigation of possible bias motive in [Hassanen's] case, coming as it does at a time of rising Islamophobia and anti-Muslim hate attacks nationwide."
"Enough of these instances have happened to know that it's a systemic problem," Suzanne Barakat told HuffPost reporter Antonia Blumberg this week. Barakat's brother, Deah, was one of three young American Muslims shot to death in Chapel Hill, North Carolina, in 2015.
Although the suspect in that case had allegedly harassed his three victims about their faith before, police ultimately determined that the crime was motivated by a parking dispute.
Popular in the Community