WASHINGTON -- The residents of Latta, South Carolina, on Tuesday came through for their police chief, Crystal Moore, who was fired two months ago for reasons that many residents say had to do with her being a lesbian.
The town overwhelmingly voted to reinstate Moore to her job and to strip the mayor, Earl Bullard, of some of his powers. As first reported by The Morning News in South Carolina, Latta residents passed a referendum changing the governing structure of the town from "mayor-strong" to "council-strong," which gives the town council the ability to rehire Moore.
The ballots still must be certified on Friday, but the council plans to make its first order of business rehiring Moore.
Wil Brown, a friend of Moore's who launched a campaign to help her get her job back, told The Huffington Post that the council is likely to meet Friday or Monday to formally vote to put Moore back on the beat.
Bullard, who has been mayor since December, sparked outrage in April when he fired Moore after giving her seven reprimands, alleging that she failed to maintain order and questioned authority. Moore maintained that she had done nothing wrong, and that the reprimands were the first she had received in 20 years with the department.
Bullard's move also came as a council member released a recorded phone call in which Bullard went on a homophobic tirade about preferring to leave his children with a raging alcoholic over someone whose "lifestyle is questionable."
Bullard denied that he fired Moore because of her sexual orientation, and there was no concrete proof that that was his motivation. A town grievance committee reviewed all the evidence and last week announced no conclusion either way, meaning it made no recommendations for further action. But many local residents believe Moore's firing was personal.
A request for comment from Bullard's office was not immediately returned.
Moore has been using her Facebook page for the last two months to send messages to supporters nationwide and to thank them for rooting for her. In recent weeks, she's been reminding residents to vote in Tuesday's referendum. She posted this message and photo just ahead of the vote:
"Please support the 'yes' vote. I am ready to get back to work for our town. I have not done anything wrong to be fired. I have been loyal, dedicated, legal and fair. I care and love our town."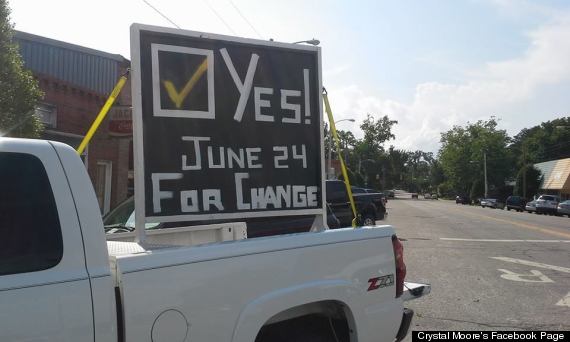 UPDATE: 5:05 p.m. -- In a stunning turn of events, the mayor announced Wednesday that he had hired a new police chief, Freddie Davis, before losing his power to do so.
WPDE NewsChannel 15 reports that Bullard signed a contract with Davis on June 23 -- which puts him just outside the 60-day period the council imposed before another police chief could be hired. Moore told the news channel she believes Bullard hired Davis to retaliate against the town for changing the form of government.
"I have went from being a ecstatic, overwhelmed, not able to speak to crushed again," Moore said. "Once again the citizens came out and did what was necessary. He said he would do what the citizens wanted what. They came out and they spoke. They supported the yes vote."
It's unclear what the council can or will do now, given that they had planned to hire Moore as soon as the ballots from Tuesday's votes were certified on Friday. For the time being, the mayor has more power over the town's activities than the council.
CORRECTION: This article has been updated to correct the last name of the newly hired police chief, Freddie Davis.
Popular in the Community