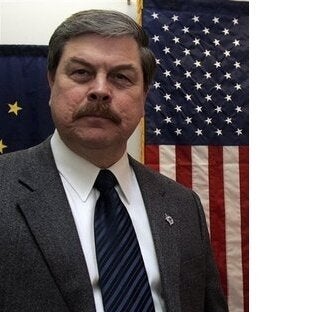 The Alaskan public safety commissioner fired by Sarah Palin was contacted three dozen times over 19 months by the governor and her staff, who were pressuring him to get Palin's former brother-in-law, a state trooper, off the force, reports the New York Times.
At one point, the commissioner Walter Monegan got a phone call from the director of Palin's Anchorage office asking that the trooper, Mike Wooten, not be assigned to work at a state fair in 2007, where he had volunteered for duty in full costume as "Safety Bear," a child-friendly mascot.
The reason provided by the gubernatorial aide was that Palin "was also planning to attend and did not want the trooper nearby."
Monegan claims that he was fired because he failed to remove Wooten, who was engaged in a brutal child custody battle with Palin's sister.
"I thought to myself, 'Man, do they have a heavy-duty network and focus on this guy,'" Monegan told the Times.
Palin's aides also discussed Wooten with Monegan's successor, Chuck Kopp during pre-employment conversations. "Is there anything you can do?" an aide asked Kopp.
Related
Popular in the Community