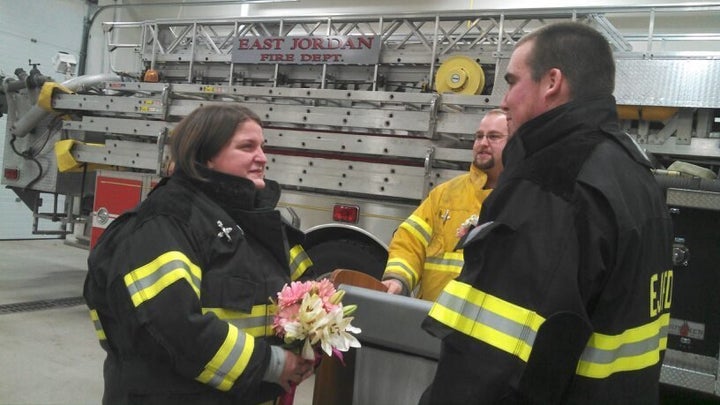 When Brenda Willson got in her friend's car on Christmas Eve, she thought she was going to a late-night Christmas party. She didn't know that she was actually headed to the local fire station -- for her own wedding.
Just after midnight on Christmas morning, Brenda and Eryn Willson were married at the East Jordan, Michigan, Fire Hall, in a ceremony Eryn planned as a complete surprise for Brenda.
The couple of seven years are volunteer firefighters at the East Jordan Fire Hall. One week before Christmas, the fire chief and one of the couple's friends came to Eryn with the idea to surprise Brenda with a firehouse wedding.
"They told me that the [fire] crew would do everything, all I had to do was apply for the license and gather a guest list and they would help me do the rest. I asked them how long I had to plan it all. Then they shared the idea of a Christmas Eve wedding," Eryn told HuffPost. "At first I was like 'A WEEK!' Then I thought, 'Well, OK, let's do this!'"
With the help of friends, family and the fire crew, Eryn organized all of the wedding details while Brenda remained in the dark. On Christmas Eve, Eryn told Brenda he had to go pick up a last-minute Christmas present. Brenda got a babysitter for their five children and headed out with a friend to a "Christmas party."
They drove to the fire station, where the couple's children, friends and family were waiting. After her friends dressed her in her firefighter uniform, Brenda removed the blindfold and saw Eryn kneeling in front of her (also wearing his firefighter gear).
Eryn asked Brenda to marry him, which Brenda happily accepted. But when she saw the couple's pastor (who is also a firefighter) and the crowd of people, she realized the surprise wasn't over.
"It suddenly registered that he meant right now! The music started to play and I realized I was getting married right then and there, with friends and family all in attendance on Christmas morning," Brenda said.
After the ceremony, the guests celebrated at a reception in the fire station's conference room. Brenda said the wedding was the best Christmas present she had ever received.
"I had a fairy tale wedding, the kind you only see in movies or read about in romance novels. That doesn't just happen to people, but it really did in real life to me," Brenda told HuffPost. "I never had to have the anxiety over picking the right dress, or getting cold feet and panicking."
Check out the slideshow below for photos of Brenda and Eryn's fire station wedding.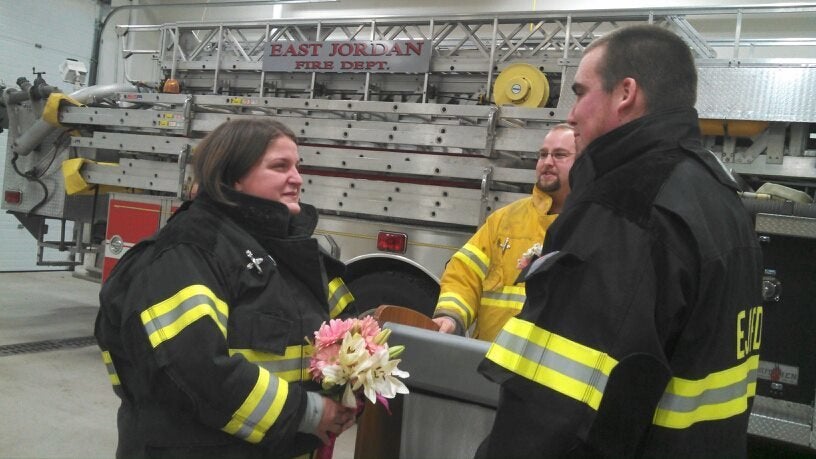 Brenda and Eryn's Fire Station Wedding
Related