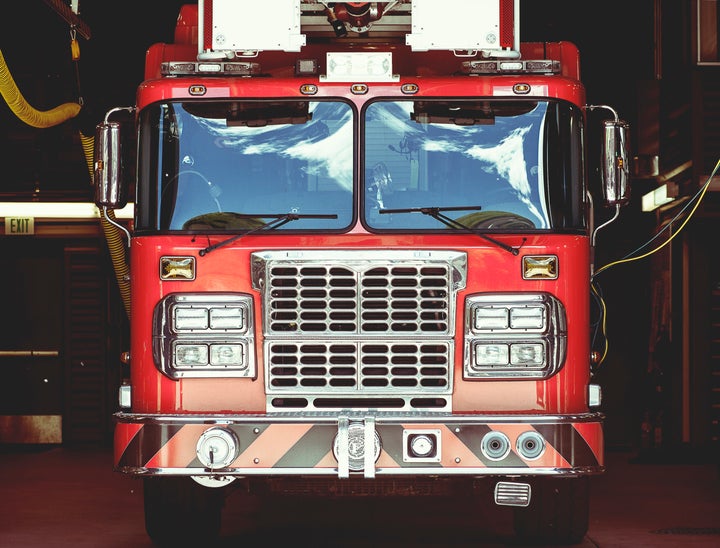 Where does a person go when they realize they need to do something immediately to address their substance use problem? In Nashua, New Hampshire, thanks to a program called Safe Stations, the answer now is their local firehouse.
Tired of responding to frequent 911 calls related to the influx of opioids into town, the local fire department, like many around the country, is trying to intervene in the lives of people with addiction outside of chaotic, scary emergency situations.
Scott Slattery, director of residential services at Harbor Homes, a multifaceted social service nonprofit in Nashua, said the fire stations offer a nonjudgmental place for people who may be in a fragile state.
"It's almost like a safe haven," he said.
At one of the city's fire stations on Thursday afternoon, a young man who had overdosed the night before was talking with several firefighters. Assistant Fire Chief Brian Rhodes said the man was the fourth person to show up at one of the city's firehouses that day to take advantage of the Safe Stations program.
Less than 20 minutes later, as Rhodes spoke in his office, an alarm rang, signaling another Safe Stations intake at a different fire station in town.
Since the city and local nonprofits started the program in November, more than 350 people have showed up at one of the firehouses in this small city of 87,000 to ask for help with their addiction. Firefighters help see to their immediate needs, dispose of any illegal drugs they have on them, and help them get to an appropriate treatment facility within minutes. The idea is to make the process of seeking help as simple and non-threatening as possible.
"We teach our children that, if you are in trouble, find a firefighter," Slattery said. "Firefighters are always considered to be safe people. You can go to them for anything."
At a recent public forum in town, a recovering heroin addict named Brian said that was how he felt when his father brought him to a Nashua station earlier this year.
"Immediately six or seven firefighters came to my aid," he said. "I was crying, didn't really feel well … I showed up at the safe station and they immediately took my vital signs. I even hugged all the firefighters because I didn't know what to do. I was scared."
The Nashua program is the second of its kind in New Hampshire, modeled on one created in the city of Manchester six months earlier. Rhodes said members of his department were eager to explore the idea, given the way opioid use has affected the local area. In 2015, New Hampshire had the second-highest rate of drug overdose deaths in the nation, with 34.3 per 100,000 people. A big part of the problem is not just that people are using opioids, but which ones they're using.
"Heroin's been around forever," Rhodes said. "But I think the sad fact of today's society is there isn't even any real heroin on the streets. It's [synthetic opioids] fentanyl and carfentanil."
Fentanyl, either alone or mixed with heroin or other drugs, was responsible for 70 percent of overdose deaths in New Hampshire in 2016.
Nashua Fire Captain Robert Barrows said the drugs have made firefighters busier than usual, and have also changed the kinds of calls they have to respond to.
"It has the ability to take more of a toll on you," he said. "You're seeing more death than you're accustomed to."
Rhodes said he began to see signs of "compassion fatigue" among his firefighters.
"They were going out and they're finding these people half-dead, dead — restaurants, apartments, homes," he said.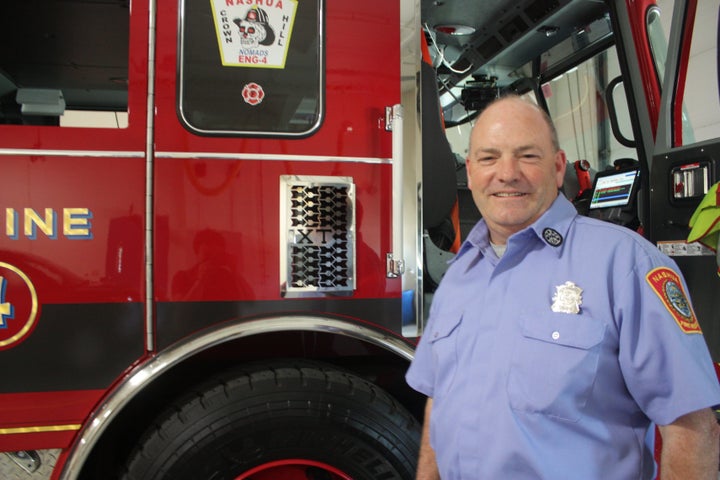 The firefighters hoped that encouraging people to go to the fire stations would create more positive interactions, letting them work with drug users who were looking for treatment rather than ending up in potentially dangerous situations with people who might be hostile, or just not ready to get help.
"Out there, once we revive them, a lot of times they wouldn't even want to go to a hospital," Rhodes said. "They'd get to the hospital and then sign themselves out."
The situation is not unique to New Hampshire, of course. Lori Moore-Merrell, assistant vice president for technical assistance and information resources with the International Association of Fire Fighters, said that across the country, some firefighters and other first responders are having a hard time with the opioid-related calls they're responding to.
"It's a whole new arena of things you can't unsee," she said.
Moore-Merrell said fire departments are developing various responses to the crisis. In Boston, for example, when emergency responders treat an overdose victim, someone from the department returns the next day to make sure the person knows how to get more help.
"We've got some really innovative things that are starting to happen within the fire departments," she said.
The Safe Stations model is now spreading. This spring, the towns of Hooksett, New Hampshire, and Anne Arundel County, Maryland, each started their own version of the program. And Rhodes said the fire department has gotten a number of other inquiries from communities interested in the model.
Rhodes and Slattery say they believe the Safe Stations program is at least partly responsible for a decline in drug abuse in the city. So far this year, the total number of suspected opioid overdoses has fallen 32 percent compared with 2016. This link between the program and the decline isn't completely clear ― and it's worth noting that Manchester's program didn't prevent a recent spike in overdoses. But officials are hopeful about the model's long-term prospects.
Rhodes said making the program work takes much more than putting a sign up over the fire station door and giving firefighters some extra training on responding to addiction. The city partners with local social services organizations, particularly the multifaceted service group Harbor Homes.
Typically, when someone shows up at a firestation, Harbor Homes takes them in and starts looking at what kinds of help they need.
"They take a holistic view of the person," Rhodes said. "They're not just looking at the person from a [substance use disorder] standpoint. There have been participants in this program who have seen a dentist for the first time in five years ... They help them with job skills, personal hygiene skills."
Unless they need urgent medical attention, people who show up at the fire stations get a ride from a Harbor Homes driver, and the organization helps hook them up with whatever services they need.
Inevitably, some people succeed in their recovery, while others end up relapsing— more than 100 people have gone through Safe Stations more than once. Slattery said one barrier to providing the best treatment possible is a lack of beds at recovery facilities.
Slattery also worries things could get worse. New Hampshire expanded its Medicaid program under the Affordable Care Act before the opioid crisis reached its current level. Today, many people at Harbor Homes pay for its services through Medicaid. Under Republican health care proposals, many people would lose Medicaid coverage.
Slattery said Harbor Homes won't turn people away if they can't pay, but the loss of that revenue would hurt.
"I think, yes, it would end up with layoffs, and potentially programs closing," he said. "It's very expensive to operate. We have a medical director. We have dentists. We have psychiatrists."
At least for now, though, the fire department is pleased with what the collaboration has accomplished.
"Our members have really embraced this thing," Barrows said. "They've been pretty compassionate to the individuals that have come in."