California's largest firefighter organization said President Donald Trump was "dangerously wrong" on Saturday after Trump blamed California's mismanagement for the deadly wildfires and threatened to withhold federal money.
Since Thursday, hundreds of thousands of residents have fled multiple fires spreading through Northern and Southern California. The fast-moving fires have engulfed an entire town and killed at least 11 people
On Friday, Trump blamed California's forest management for the disaster, calling the state's services "so poor."
"Billions of dollars are given each year with so many lives lost, all because of gross management of the forests," Trump tweeted late Friday, the same day the fires' death toll grew to nine. "Remedy now, or no more Fed payments!"
Brian K. Rice, president of the California Professional Firefighters organization, which represents more than 30,000 first responders, rejected Trump's accusations and criticized the president for using the fires for political gain.
"The president's message attacking California and threatening to withhold aid to the victims of the cataclysmic fires is ill-informed, ill-timed and demeaning to those who are suffering as well as the men and women on the front lines," Rice said in a statement issued Saturday.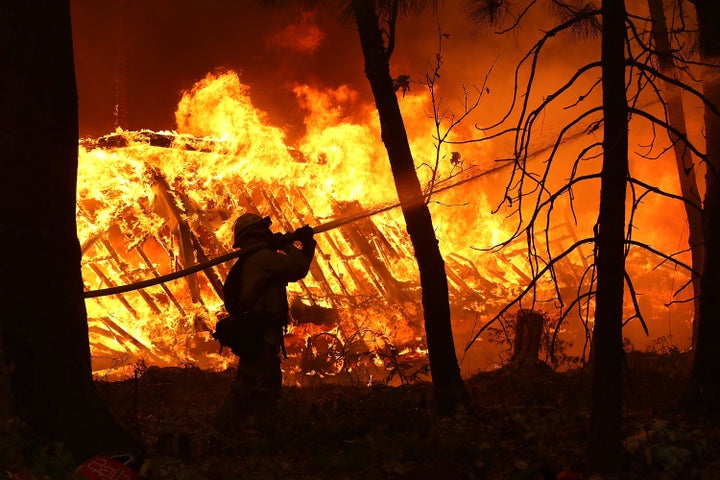 Rice called Trump's assertion "an uninformed political threat aimed squarely at the innocent victims of these cataclysmic fires."
"The president's assertion that California's forest management policies are to blame for catastrophic wildfire is dangerously wrong," Rice said, noting that wildfires can be fueled by dry conditions, high winds and geography.
Rice also said that "nearly 60 percent of California forests are under federal management, and another two-thirds under private control."
According to the University of California's records, federal agencies manage 57 percent of the state's forests while local and state agencies, including CalFire, manage only 3 percent of forest areas. About 40 percent of forests are privately owned by families, Native American tribes or companies.
"It is the federal government that has chosen to divert resources away from forest management, not California," Rice said.
Rice reminded Trump that, "at this moment," firefighters are risking their lives by responding to the fire, "even as their own homes lay in ruins."
"In my view, this shameful attack on California is an attack on all our courageous men and women on the front lines," he said.
In a similar renunciation, the International Association of Fire Fighters chided the president for threatening to take away money as firefighters risk their lives to save others.
"To minimize the crucial, life-saving work being done and to make crass suggestions such as cutting off funding during a time of crisis shows a troubling lack of real comprehension about the disaster at hand and the dangerous job our firefighters do," said Harold Schaitberger, general president of the union.
"His comments are reckless and insulting to the firefighters and people being affected."
Without addressing the threats he made to strip money from California, Trump shifted his tone on Saturday afternoon and tweeted praise for the firefighters responding to the disaster.
"Our hearts are with those fighting the fires, the 52,000 who have evacuated, and the families of the 11 who have died," Trump wrote.