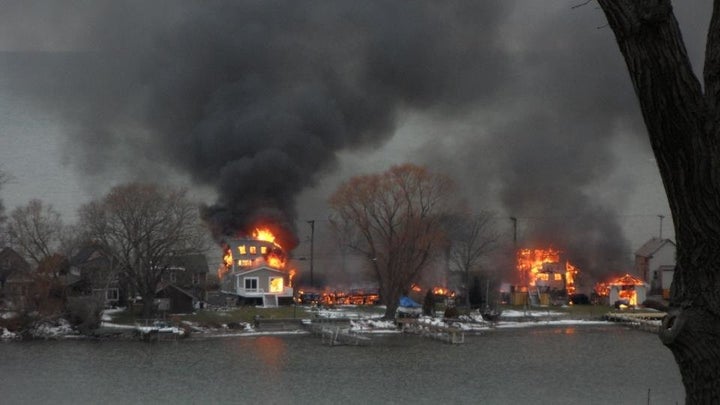 WEBSTER, N.Y. -- Authorities say four firefighters were shot, two of them killed while responding to a house fire in western New York.
Officials in the town of Webster tell local media outlets that someone shot at firefighters around 6 a.m. Monday when they arrived at the scene of the blaze just east of Rochester.
The dead are Lt. Mike Chiapperini, 43, a volunteer firefighter and Webster Police Department's public information officer, and firefighter Tomasz Kaczowka. Theodore Scardino and Joseph Hofstetter were also shot and are recovering in guarded condition at Strong Memorial Hospital.
Webster Police Chief Gerald Pickering told reporters that Spengler was found dead outside the home where the shootings occurred, killed by a self-inflicted gunshot. Pickering said Spengler opened fire at the firefighters when they pulled up to a house in the 100 block of Lake Road. One firefighter was able to flee the scene, while the other three were "pinned down at the location." A SWAT team responded, rescued the firefighter who was alive and then engaged the suspect.
Pickering spoke through tears as he described the violent scene, which appeared to be set up on purpose.
"It does appear that [the fire scene] was a trap that was set," Pickering said in a press conference.
Police secured the area by 10 a.m. and firefighters started combating the blaze, which spread to four houses, according to the Democrat and Chronicle. Four houses were completely destroyed and four others were damaged, but the fire is under control, Pickering said.
An off-duty Greece police officer driving nearby the was also injured by shrapnel. He was taken to the hospital.
SWAT teams reportedly evacuated 33 nearby residents and took them by armored vehicle out of the neighborhood.
A call between an injured fireman and a dispatcher made this morning was released. It can be heard here.
From the Associated Press earlier:

Webster, a middle-class, lakeside suburb, now is the scene of violence linked to house fires for two Decembers in a row.

Last Dec. 7, authorities say, a 15-year-old boy doused his home with gasoline and set it ablaze, killing his father and two brothers, 16 and 12. His mother and 13-year-old sister escaped with injuries. He is being prosecuted as an adult.

Related
Popular in the Community