The years haven't much eased Irene Smith's pain. Some days are good, she says. Some less so. But her son, Leon W. Smith Jr., is always on her mind.
It was Leon Smith's dream to become a firefighter, Smith said. Growing up in Brooklyn, N.Y., the family lived right across the street from a firehouse. She said she always knew just where to find her boy. "He knew his calling even then," she said.
Leon was the driver for Ladder Company 118 in Brooklyn, on September 11, 2001, and one of 343 New York City firefighters to die while responding to the World Trade Center attacks.
"In Leon's company there were eight firefighters that got killed," Smith said. "They found the remains of six of them. They have never found my son. I have a tombstone on an empty grave. One of these days I'll have them, and I'll bury him. I'll never give up."
When the towers crumbled, Smith became part of a tragic sorority of mothers whose boys grew up to be firefighters who died as heroes. But she is also part of another circle of women, a much smaller group whose story of loss on 9/11 mirrors that of the entire FDNY family, but one often forgotten or buried in the heaps of pain.
The FDNY received widespread public support and good will after the attack. But the department has long struggled to recruit and retain firefighters of color. The city's fire department, boasting about 14,000 members, is overwhelmingly white. Only about 3 percent of the force's firefighters are black, roughly the same proportion that served during the attacks and in recent decades. (In an eerie coincidence, the 12 black firefighters who were killed on 9/11 represent just about 3 percent of the FDNY's total deaths.)
Smith says Leon was harassed often in his early days in the Fire Department of New York. "They gave Leon a hard time," she recalled. "They put oil in his boots, took the truck and ran over his boots. They tried to destroy Leon's spirit. But he was a strong-willed young man."
Black firefighters and critics of the FDNY say that racism and discrimination have long run rampant in the fire department. Shortly after 9/11, the Vulcan Society, an organization for New York's black firefighters, sent out fliers announcing a memorial ceremony for the 12 who had been killed. Shortly after, several of the fliers were defaced. Someone wrote "Lick me" on one, and "What about the white guys?" on another. On a flier, someone scrawled over the guest list, which included Al Sharpton and former New York City mayor David Dinkins, replacing their names with those of rap stars.
In recent years, courts have found that the FDNY engaged in discriminatory hiring practices, which a federal judge has sought to remedy.
"When I started watching, I saw people coming out of the window, and that was scary," Laurel Jackson said in the movie of the television coverage that morning. She was the mother of Tarel Coleman, who was with Squad 252 in Brooklyn. "And believe me, at that time I wanted to reach out and tell my son, 'Don't go.'"
Ruth Powell expressed similar feelings about that day. "I knew for sure, the latter part of the evening, when we were calling the firehouse to see if he had returned," she said. She was looking for her son Shawn E. Powell, who worked at Brooklyn's Engine Company 207. "And they reported that his truck had not returned."
At that time, Paul Washington was president of the Vulcan Society. He helped recruit and train Powell, and when he learned that Powell had been killed, it was the realization of his worst fears.
"That was always something that would be my worst nightmares, that one of the guys I helped bring on the job would die on the job," Washington said. "I remember calling his mother a day or two after 9/11. The first words that came out of her mouth were, 'I know you recruited my son.' But she wasn't mad."
Since then, Ruth Powell and a few of the other mothers have passed away, and the young children of those firefighters have started high school or gone off to college. The parents who are still alive say they have not moved on, but they have moved forward.
"Each day I have a different feeling about 9/11," said Smith. "Each day I am a different type of person," she said. "Some days I'm fine, some days I get very emotional."
"Leon didn't die," she added. "Leon was murdered on 9/11. My son didn't close his eyes and just die. He was murdered."
Irene Smith got the city to co-name the family's block in the Bedford-Stuyvesant section of Brooklyn as Firefighter Leon W. Smith, Jr. Way. Each year her church gives college scholarships in Leon's name. To date, they have given over $50,000 to college students from the neighborhood.
"Leon's memory will always, always be around," Smith said. "Nobody will ever forget about my son as long as I have breath in my lungs to speak his name."
Smith and other mothers, both black and white, lean on each other for support. Once a month, the mothers of Ladder Company 118 have a conference call where they share the latest goings-on. They meet occasionally for lunch and run into each other at events, especially around the anniversary of the attacks.
"We are all walking in the same shoes," she said. "We are family now. No way you can break the bond we have."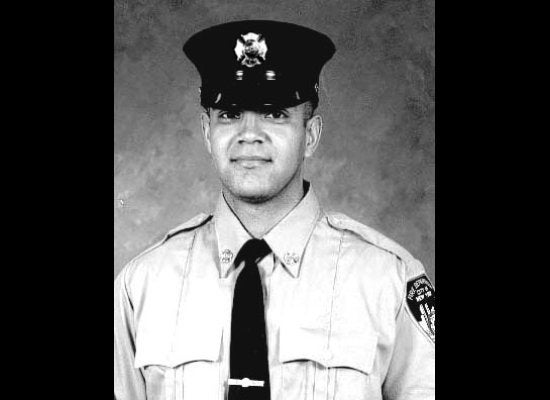 Black Flirefighters who died on 9/11
Popular in the Community