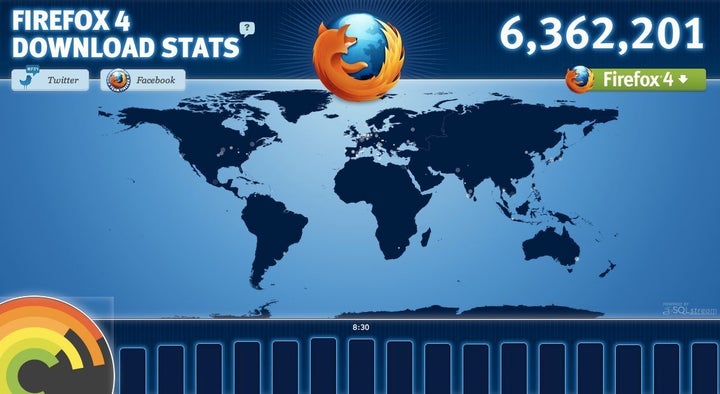 On Tuesday, Mozilla declared that Firefox 4 was ready for download, and customers apparently went on a clicking spree. Mozilla has confirmed that Firefox 4 has surpassed 5 million downloads in its first 24 hours. These figures are more than double those reported by Microsoft after Internet Explorer 9 made its own debut. After IE9's first day, the Windows Team Blog reported that the IE9 software had received 2.35 million downloads in its first 24 hours. While Mozilla's recent web browser update has smashed Microsoft's figures, Firefox hasn't bested itself yet. In 2008, Firefox 3 received 8 million downloads during its first day, CNET notes.
Firefox 4 had surpassed 8 million downloads by Wednesday afternoon, several hours after the 24-hour mark. You can check the current status of Firefox 4 downloads at the Mozilla Glow realtime download counter. Firefox 4 includes a host of new productivity, customization and security features. Take a look at our overview of Firefox 4 to find out what's new.
REAL LIFE. REAL NEWS. REAL VOICES.
Help us tell more of the stories that matter from voices that too often remain unheard.