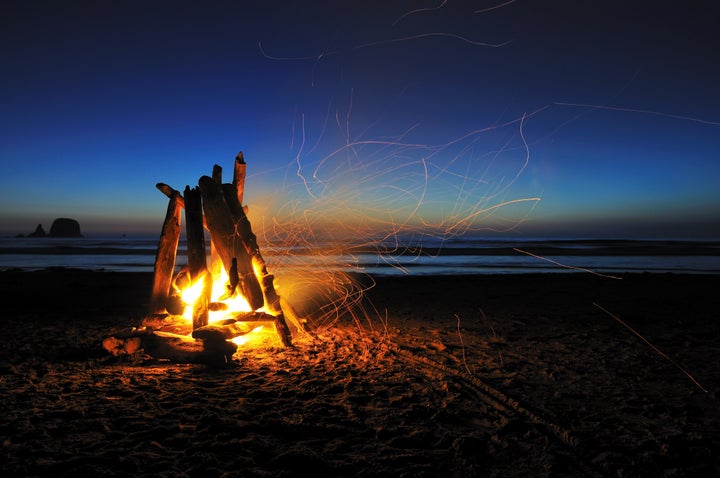 My husband and I'd planned a weeklong vacation in a cabin in the Adirondacks, and I dreaded it. When I asked him what we'd be doing, he said, "Nothing! We can disconnect. No Internet, no TV, no cellphone service. And I can fish." He sounded like a cute little kid, so I said, "Sounds great, hon!"

But I don't like Nothing. Or fishing. I like my routine of writing in the mornings, working out at the ice rink mid-day, editing and researching in the afternoon. Plus, we'd be unplugged. The Internet buzzes in the background of my life, comforting -- always there to entertain me, to feed me information, to connect me to my grid of friends and family and to writers I follow. It percolates my day like a high tech coffee pot, brewing a stimulant that smells good, that tastes good -- a companion that I need, like a cup of coffee. I could live without coffee, but it would suck. Oh, woe is me! I'd be disconnected from all that stimulation on vacation, like a kid entertaining myself, "bored" when school was out.
The day before we left, I bought a stack of books and magazines. I'd go low tech and love it, damn it. Then I went to the grocery store and bought a cart-full of summer camp food -- comfort food -- like marshmallows, graham crackers, Hershey's chocolate bars, beer, hot dogs. And I bought an actual radio. I listen to NPR most days on my iPhone while I'm getting dressed --"Fresh Air" or "On Point." In the mountains I'd need an actual radio for that -- to entertain myself, to feel connected.
Off the main road out of the town of Indian Lake, we followed an elliptical dirt road in Jim's Jeep that ribboned the edge of a pearly blue-green lake, rose to the top of a hill, and then dead-ended at a forest green cabin. High above one end of the lake, our cabin sat on the crest of the hill that undulated down to the water's lip.
We popped out of the Jeep and headed down the lawn to the dock. The sky was a perfect dome over the tiny oval lake, like we were inside summer's snow globe. Lilly pads bobbed in the water gurgling around the shore, and lake trout rose in the distance, striking in the gauzy haze at motes of insects, leaving behind silvery rings that marked their underwater choreography.
We held hands and walked back up the lawn to check out our home-for-a-week and unload.
Jim's family has vacationed in the Adirondacks every year since he was a child. But his family's "camp" is far from a rustic cabin. It's one of the great camps of the Adirondacks, on a private lake in a private club.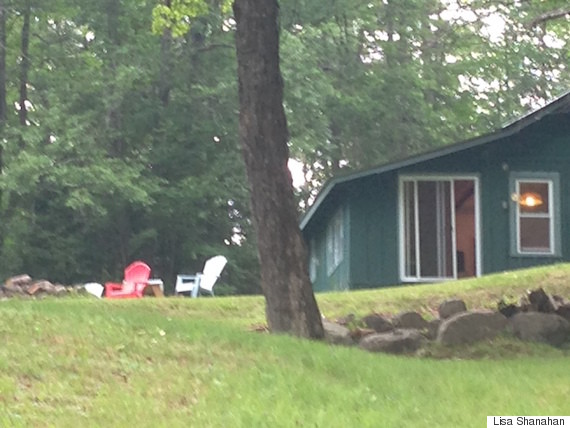 The cabin we rented.
Jim wanted to rent something less grand, something rustic and peaceful, without the claptrap of staying at a club full of socialites. I skeptically agreed and found a two-bedroom cabin for rent by the owner. Inside, we checked it out: a living/dining room, a spotless Spartan kitchen equipped with a mousetrap (ah, amenities), and a new bathroom with a tiny shower stall, which didn't fully accommodate my six-four Jim.
We unpacked the comfort food. Then, excited to use his new rod and lures, Jim went fishing, and the time arrived for me to figure out how to do Nothing.
The trail beyond our cabin, which led through the woods around the end of the lake, intrigued me. I had a Hansel and Gretel moment, accompanied by dueling banjoes from the Southern gothic film Deliverance, but decided to have a go at it while Jim was gone.
About a hundred feet in, leaves covered the trail bed and it was less well-marked, rarely used I assumed. I spied on Jim below, casting his line from the rowboat, and watched up ahead for bears, which I'd seen on other trips to the family's camp.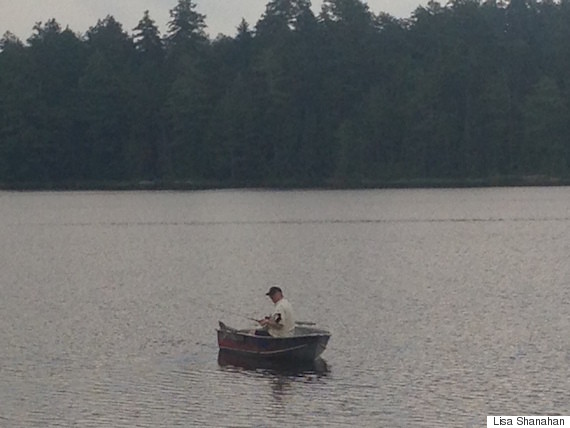 Jim fishing on Lake Francis.
I hiked on another quarter mile, feeling like I was in a fairytale, lost in the woods. Then I heard rustling noises behind me near the top of the hill above. I thought of the witch who imprisoned Hansel and Gretel in her gingerbread house and winged around. The setting sun created an orange glow in the tree canopy, where a squirrel jumped from branch to branch. I exhaled and smiled. Later, when Jim returned happy with his catch-and-release adventure, I kept my scaredy-cat adventure to myself.
I was thrilled to hear Jim say he'd cook and make potato salad. He built a fire in the rock-rimmed fire pit and fired up the grill. While it was heating up, he peeled and cut up potatoes and celery. Then he blended the cooked potatoes, warm from the pot, with mayo and mustard, pimentos, celery, onion. Smooth and savory. Outside, by the campfire, I sipped a beer and set the picnic table with a green checked tablecloth, my only job. Okay, so this is fun: He's cooking and enjoying it. I'm doing nothing.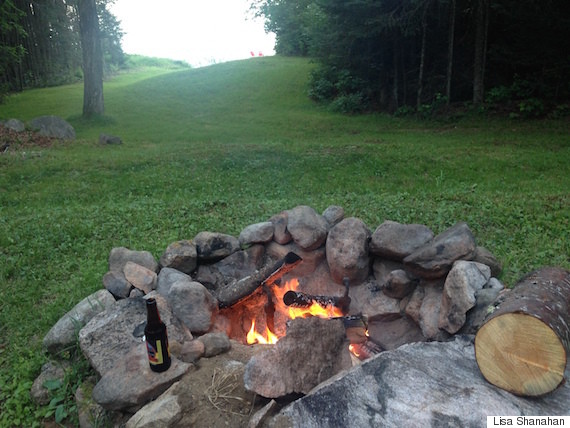 Our campfire.
After we ate, we scouted around the edge of the woods for sticks. Jim whittled the bark away on the ends, then we toasted marshmallows and made chocolate and graham cracker sandwiches. S'mores. So this is once in a blue moon: eating s'mores outside in the dark by a fire. So far, we'd looked at the lake, fished, hiked, and eaten hot dogs. Nothing's not too bad, I thought.
We sat around until the fire died down, then we went in and read on the couch until bedtime. Peace, quiet. I could ask Jim a question and get an undistracted answer. Kind of weird and wonderful at the same time.
The next morning I got up early, looking forward to my favorite meal, coffee, and reading in the living room overlooking the lake. Worried about mice the night before, I'd taken out the trash and put the food in the fridge or the cooler. As I filled the coffee pot with water, I glanced down at the white plastic garbage pail under the sink and saw a mouse trapped in the bottom, its tiny paws clawing at the smooth plastic. I jerked open the back door, tossed the whole pail outside, then slammed the door, my heart slamming in my chest. Then I congratulated myself -- the humane mouse trapper.
After I calmed down, I ate my toast and drank coffee in the living room, while I read a newspaper and a magazine. Over the coming week I read every morning: hard copies of newspapers, magazines, books. I resolved when I returned home to order magazine subscriptions and read every morning with breakfast, the TV, the Internet turned off, to reclaim that time for myself. I discovered that reading quickly, fully concentrated on the page, lifts my mood, makes me feel happy, like a car purring on the highway at seventy miles an hour. My brain thanked me for using it to its full capacity instead of letting it idle in front of a screen -- something I knew in the back of my mind because I love to read. Undistracted in the mountains and disconnected from the infinity of the Internet, though, I experienced, felt the full force of reading's meaning and magic, which seemed especially pure with hard copies of texts.
Late morning, I ventured outside to stalk the mouse, but there was no sign of it. I flicked on the radio, sat at the picnic table in my pajamas, and fiddled with a book, keeping watch on the change in the light until the sun had dissolved all the mist above the lake, feeling the change in the temperature, the day develop. When Jim got up, after sleeping like a bear in a cave, he brought his cereal outside, and we had a little breakfast party.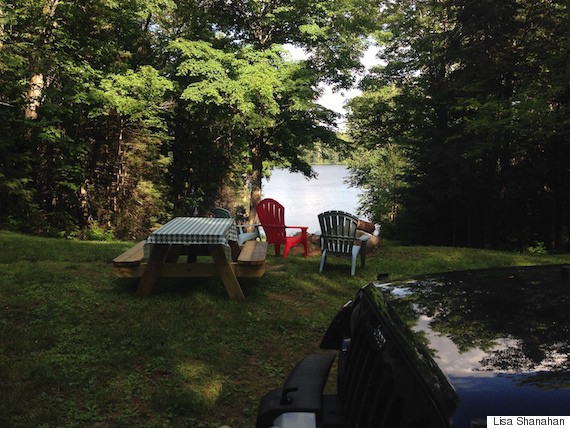 Our picnic table.
Then, more Nothing happened: Jim read in one of the chairs by the fire pit, and I listened to NPR while I got dressed. We had sandwiches on the picnic table for lunch, then decided to drive to town to get the newspapers -- down the length of Indian Lake to the town of Speculator, a much larger place than the village in Indian Lake. Jim bought moccasins at the trading post; we had afternoon coffee in a café, read the local papers, and talked about what was for dinner, what we needed to pick up at the grocery store. We got some sketchy cell service there, like using a tin can connected to another tin can by a piece of string, so we called our daughter, Isabel, to tell her we were still alive. Many afternoons over the week, we returned to this café to give Isabel our "Wilderness Report," feeling that communication was a fun event sparked with novelty -- not a given.
Back at camp, Jim went fishing, and I had a nap. That evening, happy he caught more fish, Jim cooked dinner again. While we sat by the fire that night, I thought about how our Twitter and Facebook feeds were trapped in their digital prison all day, and a spool of memories unwound in my uncluttered mind. I remembered things I hadn't thought about in years, a memory feed of good times on vacation, of good times I've had with Jim over the years.
Every day was pretty much the same as above. We lolled through a string of events, a necklace of pearl-like experiences. I perfected doing Nothing, while I observed Jim closely. I felt the bond I had with him. I saw and felt and remembered what it was that originally attracted me, what it was I liked so much about him. His basic personality shone -- stripped of checking, typing, answering, watching -- and we related doing fun things. Simple, fun things.
So long, Nothing, for now, I said at the end of the week, as we were driving back down through the mountains. I left happy with myself for trying new things, for getting out of my comfort zone and reordering my life in a different way, for getting over the dread of disconnecting and thinking of fun things to do that didn't involve gadgets -- things I did back in the day. The contrast between the person I am with gadgets and the one I became on vacation startled me, rattled me. I'm a different person with my phone and laptop and TV: My mind buzzes. I'm watchful, almost fearful of missing something. My peace is gone. Me without gadgets is a gentler animal: one resting by a cool watering hole on the savannah.
Surprisingly, I wondered if I learned more by staying in the same place for a week, disconnected, than I did in all my travels across the country and through Europe. Did I gain more wisdom?
So, Nothing, I thought: See you again next year to review what I learned in the mountains and whether I was able to change my life back in the wired-up real world where it's hard to get bored and creative.
This post originally appeared on Medium.