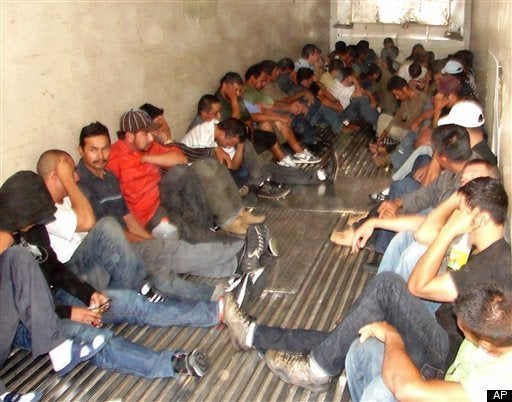 The U.S. Border Patrol's announcement that it was seeking to hire a contractor for "strategic consulting" services first raised eyebrows when it appeared back in July on a site that advertises business opportunities with federal agencies. Even industry publications that typically cater to contractors were skeptical -- Government Security News called the request "unusual."
Senior bureaucrats wanted contractors to help with a number of tasks that seemed to make up their own job descriptions. Among them, "designing and implementing effective homeland security strategies," "facilitation of discussion in regards to effective border control" and "assistance to senior Border Patrol leaders in organizing effectively to carry out homeland security responsibilities."
So perhaps it wasn't much of a surprise that, as The Los Angeles Times noted on Sept. 21, the contract recently went to a firm loaded with former government insiders. Contracting officials awarded the $481,000 deal Sept. 14 to Sentinel HS Group, which was founded in 2005 by a one-time policy advisor for Customs and Border Protection named Brian Goebel. Otherwise, the company is formed almost entirely of people who once held key homeland security positions.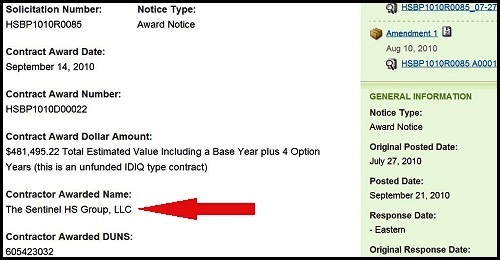 Publicly available contracting data don't show much more of a direct relationship between Sentinel and the federal government beyond the consulting deal. Other records put Sentinel's average annual revenue somewhere between $2 million and $3.5 million. Its website says the "boutique" firm served as "principal advisor" to the team of Boeing Co. employees working on the Department of Homeland Security's SBInet, part of the larger Secure Border Initiative.
That troubled Bush-era program has slowly lost support in Washington after it failed to meet expectations, despite an $800 million investment so far from taxpayers. Former homeland security honcho Michael Chertoff unveiled it in 2005 as a plan to line the southwest border with surveillance cameras and remote sensors that would aid law enforcement in detecting illegal border crossers. But it's operating in only small areas today.
Sentinel's site says the firm works with a range of other companies, "from niche technology firms to the biggest bluechips including General Electric." The company has also dispensed advice to the UK government on its creation of a new border agency -- one of its employees, coincidentally, served in the Royal Air Force.
The latest consulting gig with DHS, however, appears to include work that at least in part belongs to the government itself and feeds an image the department has maintained since its 2003 inception as a place where the front entrance is a revolving door. The arrangement "really is just contracting as usual," an expert told the Times:
One of the three major tasks outlined in the deal is to 'facilitate discussions among senior Border Patrol leaders' at conferences near the agency headquarters in Washington, according to contract documents. The fees work out to about $240 an hour - not including travel expenses or the cost of the conferences. Among those who will benefit from the contract are the agency's former commissioner and the husband of a current agency spokeswoman. It's legal as long as the officials observer a one-year ban on landing work from their former agency.
When asked about it by the Times, the spokeswoman responded that she was not involved in awarding the contract and did not discuss it with officials at the Border Patrol. Goebel, for his part, "said Sentinel won the contract through 'fair and open competition.'"
It's no secret that the Department of Homeland Security has, for years now, relied heavily on private-sector contractors to perform essential duties. But leaders of the Senate Homeland Security and Governmental Affairs Committee were shocked to discover earlier this year that private workers outnumbered the department's civilian public employees by 12,000.
Democratic Congressman Henry Waxman of Los Angeles separately complained during a series of 2007 hearings on Capitol Hill that more than half the people hired in the beginning to oversee the SBInet contract were themselves contractors.
And a March report from the department's watchdog inspector general revealed that contractors were at times in a position to review their own invoices and determine if they were reasonable. The report generally raised questions about the Transportation Security Administration allowing private employees to perform "inherently governmental functions" and said that support services contracts "contained vague statements of work." According to the inspector general:
This occurred because the agency did not have an adequate number of properly trained core acquisition staff to administer contracts and oversee support services contractors' performance. As a result, the TSA did not have reasonable assurance that contractors were performing as required, that it contracted for the services it needed, that it received the services it paid for, or that taxpayers were receiving the best value.
G.W. Schulz joined the Center for Investigative Reporting in 2008 to launch its ongoing homeland security project. Read the project's blog, Elevated Risk, here.
Popular in the Community