Donald Trump has been president for 100 days as of Saturday April 29th. During that time he has done virtually nothing to improve the quality of our environment and instead he has taken numerous actions to put this country's air, water, land and our families' health in harm's way.
Perhaps the most glaring example of his indifference to our planet's future is the path Trump has chosen to take when it comes to dealing with global warming.
We're quickly approaching the point at which scientists say we won't be able to stave off the most disastrous impacts of global warming, as rising sea levels, more powerful storms, droughts and other extreme weather events become more disruptive.
Failing to act on climate also means failing to stand up for our families' health. Global warming pollution is extending the smog season and putting our health at risk. In 2015, 72 U.S. cities each experienced 100 days with elevated smog levels as documented in Environment America's 'Our Health is at Risk' report. Smog pollution causes health impacts such as coughing and throat irritation as well as asthma and permanent damage to lung tissue.
In his first 100 days President Trump called for dismantling the Clean Power Plan, which set the first ever federal limits on global warming pollution from power plants. He stacked his cabinet with big oil allies and climate deniers like EPA administrator Scott Pruitt. And, as of today there is still disagreement within the cabinet about whether the U.S. should continue to participate in the Paris Climate agreement.
There's no mystery about the role continued dependence on fossil fuels is playing in creating climate instability, yet instead of doing all we can to move away from coal, oil and gas, Donald Trump is doubling down on the dirty and dangerous power sources of the past. He greenlighted the Keystone XL Pipeline and the Dakota Access Pipeline, and he has called for more drilling and mining on our public lands and off our coasts.
We have the technology to dramatically reduce our use of dirty energy and abundant reserves of the clean renewable energy needed to make a rapid transition away from dirty energy that risks our land, air, and water to renewable power. But instead of investing in a clean and healthy future, the proposed Trump budget cut investment in over 300 universities and 10 national labs across the country that focus at least in part on renewables research.
Unfortunately it isn't just the climate that will be hurt by Trump's early actions. Our parks, forests, oceans, and other public landscapes and the critters that call them home are under attack by this administration. The President proposed massive cuts to the Department of Interior's budget, severely underfunding acquisition of new lands, leaving open spaces and sensitive areas at risk of development and privatization. In addition he called for a review of over 20+ national monuments, a step toward shrinking their size and perhaps removing all protections from these sensitive and beloved landscapes.
Although we depend on our rivers and streams for safe drinking water, President Trump has proposed getting rid of vital clean water protections such as the Clean Water Rule. Without this hard fought protection, half of the nation's streams which help provide drinking water to one in every three Americans are at risk. And the President's proposed budget eliminates $330 million in funding for Superfund cleanup leaving too many communities exposed to dangerous toxic dumps.
No matter whom we voted for last November, I can't imagine any of us want to expose our kids to more toxic chemicals, make our air and water dirtier, move backwards on climate, or sell off our public lands to the highest bidder. The first 100 days of the Trump Presidency have been disastrous for our environment and our families' health. Tomorrow we march to make sure all our voices are heard. The day after, and every day after that, we roll up our sleeves and do the hard work of educating our communities, building coalitions, pushing for local and state action to protect our air and water, and holding all of our elected officials, including President Trump, accountable for their actions.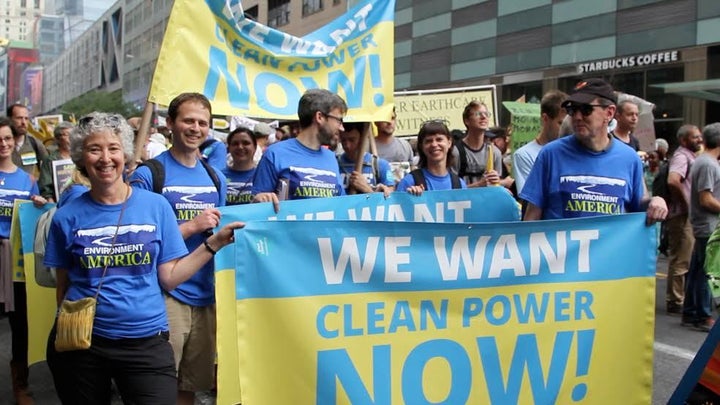 Calling all HuffPost superfans!
Sign up for membership to become a founding member and help shape HuffPost's next chapter