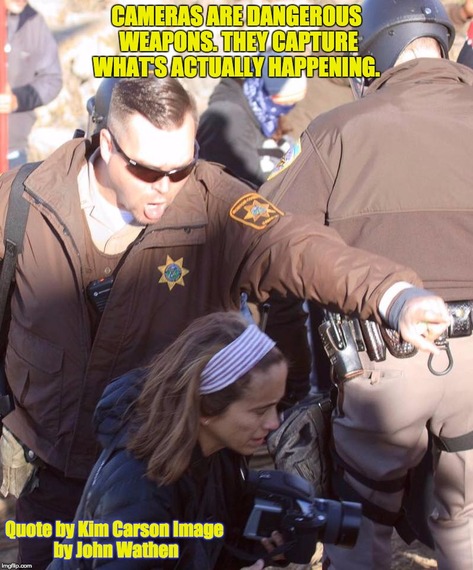 If completed, the $3.8 billion dollar Dakota Access Pipeline (DAPL) would carry 500,000 barrels of crude oil 1,168-miles southeast from the Bakken shale fields to Illinois. Owned and operated by Energy Transfer Partners, DAPL would threaten the water supplies for the Standing Rock Sioux Tribe, not to mention their spiritual identity. Since August, DAPL has faced peaceful resistance from the tribe and members of at least 200 indigenous nations and supporters from across the U.S., Canada, South America and Europe.
National interest in events at Standing Rock in remote North Dakota began in early September with jaw dropping warrants for the arrests of Democracy Now! journalist Amy Goodman and Green Party candidate Jill Stein. Never mind that at least 12 Native Americans were arrested in August as they peacefully protested the Dakota Access Pipeline with just about zero media coverage. Standing Rock Sioux Chairman David Archambault II was one of those arrested. The pipeline company proceeded to sue him and other protesters for impeding the project.
The gathering of nations at the confluence of the Cannonball and Missouri Rivers is an historical event that, until the warrants were issued for Goodman and Stein, was mostly ignored by mainstream America. Not since the days of Sitting Bull have so many indigenous nations gathered in support of something that threatened their very existence.
But things were about to change.
Morton County Sheriff Kyle Kirchmeier said Stein and her vice presidential candidate, Ajamu Baraka, vandalized equipment at a Dakota Access Pipeline worksite. They were charged with the misdemeanors of criminal mischief and trespass. Media picked up on this, an election year event, and feasted on it for a few days.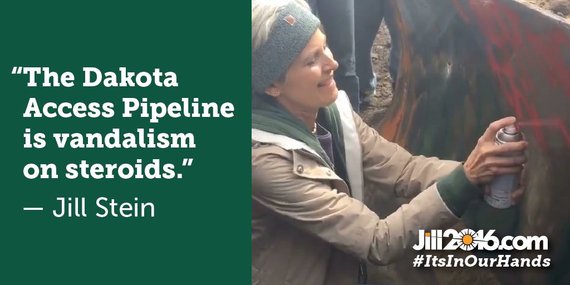 On September 8 an arrest warrant was issued for Goodman, whose September 3 video of DAPL workers attacking Native Americans with dogs and pepper spray, with a yellow Bell Ranger 206 helicopter buzzing overhead, went viral. DAPL had taken court records and used them as a map to destroy sacred burial grounds, ceremonial sites and artifacts. Goodman was able to capture the futile attempts of tribal members to stop the desecration.
The nation was shocked to see the grisly footage of bloody-mouthed dogs. Democracy Now!'s report went viral online, was viewed more than 14 million times on Facebook, and was rebroadcast on many outlets, including CBS, NBC,NPR, CNN, MSNBC and the Huffington Post.
This Monday (October 17), Amy Goodman will fulfill her promise to fight the charges and face her accusers at the Morton County-Mandan Combined Law Enforcement and Corrections Center. State's Attorney Ladd R. Erickson filed new charges on Friday before District Judge John Grinsteiner, who will decide on Monday whether probable cause exists for the new "riot" charge.
This should be noted. The original charge against Goodman was the misdemeanor of criminal trespass. The new "riot" charge is also a misdemeanor punishable by prison and/or a fine.
"I came back to North Dakota to fight a trespass charge. They saw that they could never make that charge stick, so now they want to charge me with rioting," Goodman told Democracy Now!
In a bizarre October 12 email, State's attorney Erickson wrote that Goodman "was not acting as a journalist," despite that fact that the state's criminal complaint recognized that, "Amy Goodman can be seen on the video ...interviewing protesters."
On Indigenous People's Day, movie star Shailene Woodley (Divergent and Fault in Our Stars) was arrested as her mother looked on and took over the Facebook live-stream started by Woodley. Again, the charge was trespassing and "riot," and again two videographers were on hand to film the event.
John Wathen was lucky, not arrested, and was able to produce and distribute a YouTube video, "This was NOT a riot." The footage clearly shows the same situation seen in Woodley's live stream. It debunks Morton County's claim that praying and dancing in prayer for the earth incited a riot. The riot charges would be laughable if not so frightening.
It is especially horrifying because of the concern for the safety of the protestors. Watch Wathen's video and see how law enforcement is armed with riot gear, clubs, guns, armored vehicles and gas masks. The protestors have feathers and prayer cloths. Wathen describes a elderly Grandmother who showed up with her pipe.
You can watch Woodley's livestream here. When the sound stops cutting out, you can hear her say, "I'm shaking, this is so scary."
Madison, Wisconsin Alder (councilperson) Rebecca Kemble was arrested during the same protest and spent the night in jail with Woodley. Kemble was working as a videographer with an attorney who was documenting the protest. Wearing a green hat that clearly identified her as an official observer, Kemble had her expensive professional camera ripped from her hands and thrown on the ground while she was subsequently handcuffed. She was released from jail on Tuesday afternoon. LISTEN to her riveting testimony.
As a result of Kemble's arrest two City council men from Dane County Wisconsin have sent letters to Dane County Sheriff Mahoney telling him to stand down. Mahoney is part of a group of officers sent to assist in Morton County.
Alder Kemble stayed at the site as a legal observer and was arrested and her camera was taken away by law enforcement officials, in what she described as an effort to suppress evidence of police misconduct. She described how she saw a young woman slammed into the side of a van by a Morton County, N.D. sheriff. Alder Kemble herself was charged with four crimes, including inciting a riot. This charge was absurd given the actions of Alder Kemble and those around her.
Councilman John Hendrick also wrote a letter to Mahoney, objecting to his participation in events at Standing Rock and his deployment of Dane County employees, including "10 Sheriff's deputies and their supervisors - to interfere with the peaceful presence of indigenous communities and their allies at Standing Rock in North Dakota."
On Monday, October 10, Indigenous People's Day, our colleague in local elected office, Madison Alderperson Rebecca Kemble, was arrested at the site while acting as a legal observer. She traveled to North Dakota to deliver a statement of solidarity adopted by the Madison Common Council. Alderperson Kemble stayed at the site as a legal observer and was arrested and her camera was taken away by law enforcement officials, in what she described as an effort to suppress evidence of police misconduct during arrests of persons following a prayer ceremony. She described how she saw a young woman slammed into the side of a van by a law enforcement officer.
If you believe that all of this over-reach and assault by members of law enforcement is limited to one county in North Dakota, think again.
Documentary filmmaker Deia Schlosberg was arrested while filming a protest action in Walhalla, North Dakota. She was held for 48 hours in Pembina County Jail without access to her attorney. Schlosberg is an associate of Josh Fox (Gasland) and was charged with Class A and C felony charges that carry 45 years maximum sentences combined. She has been charged with two Class A felony charges, one Class C felony charge, conspiracy to theft of property, conspiracy to theft of services, and conspiracy to tampering with or damaging a public service.
With echoes of the charges against Amy Goodman, Schlosberg was filming a protest against a pipeline bringing Canadian tar sands oil into the U.S. She was not participating; she was filming. She was a witness.
People should wake up. Having filmed in the Democratic Republic of Congo, and having had my film and equipment confiscated by a mercenary, held in detention, robbed, and abandoned penniless on the streets of Goma, I can tell you this all seems too familiar.
I will not go back to Congo for fear of the same, and to tell you the truth, I am leery about North Dakota, as are other journalists, photographers and videographers I have spoken with. That will not stop us, but I am already arranging to take a different car after being stopped and held on the road while my plates and driver's license were checked and logged. My offense was having a camera on the front seat and wood in the back of my car.
These stops, arrests and detentions are in complete violation of the First Amendment.
Wake up. The water is boiling.
I can't get the PTSD-inducing description of young woman slammed into the side of a van by a law enforcement officer out of my head.
And what about the demeanor of officers sent from Wisconsin to Morton County?
According to KFYR-TV a Wisconsin sheriff's deputy who was in North Dakota helping local authorities with Dakota Access Pipeline protests has been arrested after he was found passed out in his patrol car at a Bismarck hotel. 35-year-old Ryan D. Fowler was found with a blood alcohol level of .08 percent or more. Fowler's arraignment is October 31.
In a bizarre statement St. Croix County Sheriff John Shilts "apologized to the people and law enforcement of North Dakota," and added "nobody needs this distraction."
What about the distraction of the arrests and harassment of journalists, peaceful protestors and witnesses?
Free speech in North Dakota is being suppressed and law enforcement is getting away with it. What are we going to do about it? History is being made and is reminiscent of historical oppression of Native Americans. It is a long, sad account of militarization and in some cases, genocide.
In addition to on-going surveillance, harassment, and regular ID checks, water protectors who have been arrested report a series of civil liberties violations. The right to counsel and the right to free association don't go away under a state of emergency. Despite that fact, protectors report being interrogated -- without a lawyer present -- by a gang intelligence unit from the North Dakota Department of Corrections and asked questions about where they are camped and with whom they are associated.
This is not overstating the situation.
Popular in the Community