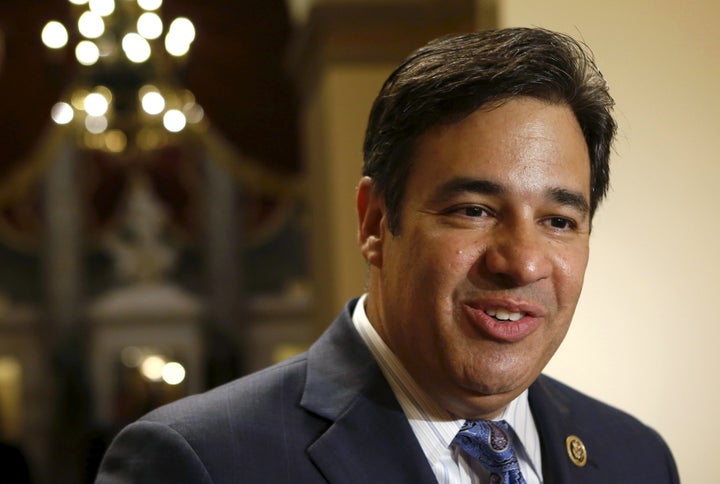 WASHINGTON ― In wake of the U.S. Supreme Court decision in favor of same-sex marriage, Republicans are pushing legislation that aims to protect Americans who oppose these unions on religious grounds. But critics say the language is so broad, the bill creates a license to discriminate that would let employers fire women for getting pregnant outside of wedlock.
The First Amendment Defense Act prohibits the federal government from taking discriminatory action against a person ― which is defined to include for-profit corporations ― acting in accordance with a religious belief that favors so-called traditional marriage. This means the feds can't revoke a nonprofit's tax-exempt status or end a company's federal contract over this issue.
The bill specifically protects those who believe that marriage is between "one man and one woman" or that "sexual relations are properly reserved to such a marriage." Ian Thompson, a legislative representative at the American Civil Liberties Union, said that in addition to targeting lesbian, gay, bisexual and transgender people, the bill "clearly encompasses discrimination against single mothers" and would hobble the ability of the Equal Employment Opportunity Commission (EEOC), the federal body that protects women from sex-based discrimination, to act.
This scenario isn't merely hypothetical. There are a number of recent cases where religious schools have fired unwed teachers for becoming pregnant. A Montana Catholic school teacher who was fired for having a baby out of wedlock, for example, filed a discrimination charge last year with the EEOC. While the U.S. Supreme Court has recognized a ministerial exception to employment discrimination laws, that exception is somewhat limited, not necessarily covering educators employed by Catholic schools who teach about exclusively secular subjects.
James Ryan, a spokesman for the EEOC, said the commission could not comment on pending legislation in Congress.
At a press conference on Thursday, Rep. Raul Labrador (R-Idaho), who authored the House bill, strongly denied that it could be used this way. "It's just allowing people to continue to believe the way they do," he told The Huffington Post.
His colleague, Rep. Bill Flores (R-Texas) said, "We're not going to try to dance on the head of a pin here. This legislation protects an institution based on its sincerely held religious beliefs from persecution."
When NPR asked Sen. Mike Lee (R-Utah), who introduced the companion Senate bill, about a hypothetical university firing an unmarried woman for having sex out of wedlock, he said, "There are colleges and universities that have a religious belief that sexual relations are to be reserved for marriage" and they "ought to be protected in their religious freedom."
The legislation is picking up steam, with pressure reportedly mounting on GOP leaders to call a vote this month on the bill. When House Speaker John Boehner (R-Ohio) was asked on Thursday what he thinks of the bill and whether he'll bring it to the floor, he said, "The Supreme Court's decision on marriage raises a lot of other questions and a number of members have concerns about the issues it raises." He added, "No decision has been made on how best to address these."
Thompson said that this isn't the only problem with the bill. He said it would eviscerate anti-discrimination protections for LGBT federal contractors signed into law by President Barack Obama last year and allow federal grantees to turn away LGBT people from homeless shelter services or drug treatment programs. Comparing it to a religious freedom bill in Indiana that faced national backlash, he said, "This bill is Indiana on steroids."
Michael McAuliff contributed reporting.
Popular in the Community