I'm a list-making, expert-consulting, Internet-researching, question-asking kind of gal. I don't really do "winging it" and I cringe at "I'll let you know." While it might make for extra stress before I do just about anything, I rarely get lost, I'm hardly ever caught off guard, and I'm always prepared. So when I heard that there are some hard lessons you just can't prepare for when you get your first place, I took it as a challenge.
I found lists of commonly forgotten items, read house-hunting guides and consulted lease checklists. I asked the capable adults in my life about their first place mistakes. I looked at maps of my new neighborhood, printed bus routes and more. "I've got this whole real world thing down," I thought. No problem.
When I made my first real meal in the house, I was prepared for perfection. I unwrapped my new 10-inch skillet and used my fresh-from-the-package knives to cut the fat from the chicken. I cracked open the olive oil and the Panko breadcrumbs and the jar of Italian seasoning, and I cut the zip tie off my utensil multi-pack so I could flip the chicken as it cooked. I put the finished product on a freshly unpacked Corelle plate and sat down at the too-classy-for-a-22-year-old breakfast bar to marvel at my creation.
Only then, did it occur to me that I had nothing to put on the chicken. No barbecue sauce, no ketchup, no hot sauce... nothing. I had brought every tool needed to cook a meal, including some I'd probably never use, and my fridge was stocked with staple items, but I didn't have a single condiment. My first meal was dry and bland, and all I could do was tweet about it and chew on.
When I started to decorate my room, I had a plan for a chic sanctuary with a large wall display of photos. I waited for a great deal on black 3-by-5 frames and bought as many as the store had. I spent hours sorting through thousands of photos on my computer and downloading my favorites from Facebook. I drew out the layout in pencil on the wall, put the photos on a flash drive and headed to the nearest WalMart photo center to print them out.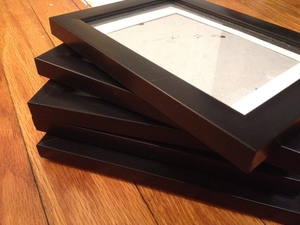 Did you know those machines don't print 3-by-5 photos? Neither did I. Maybe if I hadn't prepared so effectively by unwrapping every single frame and throwing out the paper inserts, I could exchange them for 4-by-6 frames in which the photos would fit. That is, if the receipt for said frames hadn't landed in the juice from last night's chicken package when I threw it in the garbage, which of course it had. But, even if everything had worked out at the photo center, I would have returned home only to find that I possessed neither a hammer nor nails with which to hang the masterpieces.
A bland meal and a barren wall had taught me the most important lesson: even I would have to learn some "my first place" lessons the hard way, and the sooner I accepted it, the sooner I could start benefiting from the lessons learned.
Among the other lessons my first place has taught me:
Dollar store toilet paper isn't worth the savings. Neither are dollar store pizza rolls, artificial sweetener packets or Band Aids. If it's going in or on your body, don't be cheap.
Plugging your mini fridge and two high-powered fans into the same surge protector will only get you slightly cooler beer and a slightly cooler room. You're going to have to decide your priorities.
If something breaks, call Dad. If you got hurt when it broke, call Mom. When they finish with their advice, assure them you'll be fine. Then, when you hang up, assure yourself the same.
Either prop the doors or close the windows. If you don't prop an open door, a burst of wind from an open window will cause it to slam. You'll be positive that someone has broken in, and you'll be terrified. Then embarrassed.
If you think someone has broken in, you should probably lock your bedroom door and call 911 like a normal person, not traipse around your house shouting and threatening mystery intruders with a can of hairspray and a lighter like you know what you're doing.
Most of the time, you have absolutely no idea what you're doing and that's OK. Someday, you will.
I'm sharing these lessons in hopes that I'll save you from having to experience dry chicken and warm beer and the embarrassment of threatening a nonexistent intruder with household beauty products. But there are some things that only your first place can teach you, and the only real way to prepare is to be prepared to learn.
Popular in the Community