The new television season is almost upon us and with it comes the hopes of every bisexual. Will this year bring an opportunity to see ourselves on screen? Certainly, last season was one for the ages. With a record 22 lead bisexual characters and 23 supporting characters on American television, representation was abundant.
With so many producers and networks taking a chance with bisexual characters, it was appropriate that this was the first year of the 'Bisexual Representation Awards'. The award is the brainchild of Alex Anders who is a bestselling bisexual romance author, the host of the YouTube channel BisexualRealTalk, and one of the founders of Fluid Style Co, a clothing company creating clothes for bisexuals.
Mr. Anders' idea was that favorable behavior should be rewarded. If producers and actors were willing to risk their careers by creating bisexual characters, they deserved to be rewarded for their courage.
To that end, Alex Anders created the BiRAs. Opening voting to the public, the award would not only reward the deserving, but would give all bisexuals a voice. Votes were initially planned to only be collected online. But when Fluid Style Co decided to step in as the chief sponsor, everything changed.
Understanding the effect it could have on the community, the fledgling clothing company agreed to pay for Alex to travel to the Pride Festivals in Boston, Denver, San Francisco and San Diego. The move not only allowed bisexuals the opportunity to vote for their favorite bisexual characters, but it meant that Pride festivals, which would otherwise have no bisexual representation, would now have a place for bisexuals to see them self.
"At San Francisco and San Diego Pride, we were the only bisexual booth. In fact, in San Diego, the bisexual pride flag hanging at our booth was the only one flown at the festival," Mr. Anders said exasperatedly.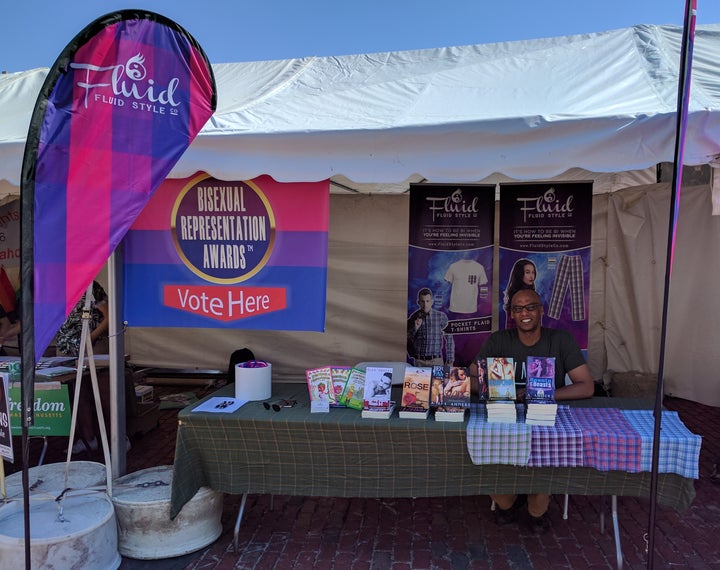 In the end, over 4000 votes were collected for this inaugural event and the winners were announced last Sunday on Alex Anders YouTube channel. The award given, officially called the BiRA, was designed and hand-crafted by Kaj Akira Louis-Johnson, a Los Angeles artist, and represents the fluid nature of bisexuality.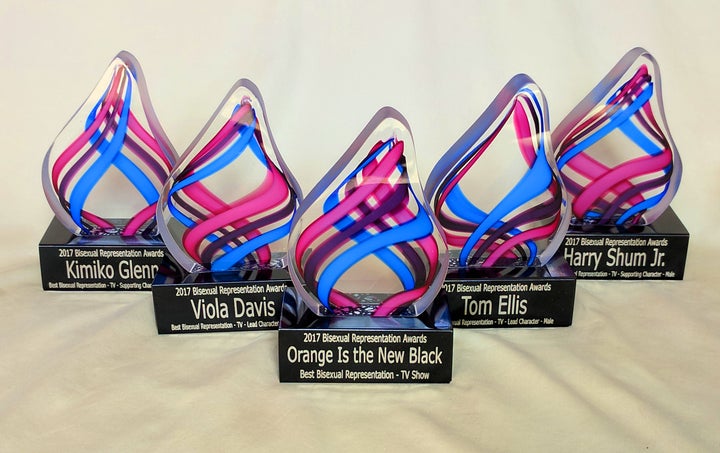 What will the 2017 – 2018 television season hold for the bisexual community? Certainly, there's promise. This year 'Will and Grace's' Karen proclaimed her bisexuality in a song when the show was announced, and 'Riverdale' made a big deal about the addition of 'Toni Topaz' a bisexual character of color from the comics.
But, before looking forward, let's take a look back at the winners of the first-ever 'Bisexual Representation Awards'. As we do, let's savior the moment remembering how far the bisexual community has come in just a few short years.
2017 Bisexual Representation Awards Winners:
Best bisexual representation by a TV show Orange is the New Black – Netflix
Best bisexual representation by a lead character – Female Annalise Keating – How to Get Away with Murder – Viola Davis
Best bisexual representation by a lead character – Male Lucifer Morningstar – Lucifer – Tom Ellis
Best bisexual representation by a supporting character – Female Brook Soso – Orange Is The New Black – Kimiko Glenn
Best bisexual representation by a supporting character – Male Magnus Bane – Shadowhunters – Harry Shum Jr.
REAL LIFE. REAL NEWS. REAL VOICES.
Help us tell more of the stories that matter from voices that too often remain unheard.