American Girl Doll Company (owned by Mattel) finally took customer feedback to heart and introduced their first black doll of the year, Gabriella McBride. Each January for more than a decade, they have unveiled the doll of the year and accessories that coincide with her story. They had a few historical dolls of color but this is a first for the doll of the year.
This is a long time coming and couldn't be more important in 2017. The American public has been pounded by divisive rhetoric throughout 2016; and, we are hurting. Our country needs to heal. We need to teach our children that the strength of our nation is in our diversity, not in fear mongering.
Gabriella McBride is a dancer who is advocating for her art center to remain open. Despite suffering a speech impediment, she uses poetry to express her activism. I love this subtle expression of the struggle that black Americans go through in America. At least that is how I am interpreting the story they chose for her.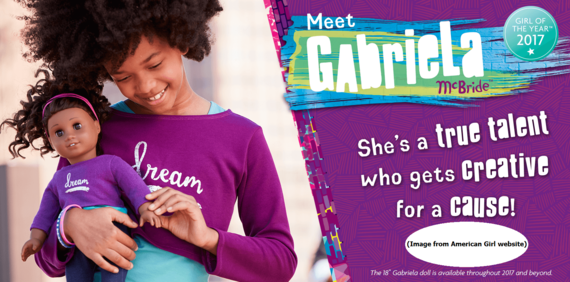 Image from the American Girl Doll website
Girl of the year dolls retire at year end, but Gabriella will be available beyond 2017. I would like to add her to my doll collection. My daughter is a teenager now and no longer plays with dolls, but we amassed quite an American Girl doll collection and took our doll collecting very seriously.
I loved playing with dolls as a young girl in the 1970s. I had sealed my childhood dolls away in storage to give to my daughter someday but it was not to be. My childhood dolls were stolen when our home was being renovated. I think this is partly why I embraced the American Girl doll phenomenon with my daughter as she was growing up.
We have the beautiful Hispanic doll, Josefina and the Hawaiian girl of the year doll, Kanani. (I was really into Kanani since my husband and I got married in Maui.) But most of the American Girl dolls are white. I have Asian friends that struggle with wanting to find Asian dolls their children can play with and feel good about.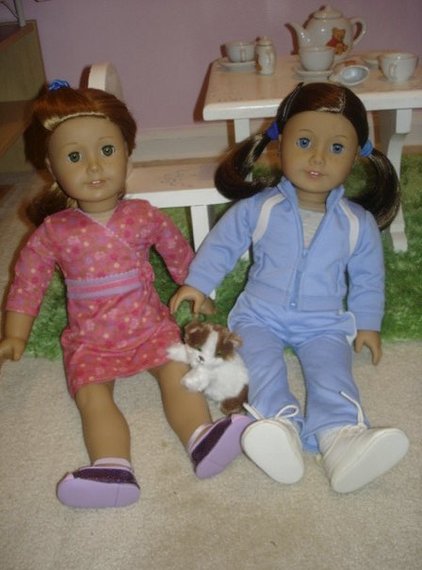 Dolls from my daughter's American Girl doll collection
Back in 2009, I wrote a letter to the American Girl Doll company asking if they were planning to create a Muslim American Doll. They have a Jewish American historical girl doll named, Rebecca, which I think is great. They wrote a letter back to me and you can read it right here: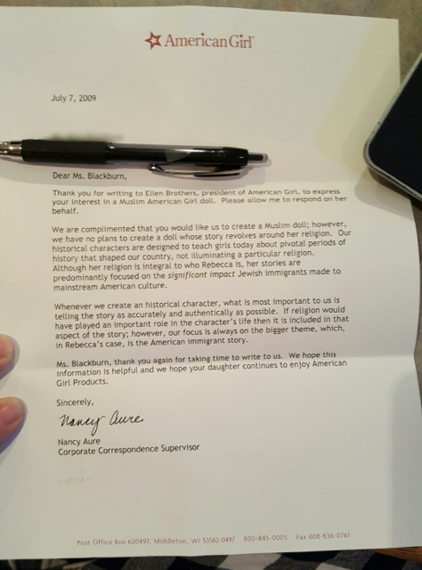 Letter I received in 2009 from the American Girl Doll Company
This response is dated, but seemed pretty firm in telling me that the American Girl Doll Company had zero intention of ever creating a doll that expresses the Islamic faith. And the letter is telling me that the Rebecca doll expresses her Jewish faith-- but only because Jewish immigrant Americans contributed to society. (So in other words, Muslim immigrant Americans have not contributed to society?)
At the time, this letter was a punch in the gut for me. I had a daughter not only in the doll-playing stage but that I was raising as a Muslim American. My daughter asked me why there was a Jewish doll and not a Muslim doll. And honestly, I never gave my daughter a straight answer as to why that was so.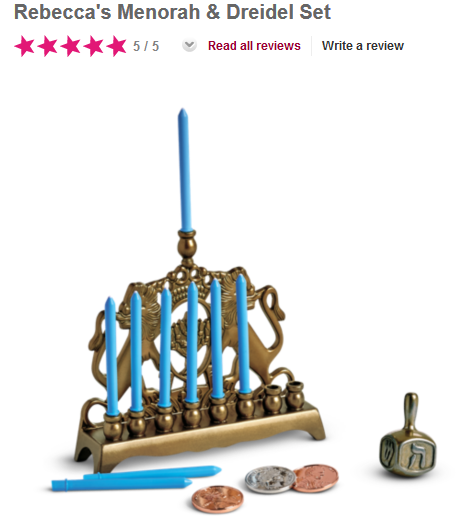 Pictures from the American Girl website of Jewish doll Rebecca and her menorah and dreidel set.
The arrival of the first black girl of the year has prompted the memories of this correspondence for me. I find the reasoning invalid. (Sorry AG Company!) I am a long-time customer. I remained one even after receiving this letter.
I would like to educate (and I invite readers to help) on the great contributions Islam has not only brought to the planet (umm- Islam brought us algebra, trigonometry, the theory of relativity and coffee (Coffee!) to name just a few things) but also educate on contributions Muslims brought and continue to bring to America.
Some famous Muslim Americans in politics, sports and civil rights movements include: Muhammad Ali, Malcolm X, Hakeem Olajuwon, Keith Ellison. Muslim Americans have served in our armed forces and have died for our country. Remember the gold star family of Captain Humayun Khan, an American Muslim soldier who died in the line of duty? This Muslim American hero's father, Khizr Khan, held up a copy of his ACLU Pocket Constitution at the Democratic National Convention and stated to Donald Trump, "You have sacrificed nothing and no-one."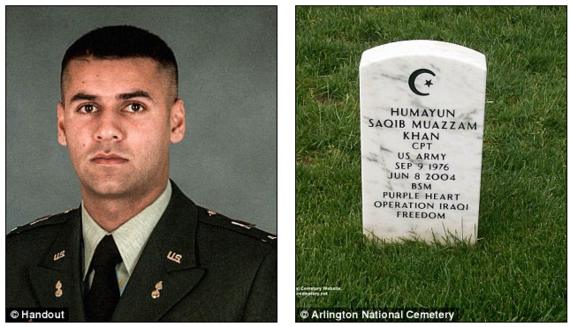 Died in the line of duty, Captain Humayun Khan- Photos: Daily Mail, UK
Our country seems to have gone back to the 1950s - threatening the progress we have made in civil rights and recognizing the strength of our diversity. It's a scary time in America right now. Now more than ever- we need American organizations to use their marketing power and financial influence to courageously defend the values that make us strong. And many companies do actively use their marketing prowess to help drown out the voices of hate.
One such company is Penzey's. They are a spice company who like American Girl, is based out of Wisconsin. Penzey's stands firmly and openly about their values recently stating, "Cooking trumps racism." I have bought spices for myself and as gifts. (They are fantastic by the way.) And I plan to pay close attention to wear I spend my dollars moving forward.
We simply cannot afford to spend our money on organizations that promote hate- even subtlety or in secret. If we want to live in an America that defends our values of diversity, the mighty dollar is one of our most important tools. We must actively pursue commercial transactions with organizations with integrity in this manner. We must only spend our dollars on goods and services from companies that openly defend the values of our Constitution and the inalienable rights of all Americans.
As for American Girl, I am happy about their new doll, Gabriella. She is beautiful. I hope to add her to my collection. And I'm hopeful they will have a change of heart about their decision that Muslim immigrants have not contributed to the fabric of American society. It's simply not based in truth.
To give your feedback to American Girl Doll Company, you can call them at: 800-845-0005 or write to them at the following address:
P.O. Box 620497, Middleton, WI 53562-0497
Being the change we want to see in the world is not just a feel good saying but a very real and active state of mind we all need to be in for 2017 and beyond.
Are you with me? We can do this.