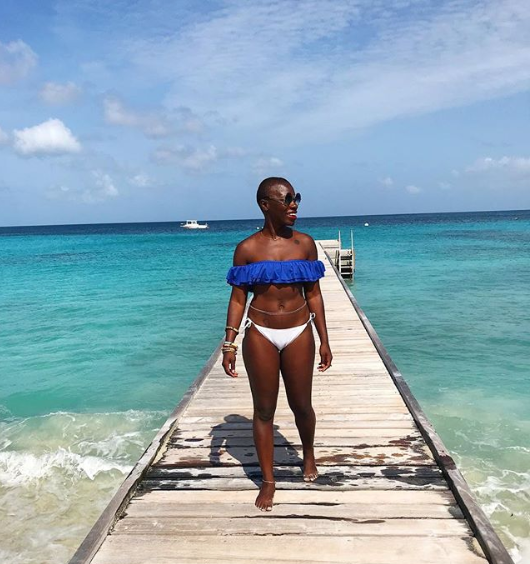 It turned out that several women had already accomplished the feat, but she was shocked ― and motivated ― by how few women have actually done it.
"I just assumed a lot of people had done it. But after doing a bunch of research I found there are less than 200 people in the world who have done it, and it's mostly Northern European men. It's crazy," she told HuffPost in a phone interview last week.
And thus, a goal was born: to become the first black woman to make the grand journey.
Nabongo, 34, is a Detroit native and self-proclaimed "geography nerd." Her parents are from Uganda, and she has been traveling most of her life, having now visited 113 countries. On a GoFundMe page on which she hopes to help fund the rest of her mission (82 more countries), she writes that "being a black female traveler is particularly unique because for many people that I meet in many countries they do not see people that look like me very often."
But it's the places where being a person of color is not a rarity, like at an airport in the United States, that Nabongo said she ends up having to explain herself more often.
"Sometimes when people look at me, they assume I'm not American, which is weird because the thing about America is everyone can be American. That's kind of our thing," she told HuffPost, adding that she is often considered African, instead of African-American, even though she, like many Americans, is both.
"It's so complex because there's the immigration piece, where I face race-related issues, but, for me, I don't think it's specifically race more than [the fact that] I'm African, and I think that has to be very clear. The reason I make this distinction is because, yes, I'm black, but very specifically I'm a non-specific-looking African."
She said that makes traveling between places like Amsterdam and Detroit or New York ― something she does frequently, since her preferred airline is partnered with a Dutch carrier ― a challenge.
After a Nigerian man attempted to down a flight from Amsterdam to Detroit in December 2009, Nabongo said, she "noticed a shift in how I was treated," included added questioning. "Also, after I shaved my head in 2008, people no longer thought I was American visually, so there was a shift in how I was treated then, too."
But regardless of her negative experiences dealing with immigration both here and abroad, Nabongo maintains that she feels totally safe traveling ― and specifically traveling while black.
"A lot of people reach out to me and ask which countries are safe for black women," she said. "I'm like, look, if you live in the U.S., you can go anywhere because, honestly, I feel like racism is the worst here. Living in the U.S., we are inundated with racism on a daily basis. I think a lot of people who haven't lived or traveled abroad are led to believe that's what the entire world is like and it's not. Period."
Nabongo is not blind to the fact that racism does exist globally. She told HuffPost that she left Rome, for example, because she was repeatedly mistaken for a prostitute. But in general, she said, her race is often a source of positivity in her travels rather than a constant challenge. She has been asked to take selfies with airport employees in Bali and has had women in the Philippines comment on how beautiful her skin is ("which I find really interesting because they have a hyper-obsession with skin bleaching," she said).
She credits her own positive nature ― which is abundantly evident across her social media platforms ― with the good luck she's had traveling solo.
"I know it sounds simple and crazy, but I think my positive energy is what keeps me safe. I do some pretty sketchy things where I'm like 'yeah, I could have made a better decision,' but I think the positive energy has protected me."
She recalls losing possessions, such as her wallet, passport and cellphone, numerous times all over the world only to have them found and returned, and she says she's never suffered from food poisoning in all of her travels ― some examples she interprets as the universe watching over her. "I'm not religious. I believe in the universe and good energy and all that," she said.
When asked what advice she would give to solo travelers, her first bit of wisdom is to start somewhere where you feel comfortable so that you're not vulnerable to being taken advantage of, whether that means a place where the people speak your language or even somewhere within your home country. But in her travels around the world, she maintains she has learned that "most people are good."
Nabongo acknowledges that, from social media, her life might look like one big vacation, but she is constantly using her platform to expose people to things they might not otherwise get to see and helping other people see an opportunity for themselves. "I never imagined I would be doing something like this," she said.
Nabongo is in the process of raising money to complete the final leg of her journey around the world, which she currently mostly funds on credit cards, miles, savings and some brand partnerships. You can follow her journey on Instagram or her GoFundMe page.
Popular in the Community