If you are like me, you enjoy a morning cup of Joe to jump-start your day. I'm a bit particular about my brew. My beans come from the steep mountain slopes of the Tarrazú region in west-central Costa Rica. The altitude and climate in that region create perfect growing conditions for high quality, strictly hard-bean Arabica coffee.
Coffee is at the forefront of the sustainability movement, and my preferred coffee bean took center stage here at the UN climate conference yesterday afternoon. The entire 14-member Costa Rican delegation popped into our media center for some photo ops. To my surprise, they brought with them several large bags of beans from the Dota coffee cooperative in the Tarrazú region -- that's my bean! How cool is that? Costa Rican Minister of Environment René Castro-Salazar symbolically presented the beans to H.E. Fahad Bin Mohammed Al-Attiya, Chairman of the Organizing Sub-Committee of COP18.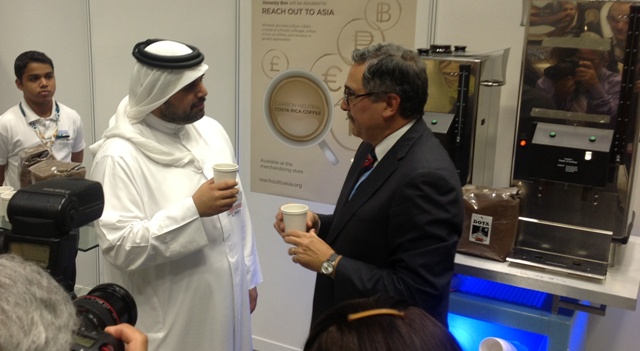 Later in the day, Castro linked this symbolic gesture to the recently released World Bank Report Why a 4 °C Warmer World Must be Avoided. Recognizing the risks of a climate catastrophe as outlined in the report, he stated, "We just delivered the first 5000 pounds of internationally certified carbon-neutral coffee in the world because we should preach by example... the top down is going too slow, we are starting bottom up." As well, Costa Rica was previously the first nation to declare its intent to become carbon neutral by 2021.
Getting back to our coffee-time in the media room, Costa Rican Minister of Agriculture Gloria Abraham discussed the greenhouse gas metrics telling me, "The cooperative earned its PAS2060 certification from the British Standards Institute." No green-washing (play on the term "white-washing") with this coffee. The rigorous BSI standards assure the cooperative's carbon-neutral distinction. The ministers were pleased to hear that I drink their Dota coffee and we shared stories as we sipped. I've visited Costa Rica many times for my own research and writing and I take a student group each year to study issues of climate change and sustainability, including adverse impacts of climate change on coffee.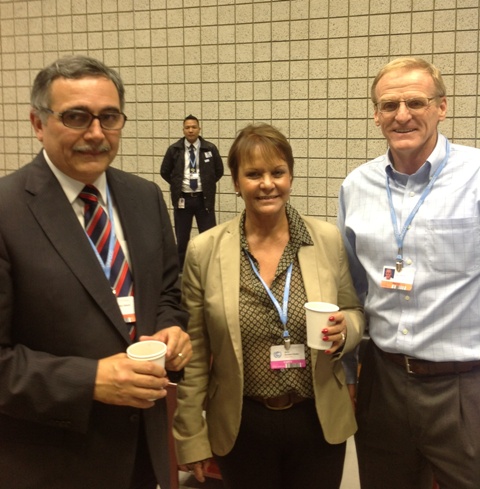 The relaxed, low-key atmosphere milling around the coffee machine and sharing cups of aromatic carbon-neutral brew was in stark contrast to the far more serious formal high level event two-hours later. At that event, Castro joined with COP 18 President Abdullah bin Hamad Al-Attiyah, World Bank President for Sustainable Development Rachel Kyte, and other dignitaries from Gabon, Grenada, Netherlands, Bahrain, Yemen, and Tunisia to release the World Bank Report "Adaptation to a Changing Climate in the Arab Countries."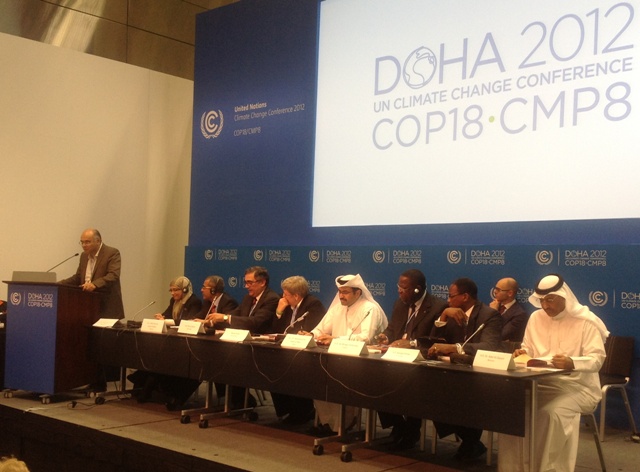 One of the first comprehensive assessments of climate change effects in the Arab world, this Report warned that temperatures are increasing 50 percent faster than the global average and that immediate action is needed to avoid the risk of increased water shortages and food security. The collective "un-" words spoken by the dignitaries were unsettling; "unthinkable" (for small island states), "unlivable" (>52oC Arab world), "uncultivable" (food security), "unprecedented" (challenges to every facet of life)..."but not unstoppable."
With reference to the warnings in both World Bank Reports, Ms. Kyte stated, "it would be unspeakable to make decisions today that develop inequity into future generations." She opened and closed the high level event with a Touarg proverb, "The difference between paradise and dessert is not water, but man."
Related
Popular in the Community