We've all done that walk past the first class passengers, and no matter how many times you do it, it still stings just a little, doesn't it? Seeing the fluffy blankets and comfy chairs, hearing the sound of ice tinkling happily in glasses not made out of toxic plastic... it just makes the parade to the back of the plane -- the place where old coffee and baby vomit are forever joined -- all the more painful.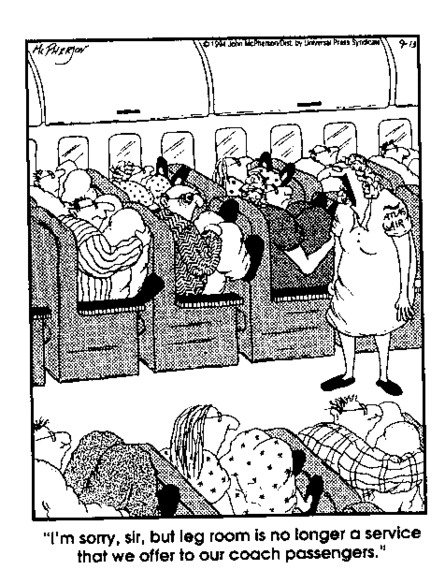 I fly often for work and pleasure and have been in first class a time or two. I always assumed this was due to my stunning good looks and sparkling personality -- until my husband reminded me it was because of my ginormous amount of miles, tomatoes/tomahtos.
Turns out, though, there is an art to securing an upgrade, and it should not include bribes... though my mother did arrive to the Frontier gate with Harry and David's Moose Munch and miraculously found her way to a first class window seat on an overbooked holiday flight. Just a little something to keep in mind.
I asked Rebecca Simon, program manager at Delta Air Lines, for some insider tips on how to achieve an upgrade. Here's a hint - don't ever downgrade!
"Nothing in life is guaranteed, including travel. Things change every minute, so if your flight is delayed, your seat is switched, your soft drink is flat, remind yourself that things happen. The more calm and polite you are, the happier you, and all of those other frustrated passengers around you, will be," advises Simon.
She also recommends passengers take the temperature of the situation. If you are going between two strong business markets (like Boston to Dallas or New York to Los Angeles), chances are slim any seats are available. If you are on a less popular route (think, Idaho), politely and discreetly let the gate agent know you would be interested in any available upgrades. Don't make a show of this, as it tends to lead to copycats and then gate agents get bombarded. And then they get, um, mad.
Dress the part because flip flops and cutoffs don't cut it. First class cabins typically house the most frequent business travelers, so even if you may not be headed to Italy, just remember "when in Rome..."
One is the loneliest number, and that's a good thing. If you are traveling with a group or -- more horrifying -- tots in tow, forget an upgrade and just pray for a kind flight attendant who willingly doles out pretzels and doesn't roll her eyes with the 18 trips to the bathroom.
Embrace your inner wallflower, and after you voice your "upgrade availability," stay visible and near the desk but don't continue to inquire. This is a busy time for the agents trying to get everyone out on time. Who said patience was a virtue? I can't remember, but I bet they flew first class.
Thank your lucky stars (get it?) that you made it on the flight by graciously, but quietly, sharing your appreciation with the gate agents. And if you don't have any Moose Munch on hand, a kind word and a genuine smile will do just fine.
PHOTO GALLERY
Airlines Charging The Highest Fees
Calling all HuffPost superfans!
Sign up for membership to become a founding member and help shape HuffPost's next chapter