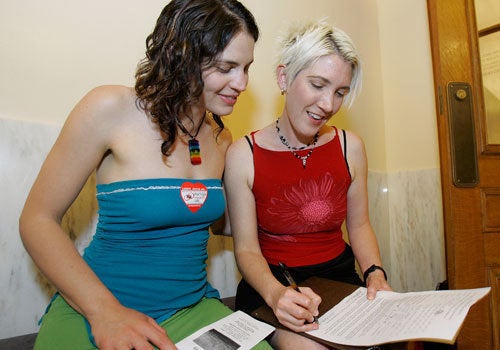 I wish I had said that. How poetic! Was it Walt Whitman? No. Was it a greeting card? No. Was it my mother? I can't remember. Then who said it?
It was Macy's! Yes, Macy's department store, where I worked as Santa's little helper the good fairy -- I swear that's what I was called -- when I moved to New York in 1962.
Last week, Macy's took out a full-page ad in the Los Angeles Times that said: "And now it's a milestone every couple in California can celebrate. Let Macy's Wedding Gift & Registry help you start a new life together."
How lovely. My partner, Diane Olson, and I have been together for 15 years, so we don't need a toaster (although my friend Alison Arngrim and her husband, Bob, sent us a pink one, our first wedding gift). We have two sets of silverware and all the plates we will ever need -- unless there's is another earthquake. (We live in one block from Northridge, home of the great quake of 1994.)
So what do we want for our wedding?
We want the conservative Republican governors of other states to mind their own business! On May 29, the attorneys general of the states of Alaska, Colorado, Florida, Idaho, Michigan, Nebraska, New Hampshire, South Carolina, South Dakota and Utah filed a brief requesting modification of the California Supreme Court decision to allow same-sex couples from other states to come to California to get married. These Governors want the marriages to be put off until after the November elections, when California voters will (if the measure qualifies) vote on a measure that would ban same-sex marriage.
What about the Republican mantra "states rights"? What about the fact that three of the four California Supreme Court judges who ruled in our favor were appointed by Republican governors?
California's attorney general, Jerry Brown, says that same-sex marriages should not be delayed, and our Republican governor, Arnold Schwarzenegger, is against the proposed constitutional amendment that would limit marriage to one man and one woman.
As a matter of fact, a majority of Californians (51 per cent) now supports same-sex marriage! Only 42 per cent disapprove. But 62 per cent of born-again Christians in California oppose permitting gay and lesbian couples to marry. I don't mind these 62 per cent being born again, but why did they have to come back as themselves?
Sixty-nine per cent of Republicans in California disapprove, while Democrats approve allowing same sex couples to marry by a margin of 2-1 (65 percent-29 percent).
Governors, are you worried that lesbians and gay men are going to stampede into California to get married and then try to force your states to recognize them as equal citizens?
In a letter to California Chief Justice Ronald George, the attorneys general said that California allowing same-sex marriages could unnecessarily open the door to legal challenges from gay residents of other states who get married in California. Upon returning to their home states, the newlyweds could demand equality in everything from tax-filing status to testimonial privileges in civil suits. What a disaster that would be! Equality in other states!
Of course, according to the Human Rights Campaign, 44 states have either a law or a constitutional amendment (or both) barring same-sex marriage, most of which explicitly deny acknowledgment of other states' same-sex ceremonies.
And supporters of same-sex marriages say they are not pushing for gay couples to come to California in droves or asking out-of -state newlyweds to attempt to challenge state laws when they get home. (Of course, several gay attorneys asked Diane and I not to sue in California for the right to marry, on the grounds that our fight might fail (which it did not) or trigger a constitutional amendment (which it did, but the odds are now on our side that it will not pass).
Where I absolutely agree with these attorneys is that we should not undertake a federal lawsuit. It took 19 years for inter-racial marriage to be approved by the U.S. Supreme Court after the California Supreme Court struck down the ban on it in 1948. So I agree that, especially with the present federal Supreme Court, now is not the time to push the issue federally.
To be honest, I do have lesbian friends who are planning to come to California to be married. Cathy and Phyllis, who live in Flagstaff, Arizona, want to join two New York couples -- Jan and Edrie from Cherry Grove and Ann and Carlotta of the Pines -- as well as Marilyn and Sandi, who live in Los Osos, California, and Jean and Marilyn from Los Angeles. They are working on having a beautiful wedding on the beach. I'm not going to tell Cathy and Phyllis: "You can't come to California to get married because it will drive your Republican governor crazy."
I don't think they're thinking about their governor right now. They're probably thinking about a caterer and about exactly what they need to do to get married in California.
Rev. Dr. Cindi Love of Dallas, Texas, and her partner of 28 years, Sue Jennings, are coming to California to get married on June 24. Rev Love is the Executive Director of Metropolitan Community Churches, the first and largest church organization with a primary outreach to gays, lesbians, bisexuals and transgender people in the world! Cindi and Sue have two grown children, Joshua and Hanna Love.
Metropolitan Community Churches has performed so many "marriages" that I bet Cindy and Sue know what to do. However, it's a puzzle for those of us who have never been married.
Diane and I don't even know how much it will cost. We have gone to the Beverly Hills Courthouse to get married during Valentine's Day week every year since 2001. But because we knew we would be turned down, we didn't even bring a check or what we thought night be enough cash.
Luckily for us, Marriage Equality USA, an organization that has supported and fought for same-sex marriage for a long time, has put out a terrific online recourse called the "We're Getting Married Tool Kit." It provides information on how to announce wedding plans in local papers, a list of county clerks' offices in California, and a lot of other helpful advice. The website for this wonderful information is here. Click on "Download your Getting Married Tool Kit here" and you get a beginners' manual for marriage.
I need to warn you in advance that it doesn't suggest what to wear. Macy's might have some suggestions, but there will be many in our community who will not want traditional wedding gowns and tuxedos. Diane and I both feel we are way beyond wearing "virginal white," so we're planning to wear matching tan suits. We're hoping to get married on M Day (Marriage Day), Tuesday, June 17, which is now set as the first day same-sex marriages will be possible in California. Our plans are to exchange vows at 9 a.m. in front of the Beverly Hills Courthouse in a ceremony officiated by Rabbi Denise Eger, who wants to meet with us. (I don't think she is going to ask if we are truly committed.) Of course, everyone who supports us is invited!
Please, bigots, give us this one day. I remember when you used to yell "Homosexuality is a disease" at us. To which I replied: "If homosexuality is a disease, we should all call in sick to work! 'Hi, can't work, still queer.'" But those days are long gone. Most people no longer consider us "sick." In most states, we are just considered "less then deserving."
So, here's what I say to lesbian and gay couples everywhere: If you want to get married, don't let anyone stop you. California is a great place to be gay, and if you want to move here, our property prices have dropped drastically. Besides, people are predicting it is going to add hundreds of millions of dollars to our economy.
And for those of you in our community, or friends of our community, who do not want to come here to get married, or to ever get married, please give us this present: Find out the telephone numbers of the Republican governors of the 10 states that filed to have our marriages stopped, pass their phone numbers to everyone you know and encourage them to call the governors' offices and say: "Stop trying to delay when same-sex couples can begin to be married in California. Just mind your own business. Use what little time we hope you have left in office, governor, to control inflation, the loss of jobs, homes and the skyrocketing prices of gas, food, and health insurance in your state and other really important problems. Love is not the problem, love is the solution."
Yes, first comes love, then comes marriage. And if you can't believe Macy's department store, whom can you believe?

Popular in the Community