Figures released by The National Crime Agency (NCA) show the number of people reporting rape on their first date with someone they met on a dating website or app has risen by more than 450 percent in five years.
The NCA revealed that 85 percent of the first date rape victims in 2014 were women and, of these, 42 percent were aged 20 to 29.
A survey conducted by Older-Dating.co.uk showed that active online daters aged over 40 log in to their dating site twice as many times as the under 40s over the course of a year. The data could indicate that the younger demographic are taking their communications offline soon after making a connection, which is against one of the key safety rules communicated to online daters.
It's advised by most reputable online dating sites that though sometimes a little cumbersome (compared to the ease of chatting using WhatsApp for example), singles should keep communication within the dating site for as long as possible. This is usually because there will a Moderation Team vetting all communications on behalf of the user, making sure they are having conversations with real, legitimate people.
Moderation Teams not only weed out people with unhonourable intentions, but will also endeavour to catch scammers before they strike.
Of course, this service is usually not offered on free dating sites or apps, so if safety is a key factor in online dating endeavours, it's always best to pay a membership fee where the safety of users is at the forefront of the site's ethos.
There are also other ways to see whether safety is a key feature of a dating site, such as researching whether the site is a member of an organisation such as the dating industry's governing body, Online Dating Association.
It's a great feeling when one has a date to look forward to - planning what to wear, feeling giddy, wondering whether this is 'the one', but when venturing out on a first or second date, there are some very simple safety rules that everyone should be following:
Communicate plans with someone trusted

Meet in a public place, preferably in the daytime

Take a mobile phone with the battery fully charged

Pre-plan route home

Leave if feeling uncomfortable

Don't leave beverages or personal belongings unattended

Do not meet at home or work

Don't drink too much

Don't get into a date's car

Don't go home with a date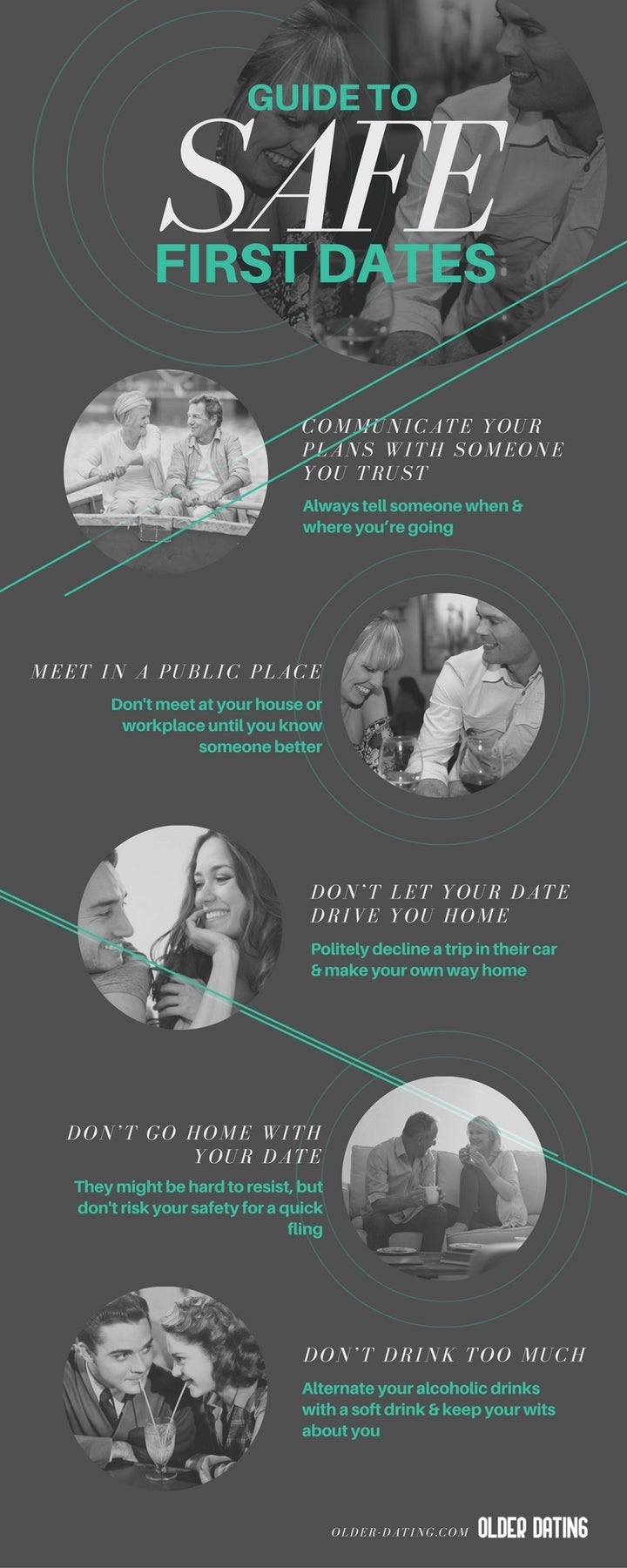 Considering these safety factors can sometimes feel a little awkward when scheduling dates. People can feel like they're being overly cautious or a little guarded, especially if lovely conversations have been had that feel legitimate and normal. As this online dater explains, it's safety that should count firstly...
"I was excited to schedule a date with someone I'd been chatting to online, and having arranged to meet him for a walk around Kew Gardens, he offered to pick me up in his car. I thought nothing of it, and graciously accepted. It wasn't until I told my daughter of my plans that she told me that under no circumstances should I be getting in this 'stranger's' car, especially as that meant he would know my home address too. I saw her point, but I felt awful having to tell him that I'd make my own way there after all. He was a little taken back when I told him, but he quickly understood, and also realised that he should never have offered a lift in the first place, to not only protect his own safety, but to not put me in an awkward situation."
Calling all HuffPost superfans!
Sign up for membership to become a founding member and help shape HuffPost's next chapter