The Cecilia Attias Foundation for Women (CAFW) hosted its first "Dialogue for Action" last week in New York City. In short, the event dedicated to helping women around the world, was the first "Davos" for women's international development. It was extraordinarily successful - and focused on producing more than just rhetoric.
I met Cecilia Attias, former First Lady of France and founder and executive chair of the Cecilia Attias Foundation for Women at the event and was particularly impressed by her passion and global vision. The first annual Dialogue for Action took place in conjunction with The New York Forum (link).
The event brought together an exceptional group of NGO leaders, experts and influencers from the private and public sectors. This unique, interactive format provided a new platform where action-driven discussions focused exclusively on identifying and finding solutions to the three main issues facing women per continent.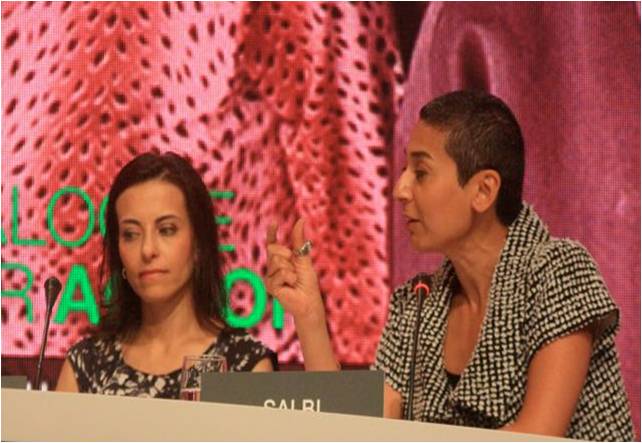 I have heard the remarkable Women for Women founder Zainab Salbi before - she rocks.
The Dialogue For Action focused on topics such as healthcare, poverty, human rights, sex trafficking and discrimination to help improve the lives of women around the world. Most importantly, following the Dialogue for Action, the foundation will see that dedicated initiatives are implemented where needed. Local regional meetings will be organized as part of the follow-up in the field to assess the progress of each initiative.
The World Association of Non-Governmental Organizations (WANGO) is the strategic partner of the Dialogue for Action whose global network of NGOs and affiliates has become an international leader in tackling issues of serious global concern.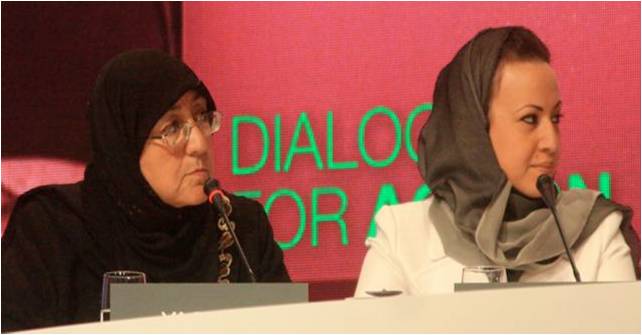 The Asia and the Middle East Roundtable included Sakena Yacoobi and Zainab Salbi.
The International Herald Tribune (IHT) is official media sponsor of the Dialogue for Action providing panel moderation and communications support. The IHT - the global edition of the New York Times -- recently launched a major initiative, "The Female Factor, to look at how 21st Century shifts in women's roles are affecting societies and businesses around the world." Executive Editor Alison Smale attended.
Attendees include many of the thought leaders and global citizens I have interviewed over the years, including former Cambodian Parliament member and Nobel Peace Prize nominee Mu Sochua, UNICEF former director Ann Veneman, leaders for Pro Mujer, Dina Powell of Goldman Sach's 10,000 Women, and famed filmmaker Guy Jacobson. The remarkable Women for Women founder Zainab Salbi and Bashman Omair also presented, among many other.
The event was broken down geographically, with an African round table, followed by the Americas, Asia and the Middle East. Human rights activist Mu Sochua gave a special presentation during the session on Asia, which John Lee captured on video for The Stewardship Report. She received a standing ovation.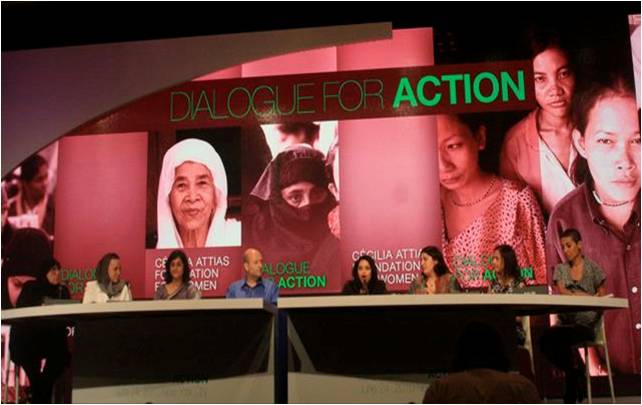 Panelists and responders included Bashman Omair, Guy Jacobson, Dina Powell, and Zainab Salbi.
In her remarks, Sochua made the point that in order for women to be part of a dialogue, women must have opportunities in order to make their own free choice in life. This includes decisions inside the family, in their communities - and decisions for their nations. These opportunities also must include: education, healthcare, and land. These opportunities, she stressed, are their fundamental rights and not charity or privileges.
Sochua also reminded the powerful audience assembled that action is power, and that the power of women comes from the opportunities and situations where women are able to dialogue and make decisions. She ended by stating that women are on a long journey and that each step on that journey is built from the sweat, the strength, the tears and even the lives of women. That journey is a journey for peace and for justice.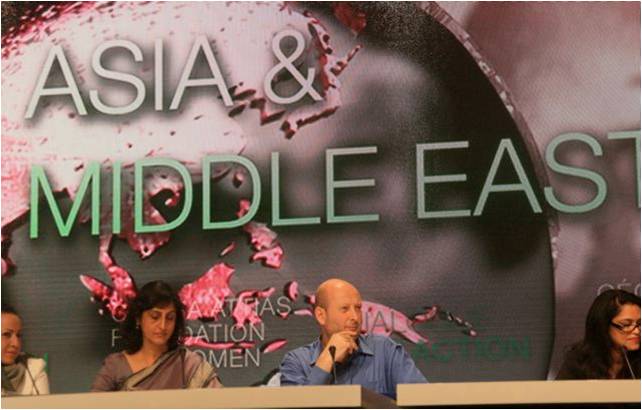 Filmmaker, banker and lawyer Guy Jacobson's remarks about last week's world premier of his film concerning child trafficking were also captured on video. The documentary, entitled REDLIGHT, was co-produced and narrated by UNICEF Goodwill Ambassador Lucy Liu.
The symposium was the dream of Cecilia Attias, a leader who has dedicated her life to service as a mother, a wife, a committed public servant, an activist, and an ardent supporter of women's rights. Born in France, Cecilia honed strength and fortitude early in life. After studying law, she began her political career serving as a parliamentary assistant.
Cecilia has served in many capacities, including the French National Assembly and the French Ministry of Interior, where she became deeply involved in women's rights and issues relating to domestic violence, immigration, assimilation and crimes against children. Cecilia saw firsthand the suffering and pain of the victims and made a vow to use her influence and status to make a difference.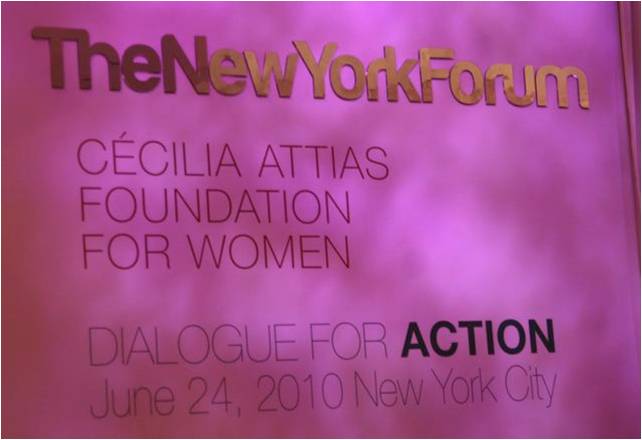 In 2007, Cecilia Attias became First Lady of France, where she continued to work with those in need. Never one to shy away from adversity, in 2007 Cecilia again showed her fortitude and determination to improve the lives of others. As First Lady, Cecilia successfully negotiated with General Muammar Khadafy the release of five Bulgarian nurses and a Palestinian doctor imprisoned on Libya's death row. Today, Cecilia serves as President and Founder of the Cecilia Attias Foundation for Women. She uses her knowledge of the communications industry to aid her philanthropic efforts.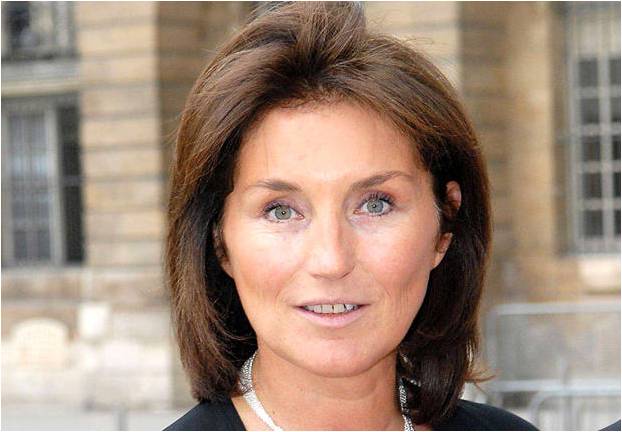 In 2007, Cecilia Attias became First Lady of France.
Photos and videos by John Lee for the Jim Luce Stewardship Report (JLSR).
Support HuffPost
The Stakes Have Never Been Higher
Related
Popular in the Community